Jurassic World: Dominion Dominates Fandom Wikis - The Loop
Play Sound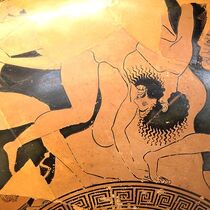 Sciron (also spelt Sceiron, Skeirôn or Scyron) is a villain from Greek mythology.
Biography
Sciron was the son of the sea god Poseidon, or possibly of the hero Pelops. Other mythological parents have also been suggested, such as the Megaran king Pylas. He was the father of a son named Alycus and a daughter named Endeis.
Sciron dwelt near the Sceironian Rocks, a cliff on the Saronic coast of the Isthmus of Corinth. He would sit near the edge of then cliff and rob anyone who came his way. He would then force them to wash his feet before kicking them over the cliff. Their body would be eaten by a giant sea turtle.
While travelling to Athens to meet with King Aegeus, the hero Theseus came across Sciron in his usual place. Having heard of Sciron's crimes and wishing to be rid of him, Theseus allowed Sciron to defeat him before bending down to wash his feet and throwing him over the cliff.