Wiki Targeted (Entertainment)
Play Sound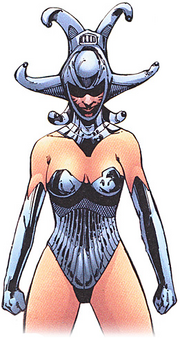 Scorpiana is a DC comics supervillain and enemy of Batman, Batwoman and Gaucho.
Scorpiana is an Argentinean villain who specializes in poisons, Scorpiana leaves a deadly "blue scorpion" bomb behind as her calling card. In her native Argentina, she's fought the hero called the Gaucho several times.
Powers / Abilities
Scorpiana is a highly accomplished assassin and a formidable hand-to-hand fighter.
Enhanced Abilities: Scorpiana has bionic implants that enhance her speed, agility and fighting skills.
Bombs: Scorpiana is known for her trademark "blue scorpions", which are bombs shaped in a scorpion's likeness.
Batman: The Brave and the Bold
Scorpiana had a cameo in the very end of "The Knights of Tomorrow".

Villains
Comics
Abbadonia | Alice | Amygdala | Anarky | Bane | Black Mask | Blockbuster II | Bloody Mary | Bruno Mannheim | Christopher Falchion | Cutter | Deathstroke | Electrocutioner | Firefly | Fright | Green Fairy | Hugo Strange | Intergang | Killer Croc | Killshot | Kobra Cult | Kyle Abbot | La Llorona | Lamprey | Mad Hatter | Many Arms of Death | Maro Ito | Medusa | Mortician | Mr. Freeze | Nathan Grantham | Nocturna | Night-Thief | Nyx | Penguin | Poison Ivy | Professor Pyg | Religion of Crime | Riddler | Rush | Scarecrow | Scatter | Scorpiana | Sister Shard | Tahani | Whisper A'Daire | Wolf Spider
Movies
Batman: Mystery of the Batwoman: Penguin | Bane | Rupert Thorne | Carlton Duquesne
Batman: Bad Blood: League of Assassins (Talia al Ghul, The Heretic, Onyx, Firefly, Tusk, Mad Hatter, Electrocutioner, Hellhound, Calculator, & Killer Moth) | Black Mask

Television
Season 1: Wonderland Gang (Alice, Jonathan Cartwright, & Chuck Dodgson) | August Cartwright | Hush | Crows Security (Catherine Hamilton-Kane & Miguel Robles) | Magpie | The Executioner | The Rifle | Anti-Monitor | Monitor | Lex Luthor | Bruce Wayne (Earth-99) | Shadow Demons | Nocturna | Duela Dent | Mabel Cartwright | Johnny Sabatino | Tim Teslow | Safiyah Sohail | Joker
Season 2: Many Arms of Death (Safiyah Sohail, Tatiana, The Pike, & Dire-Flail) | Alice | False Face Society (Black Mask & Rudy) | Enigma | Crows Security (Russell Tavaroff & Miller) | Ethan Rogers | Hush | Victor Zsasz | Candy Lady | Amygdala | Ellis O'Brien | Kilovolt | Cluemaster | Gotham City Police Department | Circe Sionis | Wonderland Gang (Jonathan Cartwright) | Catherine Hamilton-Kane | Joker
Season 3: Alice | Liam Crandle | Steven