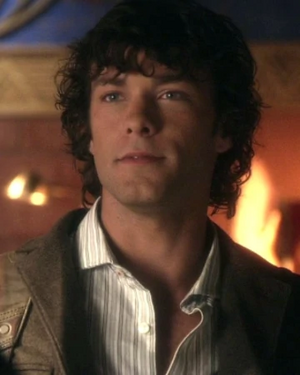 Sebastian Kane, real name Wilson Turner, was a metahuman with the ability to read peoples' minds in the WB/CW TV series Smallville. He appeared as the main antagonist in the Season Eight episode "Identity".
He was portrayed by Kyle Schmid.
Biography
Early life
Wilson Turner was a voyeuristic predator, who stalked and murdered several women. Because he was a metahuman, Wilson was locked up at Black Creek, a LuthorCorp facility. He was eventually released along with other inmates but was recruited by Tess Mercer. She forced him to use his powers on three separate occasions.
Season Eight
Mercer had him pose as "Sebastian Kane", a Daily Planet reporter as she wanted him to use his abilities to uncover if Lois Lane had stolen an alien crystal from her. He shook hands with her and was able to read her mind seeing her memory of being on the phone moments before. They bond when he reveals that he was in Iraq as an embedded reporter with the Army and she tells him about her Army brat background. Sebastian then offers to take her out for the evening and she accepts. However, Lois only agreed because she recognized his face from a flash drive she had stolen from the Luthor Mansion.
At the Mansion, Tess was daydreaming about Lex Luthor when Sebastian touches her shoulder and sees her daydream. She sharply turned around and orders him to never touch her again. She asks if Lois stole the crystal from her, but he tells her that finding out will require more than a handshake, to which Tess said to do whatever it takes. When Sebastian was reluctant, Tess threatens him as she could easily have him sent back to Black Creek for his past. Tess promises him a fresh start if he finds the stolen crystal. Kane arrived at Lois' apartment at the Talon with flowers to pick her up when he met Clark Kent. Lois introduces Clark, but when Sebastian goes to shake his hand, Lois comes between them and pushes Clark out the door.
Sebastian took Lois to the Ace of Clubs for dinner where they discussed his experiences in Iraq and she asks him about his last few years as a reporter.
However, when Wilson discovered that Lois knew who he was, he tried to kill her. Clark Kent stopped him. However, when Wilson was touched by Clark, Wilson's ability gave him full knowledge of Clark Kent's secrets. Because of this, Chloe Sullivan killed Wilson.

Villains
Protagonists

Community content is available under
CC-BY-SA
unless otherwise noted.