Doctor Strange in The Multiverse o Madness - The Loop
Play Sound
Sebastian Kane, real name Wilson Turner, was a metahuman with the ability to read peoples' minds in the WB/CW TV series Smallville.
He appeared as the main antagonist in the Season Eight episode "Identity".
He was portrayed by Kyle Schmid.
Biography
Early life
Wilson Turner was a voyeuristic predator, who stalked and murdered several women. Because he was a metahuman with the ability to read minds, Wilson was locked up at Black Creek, a LuthorCorp facility.
He was eventually released along with the other inmates but was recruited by Tess Mercer. She forced him to use his powers on three separate occasions.
Season Eight
Mercer had him pose as "Sebastian Kane", a Daily Planet reporter as she wanted him to use his abilities to uncover if Lois Lane had stolen an alien crystal from her.
He shook hands with her and was able to read her mind seeing her memory of being on the phone moments before.
They bond when he reveals that he was in Iraq as an embedded reporter with the Army and she tells him about her Army brat background. Sebastian then offers to take her out for the evening and she accepts.
However, Lois only agreed because she recognized his face from a flash drive she had stolen from the Luthor Mansion.
At the Mansion, Tess was day-dreaming about Lex Luthor when Sebastian touched her shoulder and saw her daydream. She sharply turned around and orders him to never touch her again. She asked if Lois stole the crystal from her, but he tells her that finding out will require more than a handshake, to which Tess said to do whatever it takes.
When Sebastian was reluctant, Tess threatened him as she could easily have him sent back to Black Creek for his past. Tess promises him a fresh start if he finds the stolen crystal.
Kane arrived at Lois' apartment at the Talon with flowers to pick her up when he met Clark Kent. Lois introduces Clark, but when Sebastian goes to shake his hand, Lois comes between them and pushes Clark out the door.
Sebastian took Lois to the Ace of Clubs for dinner where they discussed his experiences in Iraq and she asked him about his last few years as a reporter. Anxious to change the subject, he asks her if she has ever had her palm read.
He then takes her hand and studies her memories, which go back to her earlier experiences of the day. He sees that Lois used the flash drive of Black Creek and figured out that she had seen Sebastian's file as a former patient.
After realizing that she knows about his past, Sebastian receives a phone call from Tess and excuses himself to go to her limo outside, where he tells her about the flash drive Lois has, which Tess already knew she had stolen.
Tess, knowing that nothing on the flash drive can implicate LuthorCorp, informs him that his being discovered is his own problem, to which he implies that he will kill Lois in order to keep his secret.
Sebastian takes Lois home and asks to go in for a nightcap but Lois excuses herself. However, as she opens the door, Sebastian pushes her inside and pulls out a gun, saying that nobody can know who he is and demanding the flash drive.
Wilson discovered that Lois knew who he was, he tried to kill her. Lois tries to talk Sebastian into trusting her, but even when she gives him the flash drive, he says he doesn't trust anyone and again threatens her with the gun.
As Clark prepares to set Jimmy up, Lois knocks the gun out of Sebastian's hand and they fight. After being tossed across the floor, Lois quickly pulls out her cell phone and speed-dials Clark.
Getting away from Jimmy, Clark then super-speeds to save Lois by grabbing Sebastian's gun hand. However, when Wilson was touched by Clark, Wilson's ability gave him full knowledge of Clark Kent's secrets before being punched out.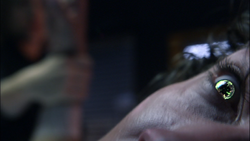 Chloe Sullivan later deduced this, and found Sebastian in Metropolis General recovering. She wore black gloves as she visits Sebastian.
Chloe tells him she was also in Black Creek and knows about his ability. She asks how much he knows about Clark, to which Sebastian implies that he will have no problem revealing Clark's secret.
Because of this, Chloe informs him that the human brain is like a computer: download too much and it crashes and loses data. Taking off her gloves, Chloe touches him, resulting in overloading his brain with huge amounts of information (that she absorbed from Brainiac) leaving him flat lined.
Chloe quickly leaves, clearly distressed about what she just did.

Villains
Protagonists