She-Hulk Trailer Dropped - The Loop
Play Sound
This article's content is marked as Mature
The page Mature contains mature content that may include coarse language, sexual references, and/or graphic violent images which may be disturbing to some. Mature pages are recommended for those who are 18 years of age and older.


If you are 18 years or older or are comfortable with graphic material, you are free to view this page. Otherwise, you should close this page and view another page.



Click To Help DIO!

DIO has declared that this article has stopped in time, and any and all information on it may be outdated.
Help improve this article by checking and updating it's info wherever necessary
And now time resumes!

✓
| | | |
| --- | --- | --- |
| " | Almost forgot I'm supposed to get this on on tape! Killing you shouldn't take more than a second... | " |
| | ~ Secco while fighting Bucciarati. | |
Secco is a minor antagonist in JoJo's Bizarre Adventure: Golden Wind. He is a member of Diavolo's elite team Unità Speciale, alongside his master Cioccolata, and one of the last two Stand Users that Team Bucciarati faces before their confrontation with Diavolo. Secco is a Stand User who wields the Stand known as Oasis.
In Japanese, he was voiced by Takayasu Usui in the PS2 video-game adaptation of JoJo's Bizarre Adventure: Golden Wind, Hiro Shimono in JoJo's Bizarre Adventure: All Star Battle, and Kenichirō Ōhashi/KENN in the anime adaptation. In English, he was voiced by Erik Scott Kimerer, who also voiced Speed-o'-Sound Sonic.
Personality
Secco is a mysterious figure, with even Diavolo unable to find anything on him. Despite this lack of knowledge, Secco is still just as psychopathic and misanthropic as his master. A strange thing about their relationship shows Secco act almost like a dog more than a human, communicating more through gestures and noises. For his reward for filming their awful deeds, he is rewarded his head rubs and the occasional sugar cube.
Despite this, Secco is far from being what he seems, as once he hears of his master's passing, his personality changes. Secco appears now far smarter and manipulative, claiming that the only reason he stuck with Cioccolata for his intellect, wealth, care, and pride in him. Secco has a playfully evil air to him, showing a ability to speak for long instances and analyze situations. Secco is also prideful of his abilities, insulted by Buccirati coping his strategies when racing underground.
Biography
Past
Secco was once a unwitting patient to Cioccolata's nightmarish habits, but against all odds, his live was spared and became his sidekick. Together, they joined Passione. The anime also showed that he filmed the murders of Sorbet and Gelato.
JoJo's Bizarre Adventure: Golden Wind
Once all other options were exhausted, Secco and Cioccolata together were sent off to destroy Team Bucciarati, despite their violent and unloyal habits. Secco first attacks Mista and Bucciarati, proving himself to be a dangerous threat against the two. On seeing Bruno's resistance to the mold, Secco asked how he could also achieve it's effect to defeat Diavolo himself. Showing off his speed and his usage of the ground to strengthen his punches, Secco attacks his target before noticing Polnareff hiding in the Colosseum. Attacking Buccirati while planning to destroy the crippled hero once he he's finished, Buccirati flees underground with Sticky Fingers. Giving chase, he forces his enemy above ground to defeat him, only for Buccirati to deafen him by popping a tire. This cripples his tracking ability, so he takes what seems to be a normal child hostage in his confusion, who is actually Vinegar Doppio. Buccirati then punches through Doppio harmlessly before putting a zipper on Secco, connecting his arm to his chest and melting his throat. In his panic, Secco trips into the garbage truck, mirroring his master's fate.
Jorge Joestar
???
Powers and Abilities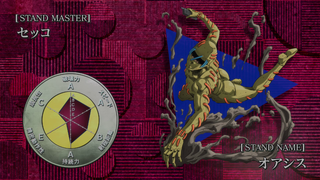 Oasis is a rare breed of Stand that Secco wears like clothing, similar to Ghiaccio's White Album. Oasis' main ability is soften the ground around him, turning it to a mud-like state that objects sink in. Secco must touch the object at all times to keep the effect. This comes useful to create sudden sharp projectiles by flinging/spitting bits of the ground at his foes. Secco can also create shockwaves through slamming the ground or use his stand to melt people on their touch. Secco mainly uses this ability to dig through the ground to stay hidden while moving fast. To sense enemies, he simply uses his hearing to see their locations. This also allows his attacks to hit harder (such as using to rebound arms off surfaces to rapidly fire blows) or increase his own reaction time (such as dodging or deflecting bullets).