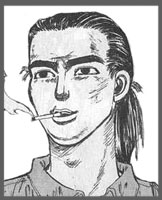 Seiji Iwaki is the secondary antagonist from Initial D Second Stage and Third Stage and the #2 driver of Emperor, behind his ally Kyoichi Sudo.
Personality
Seiji drives a Mitsubishi Lancer Evolution IV and adds half-torn stolen stickers from the teams he defeated onto his car's rear spoiler. His car also has a red "Monster" sticker on the hood with the addition of his own Emperor team sticker on the upper right rear window.
Story
Seiji smokes Thunder Fire's Nissan 180SX & Nakazato's Nissan Skyline GT-R (R32) and steals their stickers for his car design. Kyoichi was originally going to face Takumi's AE86, before Seiji declared that he can do it himself. Seiji did not listen to Kyoichi's orders to follow "Simulation 3", costing him the race as his tires were worn out and he depended on his Lancer's turbo too much. He was then slapped by Kyoichi, before being Chastised. He was then challenged to a race by Keisuke at Akagi, but lost.