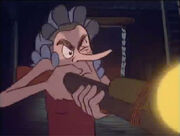 Sera Jones is a Farmwoman, The wife of Eban Jones and the Main Antagonist of Siriol's Three animated shorts called A Winter Story (1986)/Siôn Blewyn Coch (1986), Easter Egg (1987)/Yr Ŵy Pasg (1987) and Turkey Love (1988)/Cariad Cyntaf (1988), She is voiced by Christine Pritchard in both Welsh and English Versions.
Appearance
She wears a Dark Blue Dress, Black Pantyhose, She have Grey Hair had tied her hair into a bun and Black Wellington boots. At Nighttime She wears a burgundy nightee.
Personality
She is bossy and demanding Farmwoman, Who bossed her husband Eban Jones around, She is very angry at him, Because of his laziness and incompentence, She hates Foxes, Because She refer to them as "nasty Devils", She is also cruel to the chickens, because of her suggestion of cooking one of her husband's chickens for Christmas dinner or Easter dinner, if he failed to get Gobble Gobble the Turkey for Christmas dinner or the chocolate Easter egg for an Easter present, Despite her bossiness towards her husband, but She is very Kind and Soft-Hearted to her niece Bethan.