Jurassic World: Dominion Dominates Fandom Wikis - The Loop
Play Sound
Seth Nelson was a student at Smallville High School and a metahuman with the ability to control magnetic fields.
He was the main antagonist of the episode "Magnetic" in the Third Season of Smallville.
He was portrayed by Kevin Zegers, who also portrayed Concussion in the superhero film Zoom and Melvin in Fear The Walking Dead,
Biography
Season Three
Seth Nelson was the lab partner of Lana Lang, whom he's had a crush on since sixth grade. Seth worked at the Smallville County Fair as a booth operator where he gave out snow globes of Smallville with bits of meteor rock in them as prizes.
He saw Lana with Chloe Sullivan and offered her a free try to win a snow globe.
Lana misses completely and Seth tries to give her a prize anyway, but another patron was offended and started a fight. Seth ran away, but the other patron found him in a crowd and bashed him over the head with a snow globe.
Seth was knocked down with a gash on his forehead and tiny bits of meteor rock entered his blood stream through his wound.
At the hospital, Seth received an MRI which acted strangely with the meteor rocks as the magnetic field reacts badly with the Kryptonite in his blood. The machine shorts out and shocked Seth which gave him magnetic powers that influence both metallic matter and mind.
Lana rushed into the operating room concerned for him and when he touches her hand, tiny green sparks appear, and Lana suddenly finds Seth attractive.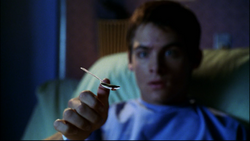 The next day Seth realizes he could control metal objects without touching them. Clark and Lana visit Seth together, and Seth asks Lana on a date. She is reluctant at first, but when he touches her hand, she agrees as a suspicious Clark looked on.
When Seth came to pick Lana up, she tells him that she can't go out with him, but when he touches her, she suddenly changes her mind.
For their date, Seth took Lana to the carnival after hours using his power to open the gate. Lana was amazed but not scared and they ride the Ferris wheel together. They ride the Ferris wheel together.
Clark followed them, and when he hears Lana laughing, he thinks she's screaming, and pulls the Ferris wheel to a stop. Lana and Seth are annoyed that he is "stalking" them, and leave.
The next day at school, Clark approaches Seth and tells him that he thinks Seth is controlling Lana. He warns him to stay away from her, but Seth is not intimidated. Clark enlists Chloe to help him look up Seth's medical records for clues about how Seth is controlling Lana. The medical records reveal that Seth's electromagnetic activity is higher since the accident.
Lana waited for Clark in his barn upset that she heard he told Seth to stay away from her. Clark tries to convince her that Seth is dangerous, but she refuses to listen. Later, Seth convinces Lana that they should leave Smallville forever, and she agrees to get some money. She rides off with Seth in a brand new yellow Mustang.
Lex tells Clark about her uncharacteristic behavior and calls the sheriff. Clark super speeds up the road, and uses his heat vision to melt the asphalt. They drive into the tar and get stuck.
Seth jumps onto a passing milk truck just as the sheriff catches up and arrests Lana. Lana later subsequently provided Clark with a false story about Seth having a brother in Granville to throw Clark off the scent.
When Clark leaves, Seth arrives and breaks Lana out, taking a guard's gun. They ran together to the fairgrounds. They are planning to slip out of Smallville on one of the trucks that will take the carnival rides out of town tomorrow. Clark grabs Seth and throws him across the room but Lana grabs his gun and threatens to shoot Clark. Seth takes the gun and sends Lana outside.
He shoots Clark and learns that Clark has special powers, too. Seth picks up a coaster car and hurls it at Clark, pinning him against the wall. Clark grabs an electrical line and electrifies the coaster car. Seth is pulled off his feet, attracted to the car. When he makes contact, he receives a shock that puts him in a coma.
Lana was sentenced to community service at the hospital. According to Lana, the doctors weren't sure how much Seth would remember, if he woke up.

Villains
Protagonists