Doctor Strange in The Multiverse o Madness - The Loop
Play Sound
Jafar says: Read my lips and come to grips with the reality!


This article is a stub and is in need of expansion. You can help Villains Wiki by expanding it.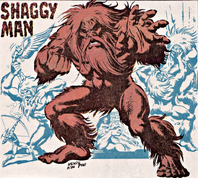 Shaggy Man is a villain who first appeared in Justice League Of America 45. 
History
Professor Andrew Zagarian created "Plastalloy", a synthetic substance that closely resembled human tissue, and which he hoped could be used to create artificial body parts. As an experiment, Zagarian created a huge artificial ape-like being from his plastalloy in an island laboratory and hooked it up to a generator.
But Zagarian made the wrong power connection, and too much electricity surged into the creature's body, causing it to come to life. The creature, called the Shaggy Man, attacked whatever moved.
He also appeared in the show Batman the Brave and the Bold. He briefly first appears in the episode "Legends of the Dark Mite" when Bat-Mite teleported him to fight Batman. A whole tribe of Shaggy Men appeared in the episode "Long Arm of the Law" where the tribe captures a bunch of boy scouts. Batman and Plastic Man try to sneak past them but after they rescue the boys they wake up and silently fight the two heroes but are defeated.
Gallery

Villains
Comics
Abra Kadabra | Amanda Waller | Amos Fortune | Amazo | Anarky | Angle Man | Anti-Justice League | Anti-Monitor | Appellaxians | Aquarius | Asmodel | Atomic Skull | Axis America | Bane | Barbatos | The Batman Who Laughs | Black Adam | Black Hand | Black Lantern Corps | Black Manta | Black Spider | Blockbuster | Blue Beetle (Dark Multiverse) | Brainiac | Bronze Tiger | Brother Eye | Brotherhood of Evil | Cadre | Calculator | Calendar Man | Captain Boomerang | Captain Cold | Castle Bat | Catalyst | Catman | Catwoman | Cheetah | Chemo | Cheshire | Circe | Clayface | Clock King | Cluemaster | Copperhead | Construct | Cosmic King | Crazy Quilt | Crime Syndicate of America | Crucifer | Cyborgirl | Darkseid | Dark Supergirl | Deadline | Deadshot | Deathstroke | Demolition Team | Demons Three | Despero | Doctor Alchemy | Doctor Destiny | Doctor Double X | Doctor Impossible | Doctor Light | Doctor Manhattan | Doctor Phosphorus | Doctor Polaris | Doctor Poison | Doctor Psycho | Doctor Regulus | Doctor Sivana | Dominators | Doomsday | Dragon King | Dumas | Earthworm | Eclipso | Electrocutioner | Elite | Enchantress | Epoch the Lord of Time | Eradicator | Evil Star | Fatal Five | Felix Faust | Fiddler | Floronic Man | Funky Flashman | Gamemnae | General Eiling | Genocide | Gentleman Ghost | Golden Gilder | Goldface | Gorilla Grodd | Gunhawk | Harley Quinn | Hector Hammond | Hellgrammite | Human Flame | Hyena | Ibac | Icicle | Imperiex | Injustice League | Intergang | I.Q. | Johnny Sorrow | Joker | Key | Killer Croc | Killer Frost | Killer Moth | Kite Man | Kobra | Kobra Cult | Krona | League Buster | League of Assassins | Legion of Doom | Lex Luthor | Libra | Lobo | Mad Hatter | Mageddon | Magpie | Manchester Black | Manhunters | Matter Master | Maxwell Lord | Mekanique | Merlyn | Mirror Master | Mister Atom | Mister Mind | Mister Nebula | Mr. Freeze | Mongul | Mordru | Morgaine Le Fey | Multiplex | Nekron | Nekron (Pre-Crisis) | Neron | Neutron | Nightshade | Obsidan | Ocean Master | Overman | Parademons | Parasite | Penguin | Perpetua | Pied Piper | Plastique | Poison Ivy | Professor Ivo | Professor Zoom | Prometheus | Psycho-Pirate | Queen Bee | Queen of Fables | Ra's al Ghul | Rainbow Raider | Rama Khan | Red Death | Red King | Red Panzer | Red Volcano | Riddler | Roulette | Royal Flush Gang | Satanus | Scarecrow | Science Squad | Secret Society of Super Villains | Shadow-Thief | Shaggy Man | Shark | Simon Stagg | Sinestro | Solomon Grundy | Star Sapphire | Starbreaker | Starro | Steppenwolf | Suicide Squad | Superboy-Prime | Tattooed Man | Terra-Man | T.O. Morrow | Two-Face | Ultra-Humanite | Vandal Savage | Volcana | Warp | Weather Wizard | White Martians | Wizard
Theatrical Movies
Justice League: Steppenwolf | Parademons (Parademon Scout) | Darkseid | Black Clad (Black Clad Alpha) | Lex Luthor | Deathstroke | Ares
Zack Snyder's Justice League: Darkseid's Elite (Darkseid, Steppenwolf, DeSaad, Granny Goodness, & Parademons) | Lex Luthor | Deathstroke | Black Clad (Black Clad Alpha) | Ares | Joker
Direct-to-video Movies
Justice League: The New Frontier: The Centre | Captain Cold
Justice League: Crisis on Two Earths: Crime Syndicate of America (Owlman, Ultraman, Superwoman, Johnny Quick, Power Ring, J'edd J'arkus, & Black Power) | Lex Luthor | White Martians | President Slade Wilson | Rose Wilson
Justice League: Doom: Legion of Doom (Vandal Savage, Bane, Cheetah, Ma'alefa'ak, Metallo, Mirror Master, & Star Sapphire) | Royal Flush Gang (King, Queen, Jack, Ace, & Ten)
Justice League: The Flashpoint Paradox: Professor Zoom | Wonder Woman | Aquaman | Ocean Master | Black Manta | Deathstroke | Lex Luthor | Clayface | Rogues (Captain Cold, Captain Boomerang, Top, Heat Wave, & Mirror Master) | Joker | Yo-Yo
Justice League: War: Darkseid | Desaad | Parademons | Ocean Master
Justice League: Throne of Atlantis: Ocean Master | Black Manta | The Trench | Lex Luthor
Justice League League: Gods and Monsters: Will Magnus
Justice League vs. Teen Titans: Trigon | Legion of Doom (Lex Luthor, Cheetah, Solomon Grundy, Toymaster, & Weather Wizard) | Atomic Skull | Ra's al Ghul
Justice League vs. the Fatal Five: Fatal Five (Emerald Empress, Mano, Persuader, Tharok, & Validus) | Bloodsport | Two-Face | Harley Quinn | Poison Ivy

Video Games
Injustice: Gods Among Us: One Earth Regime (Superman, Wonder Woman, Yellow Lantern, The Flash, Aquaman, Cyborg, Shazam, Nightwing, Raven, Hawkgirl, Sinestro, Black Adam, Killer Frost, Solomon Grundy, Catwoman, Bane, & Doomsday) | Joker | Lex Luthor | Deathstroke | Ares
Injustice 2: Brainiac | Gorilla Grodd | Captain Cold | Reverse Flash | Cheetah | Deadshot | Poison Ivy | Bane | Scarecrow | One Earth Regime (Superman, Wonder Woman, Aquaman, Cyborg, Nightwing & Black Adam) | Dr. Fate | The Lords of Order | Grid | Atrocitus | Joker | Darkseid
See Also
Justice League Dark Villains | Justice League International Villains | Justice Society Villains | Young Justice Villains