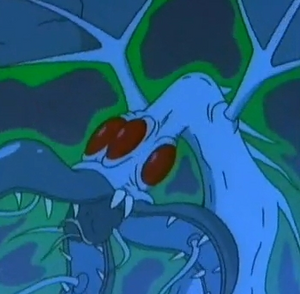 Shanbahac is a villain of Extreme Ghostbusters. He is unique possessor ghost eradicator who inhabits only plants.
History
Shanbahac was known to wipe out an entire South American civilization before going dormant 2000 years ago. Eventually, in 1997, he was discovered in Brazil by a graduate student and sent over to New York for his doctoral thesis. The entity revived once the student opened it in a lab and quickly settled into a nearby habitat and transformed the plants into monstrosities under his control. He then swallowed up the student by bounding him into a large pod, the entity's method of slowly killing victims. Around lunchtime, the Ghostbusters were summoned by the staff to the event.
At first, the Ghostbusters seemingly blast Shanbahac's plant host, but the entity escaped and hid itself in a professor's lab coat before swallowing him up too. In the meantime, Kylie Griffin researched South American horticultural demons and assumed that the entity is Kuja, a benevolent protector of the rainforest. She and Garrett pursued Shanbahac to Central Park after he swallowed the professor following a call mishap, though Garrett ends up being swallowed and bound to a pod, much to Kylie's horror.
Roland and Eduardo learned the entity't true identity and raced to stop Kylie from freezing him into dormancy, warning her that it would doom the lives of the victims. Kylie then shoots liquid oxygen at room temperature at Shanbahac, forcing himself to reveal its true ghost form. The Ghostbusters then easily confined and trapped the entity, allowing all of the victims (including Garrett) to be free for good.

Villains
Community content is available under
CC-BY-SA
unless otherwise noted.