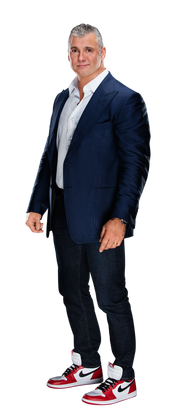 Shane McMahon is a pro-wrestler and business executive who appeared with World Wrestling Entertainment from 1998 until his retirement from the wrestling business in 2010 and the former secondary antagonist of WWE  He returned to face The Undertaker in 2016. He is currently the onscreen commissioner of WWE's weekly television show SmackDown Live. He is the son of Vince McMahon and the brother of Stephanie McMahon. Shane has been portrayed as both a hero and a villain, but like most of the McMahon family, has spent most of his career in a heel role.
He is considered the secondary antagonist of the entire history of the WWE, until his retirement in 2010 and the main antagonist alongside Stephanie McMahon of the Alliance Storyline
McMahon's most notable heel roles include being the a leader within the Corporation, the Ministry of Darkness, and the Corporate Ministry; leading the WCW/ECW Alliance, and helping his father in the feud against D-Generation X.
McMahon later won the WWE World Cup, becoming "The Best in the World" in 2019.
Gallery
Videos
Community content is available under
CC-BY-SA
unless otherwise noted.