Wiki Targeted (Entertainment)
Play Sound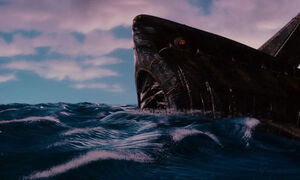 | | | |
| --- | --- | --- |
| " | Hooligans! Ruffians! Degenerates! | " |
| | ~ Mrs. Ladybug fighting the Sharks's harpoons. | |
The Mechanical Shark, also better known as the Shark, is a supporting antagonist from Disney's 1996 live action/stop-motion animated film James and the Giant Peach, which is based on the 1961 children's novel of the same name by the late Roald Dahl.
While having no voice, the sound effects for it were provided by Ken Fischer.
Biography
The mechanical shark appears from the ocean and attacks the peach. It fires multiple harpoons which penetrate the peach and cut the threads that connected the stem to the seagulls that were carrying the peach.
The Centipede loses his balance due to the shaking of the peach and falls. He grabs one of the wires of the harpoons and slips down into the machine's mouth. After the Centipede is rescued, one of the harpoons gets stuck inside the spinning turbines of teeth the machine has. With the turbine clogged, the machine's inner mechanisms then clash with each other and it explodes to death.
Trivia
In the book, the group was attacked by a massive group of normal sharks that ate at the peach. It is unknown why it was changed to a giant robot in the film, but it may have been to make a more compelling and intense scene than a group of normal sharks. It might also have been to make animation easier, as it would probably be very difficult to animate a bunch of sharks with stop-motion.
The shark's existence is unusual, as it is unknown how and why it was created or even if it was a product of James' imagination. It has been theorized that perhaps Aunt Sponge and Aunt Spiker built it in case James attempted to leave the house by swimming away, though this is unlikely, as Sponge and Spiker are seen to have economic problems in the film and that their house does not look good.

Villains

Villains
Books
James and the Giant Peach: Aunt Sponge & Aunt Spiker | Rhino | Cloud Men
Charlie and the Chocolate Factory: Arthur Slugworth | Veruca Salt | Mike Teavee
The Magic Finger: The Girl
Fantastic Mr. Fox: Boggis, Bunce and Bean | Rat
Charlie and the Great Glass Elevator: Vermicious Knids
Danny, the Champion of the World: Mr. Victor Hazell
The Enormous Crocodile: Enormous Crocodile
The Twits: Mr. and Mrs. Twit
George's Marvellous Medicine: Grandma
The BFG: Giants (Fleshlumpeater, Bloodbottler, Bonecruncher, Meatdripper & Gizzardgulper)
Revolting Rhymes: Big Bad Wolf | Jack's Mother | Little Red Riding Hood | Miss Maclahose | Ugly Sisters
The Witches: Witches (Grand High Witch, The Woman in Black, Beatrice, Henrietta & Elizabeth)
Dirty Beasts: Crocky-Wock | Stingaling
Boy: Tales of Childhood: Headmaster of Llandaff Cathedral School | Mrs. Pratchett | Captain Hardcastle
The Giraffe and the Pelly and Me: The Cobra
Matilda: Agatha Trunchbull | Harry Wormwood
Rhyme Stew: Jock McFadden | Lord Hellespont | The Emperor | The Witch
The Minpins: Red-Hot Smoke-Belching Gruncher

Movies
Charlie and the Chocolate Factory: Arthur Slugworth
The Witches: Witches (Grand High Witch, Susan Irvine, Nicola Cuttle, Pamela, Lois Leffour, Mildred, Elizabeth, Henrietta, Jacqueline & Beatrice)
James and the Giant Peach: Aunt Sponge | Aunt Spiker | Rhino | Skeleton Pirates | Shark
Matilda: Agatha Trunchbull | Harry Wormwood | Zinnia Wormwood | Michael Wormwood
Fantastic Mr. Fox: Boggis, Bunce and Bean | Rat
The BFG: Giants (Fleshlumpeater, Bloodbottler & Bonecruncher)
Villains
Movies
Beetlejuice: Beetlejuice | Sandworms
Batman (1989): Joker | Bob Hawkins | Joker Goons | Alicia Hunt | Carl Grissom | Max Eckhardt | Vinnie Ricorso | Joe Chill |
Edward Scissorhands: Jim
Batman Returns: Penguin | Red Triangle Circus Gang (Organ Grinder, Poodle Lady, Tattooed Strongman, Stungun Clown, Thin Clown, Fat Clown, Sword Swallower & Knifethrower Dame) | Max Shreck | Catwoman
The Nightmare Before Christmas: Oogie Boogie | Lock, Shock and Barrel
Batman Forever: Riddler | Two-Face | Sugar | Spice | NygmaTech (Frogmen) | Neon Gang (Neon Gang Leader) | Salvatore Maroni
James and the Giant Peach: Aunt Sponge | Aunt Spiker | Rhino | Skeleton Pirates | Shark
Batman & Robin: Poison Ivy | Mr. Freeze | Bane | Snowy Cones Thugs | Golums | Jason Woodrue
Mars Attacks!: Martian Leader | Martians (Martian Ambassador & Martian Girl)
Sleepy Hollow (1999): Lady Van Tassel | Headless Horseman | Reverend Steenwyck
Planet of the Apes (2001): General Thade | Attar | Limbo
Charlie and the Chocolate Factory: Arthur Slugworth
Corpse Bride: Barkis Bittern | Maudeline Everglot
Sweeney Todd: The Demon Barber of Fleet Street: Sweeney Todd | Mrs. Lovett | Judge Turpin | Beadle Bamford | Jonas Fogg | Adolfo Pirelli
9: Fabrication Machine | 1 | 8 | Machines (Cat Beast, Winged Beast, Seamstress, Steel Behemoths, Seeker Drones & Spiderbots) | Chancellor Fredinand | The Chancellor's Party
Alice in Wonderland (2010): Red Queen | Knave of Hearts | Card Soldiers | The Jabberwock | Jubjub Bird | Hamish Ascot
Dark Shadows: Angelique Bouchard | Julia Hoffman
Abraham Lincoln: Vampire Hunter: Adam
Frankenweenie: Mr. Whiskers | Shelley | Were-Rat | Sea Monkeys | Mr. Burgermeister
Big Eyes: Walter Keane
Miss Peregrine's Home for Peculiar Children: Mr. Barron | Malthus
Dumbo (2019): V.A. Vandevere | Neils Skellig | Pink Elephants | Rufus Sorghum