Jurassic World: Dominion Dominates Fandom Wikis - The Loop
Play Sound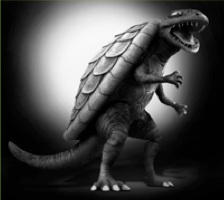 Shelley (also known as the Turtle Monster) is one of the monster pets and one of the secondary antagonists of Disney/Tim Burton's 2012 stop-motion animated film Frankenweenie.
Her vocal sound effects were provided by Dee Bradley Baker.
Biography
The Monster Turtle is actually Toshiaki's dead turtle named Shelley. When he digs it up to use Victor Frankenstein's reanimation secrets on it, the experiment goes awry and the resurrected turtle grows into an enormous Godzilla-sized monster after getting doused with Miracle Gro whilst being struck by the lightning.
The Turtle Monster then begins to rampage around the town and then the Dutch Day festival stomping and crashing cars, destroying everything in sight. Toshiaki needs Victor's help to resolve his problems, so Victor and Toshiaki and Bob went to the Dutch Day festival to stop The Turtle Monster. Toshiaki went to the ferris wheel to take a video on his monster pet but the beast approached Toshiaki and began to attack him, however Victor managed to stop the beast after throwing a live cable into the puddle Shelley was standing in, thus electrocuting the monster and reverting it back into the dead turtle it once was.
Trivia
Shelley's name appears to be a reference to Mary Shelley, author of Frankenstein.

Villains
Villains
Animated Features
Oogie Boogie | Lock, Shock and Barrel | Aunt Sponge | Aunt Spiker | Rhino | Skeleton Pirates | Shark | Barkis Bittern | Maudeline Everglot | Finis Everglot | 1 | 8 | Fabrication Machine | Machines (Cat Beast, Winged Beast, Seamstress, Steel Behemoths, Seeker Drones & Spiderbots) | The Chancellor's Party (Chancellor Fredinand) | Mr. Whiskers | Shelley | Were-Rat | Sea Monkeys | Mr. Burgermeister
Live-Action Films
Francis Buxton | Beetlejuice | Sandworms | Joker | Bob Hawkins | Joker Goons | Alicia Hunt | Carl Grissom | Max Eckhardt | Vinnie Ricorso | Joe Chill | Harvey Dent | Jim | Penguin | Red Triangle Circus Gang (Organ Grinder, Poodle Lady, Tattooed Strongman, Stungun Clown, Thin Clown, Fat Clown, Sword Swallower & Knifethrower Dame) | Max Shreck | Catwoman | Riddler | Two-Face | Sugar | Spice | NygmaTech (Frogmen) | Neon Gang (Neon Gang Leader) | Salvatore Maroni | Aunt Sponge | Aunt Spiker | Rhino | Skeleton Pirates | Shark | Martian Leader | Martians (Martian Ambassador & Martian Girl) | Poison Ivy | Mr. Freeze | Bane | Snowy Cones Thugs | Golums | Jason Woodrue | Lady Van Tassel | Headless Horseman | Reverend Steenwyck | General Thade | Attar | Limbo | Don Price | Arthur Slugworth | Sweeney Todd | Mrs. Lovett | Judge Turpin | Beadle Bamford | Jonas Fogg | Adolfo Pirelli | Red Queen | Knave of Hearts | Card Soldiers | The Jabberwock | Jubjub Bird | Hamish Ascot | Angelique Bouchard | Julia Hoffman | Collins Family | Adam | Walter Keane | Mr. Barron | Malthus | V.A. Vandevere | Neils Skellig | Rufus Sorghum
See Also
20th Century Studios Villains | 9 Villains | Alice in Wonderland Villains | Batman Villains | Buena Vista International Villains | Disney Villains | DreamWorks Villains | Frankenstein Villains | Laika Villains | Lantern Entertainment Villains | Lionsgate Villains | Paramount Villains | Planet of the Apes Villains | Sleepy Hollow Villains | Sweeney Todd Villains | Sony Pictures Villains | Universal Studios Villains | Village Roadshow Pictures Villains | Warner Bros. Villains