"
Shenzi: Well, well, well, Banzai, what have we got here?
Banzai: Mmm, I don't know, Shenzi. Uh, what do you think, Ed?
Ed: [giggles madly]
Banzai: Just what I was thinking... A trio of trespassers!
"
~ The hyenas encountering Simba, Nala, and Zazu in the Elephant Graveyard.
Shenzi, Banzai, and Ed are the secondary antagonists of Disney's 32nd full-length animated feature film, The Lion King, and its upcoming 2019 remake, and the main antagonists of its 2004 midquel, The Lion King 1½, despite having little screen time. They are members of the Hyena Clan that acted as Scar's former henchmen.
Shenzi was voiced by Whoopi Goldberg and Tress MacNeille, Banzai was voiced by Cheech Marin and Rob Paulsen and Ed was voiced by the legendary voice actor, Jim Cummings, who also portrayed Scar, Razoul, Hernán Cortés, Dennis, Rasputin, and Hadrian. In the upcoming 2019 remake, Shenzi will be voiced by Florence Kasumba, Banzai (renamed Kamari) will be voiced by Keegan-Michael Key, and Ed (renamed Azizi) will be voiced by Eric Andre.
The Hyenas
Shenzi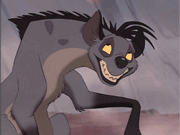 Shenzi is the only female of the trio. She is very confident, hopeful, collected, malicious, vicious, intelligent, menacing, jokey, ruthless, manipulative, maniacal, and constantly scheming. This makes her the de facto leader of the trio, and probably the entire clan, a trait consistent with true spotted hyenas; females are usually larger than the males and dominate them. This also makes her the de-facto secondary antagonist in the first film and the de-facto main antagonist in the midquel.
She comes up with the idea of telling Scar that Simba is dead after he escapes, confident in the belief that he will never learn otherwise, and is confident enough to tell him that there is no food or water left. Her distinguishing features are three prominent bangs hanging over her face and a mane that reaches all the way to her bangs. She also lacks the dark gray "stubble" snout of the males, and the dark patches around her eyes are shaped to resemble heavily applied eye-shadow.
Her full name, according to The Lion King 1½, is Shenzi Marie Predatora Vendetta Jackalina Hyena. Shenzi was originally going to also be male and played by Tommy Chong, reuniting him with his old comedy partner Cheech Marin, who was playing Banzai.
Banzai
Banzai is the most aggressive of the trio, usually speaking in a raised voice, with a shorter temper than Ed or Shenzi, and always ready to get into a fight. But since he usually thinks with his muscles, he still submits to Shenzi. Although he talks big, he (along with the other hyenas) is really cowardly. He is also extremely greedy, talking about food frequently. Otherwise, Banzai is apparently just as intelligent as Shenzi, knowing a few languages like pig Latin, Spanish, and French. His distinguishing feature is his unusually heavy eyebrows, but apart from these he is the model for most generic hyenas.
Ed
Ed converses entirely through obnoxious chuckling and sports a permanently foolish grin. He is heavily implied and has proven to be mentally ridiculous, imbecilic, and crazy. His eyes never seem to focus on anything appropriately, he has two round cuts on each ear and his tongue is almost always lolling out. He is famous for his foolishness, his craziness, getting his friends in trouble, giggling maniacally and obnoxiously at unnecessary times, and being absentminded and oblivious to his surroundings.
Personality and Appearance
All three spotted hyenas are rather sadistic, goofy, obnoxious, vicious, ruthless, maniacal, argumentative, wise-cracking, sinister, and psychotic, most of all Ed, who is always cross-eyed with his tongue hanging out, and almost never speaks, only giggles. Shenzi is a female, while Banzai and Ed are males.
History
In the book "A Tale of Two Brothers" (which takes place many years before the first film), the then adolescent hyenas surround a helpless baboon named Rafiki who arrived in the Pride Lands. King Ahadi comes to the rescue just in time, with his adolescent sons Mufasa and Taka close behind him where Ahadi chides the hyenas, telling them that they already ate because it is against the rules to hunt for sport in the Pridelands, and commands the hyenas to leave Five Stones. After their failed hunt, the hyenas skulked at a distance from Pride Rock, complaining about Ahadi and his constant supervision. Banzai and Shenzi exchanged complaints about the king and advocated the ushering in of a new era, amusing that with Mufasa dead, they would be able to rule the Pride Lands. Later, Shenzi advises Taka to make himself look good by making Mufasa look bad. Taka has decided to incite a greedy and selfish buffalo named Boma to fight Mufasa. But the plan didn't turn out so well, and Taka's eye was wounded by the buffalo herd in the process, and hences the name "Scar" from then on.
They are seen in the book, "Friends in Need", where they are preparing to boil a young Zazu until Prince Mufasa passes by, and scares the hyenas away next.
The Lion King 1½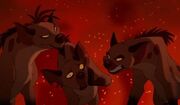 They re-appeared as the main antagonists in The Lion King 1½ (which takes place before, during and after the first film) though their role in the film is small.
In their first appearance, they attack a meerkat colony when Timon, who is the sentry on duty of the colony, is daydreaming. They fail to catch any meerkats, but this incident drives Timon to leave the colony to find where he truly belongs.
The hyenas make an appearance again during the film's climax at Pride Rock. Eventually, Timon and Pumbaa are cornered by the hyenas when attempting to get them away from Simba as he goes to fight Scar. Timon proposes to Shenzi as a desperate move to buy time for his mother and Uncle Max as they dig a tunnel, which she turns down abruptly. Then, the hyenas fall into the tunnel, which transports them to the ground just in time for them to confront Scar.
The Lion King
"
Shenzi: Friends? I thought he said we were the enemy.
Banzai: Yeah, that's what I heard.
Both: Ed?
Ed: [giggles madly]
"
~ The hyenas before they kill Scar for his betrayal against them
The Hyena Trio are the secondary antagonists in the first film. They appear in the Elephant Graveyard where they, under Scar's orders, chase the young Simba and Nala in an attempt to kill and devour them in the first place, but they're scared away by Mufasa. Afterwards, they assist Scar carry out his plan to murder Mufasa by triggering the wildebeest stampede. Immediately after Scar tells Simba to run away and never return, he orders the hyenas to slaughter Simba as well, but Simba gets away from the hyenas as they can't follow him through the thorn-bushes he falls into. As Scar takes over the throne, he allows the hyenas to hunt around the grounds (much to their delight). However, as the years passed, the trio complain about the lack of food and water in the Pride Lands (to which Scar neglects); even Banzai secretly confesses to both Shenzi and Ed that Mufasa's reign was far more better than Scar's, implying some remorse over their role in Mufasa's death.
When Simba returns to Pride Rock to reclaim his rightful place as King, Scar angrily stares at the hyenas for failing to kill him, making them feel a little nervous. As Simba tries to chase and overthrow Scar, the hyenas join the fight, but most are defeated by the lionesses, and Shenzi and Banzai are ruthlessly beaten up by Pumbaa for trying to eat Timon and Zazu and calling Pumbaa a "pig".
When Shenzi, Banzai, and Ed overhear Scar trying to thrust all blame for the events on them to Simba, claiming that it was all their idea, they are angry and alert the rest of the clan of Scar's deception.
After Scar is defeated by Simba, he finds himself surrounded by the hyenas and greets them casually. However, they reveal they overheard him as he tries to explain that he didn't really mean what he said, but the hyenas we're fed up with his broken promises of never going hungry again. Without hesistation, they close in to leap on Scar and fiercely rip him apart to his death. They then presumably eat Scar's body to satisfy their hunger, though this is unconfirmed.
The Lion King II: Simba's Pride
They didn't appear in the sequel. Although they were mentioned by Nuka, who says that the graveyard has become more creepy ever since the hyenas left the Pride Lands.
It is possible that the hyenas Nuka mentioned weren't Shenzi, Banzai, and Ed, but several unnamed hyenas since hundreds were shown during the villains' song, and only some of them (Shenzi, Banzai, and Ed among them) were sent to the lower area where they eat Scar, and could possibly have been consumed by the flames. Those who did not fall below presumably returned to the elephant graveyard, and later "ran off". The fate of Shenzi, Banzai and Ed remains unknown.
The Lion King (live action)
The hyenas are set to appear in the first film's upcoming 2019 remake. However, whilst Shenzi keeps her name, Banzai and Ed will be renamed as Kamari and Azizi.
Other appearances
Timon and Pumbaa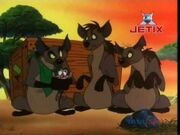 In the TV series, the hyenas are recurring antagonists, continuously intimidating Timon and Pumbaa. It should also be pointed out that significant plot points involving the three hyenas and Timon and Pumbaa in this series (particularly, the episode, "Once Upon A Timon"), have since been reconnected by the events that took place in The Lion King 1½.
Kingdom Hearts II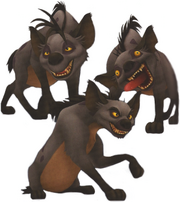 The hyenas appeared in Kingdom Hearts II. Other hyenas appear as well, but while they're brown in color, the trio are still gray.
When Sora, Donald Duck, and Goofy show up in the Pridelands, they are met by the hyenas. The hyenas surround the three of them and try to crucify them, but Scar calls for them and they reluctantly leave. The hyenas attack them again and Scar plans to eat them but Nala knocks him down and allows Sora, Donald, and Goofy to get away.
Later, the hyenas are seen at Pride Rock during the final battle between Simba and Scar. The hyenas attack Timon and Pumbaa but they are attacked by Sora, Donald, and Goofy. They run away and are exiled after Scar's death.
Later on, Sora, Donald, and Goofy are wandering across the landscape when they see the hyenas running towards the three of them. Upon realizing it is them, they stop, displeased that they're not the meal they thought. Then, they giggle when Sora mentions Simba, who is being tortured by Scar's ghost.
Simba and the trio confront the hyenas again. The hyenas tell them to leave them alone. Simba asks if they know anything about Scar's ghost. They run away but the three of them are caught soon enough. Simba realizes they know nothing of Scar's ghost. Soon, Scar's ghost arrive though, and frightens Simba away. The hyenas laugh at his nervousness and depart.
Gallery
Images
Videos
Trivia
While Banzai is similar to Eddy from Ed, Edd, n Eddy, Ed is similar to Ed. However, the cartoon was premiered in 1999, and The Lion King was released in theaters in 1994, five years until the premiere of the cartoon series.
Originally, Shenzi would be a male hyena and not a female hyena, and his voice actor would be Tommy Chong, a voice actor that is friend of Banzai's voice actor, Cheech Marin.
The trio may have been inspired by the character Fortinbras from Hamlet because the story of The Lion King is inspired by Shakespeare's story of Hamlet, and thus, the story of Norway's conflict with Denmark in Hamlet mirrors that between the hyenas' hatred of the lions in The Lion King. The fact that the usurper Claudius in Hamlet uses the Norwegians to try and conquer Denmark mirrors the way Scar manipulates the hyenas.
Originally; Ernie Sabella, Pumba's voice actor, tried to get the role of Shenzi. At that time, Shenzi was supposed to be a male hyena.
Originally; Shenzi, Banzai & Ed were planned to appear as Zira's henchmen in The Lion King II: Simba's Pride. However, the idea was scrapped, because the hyenas killed Scar, and Nuka and Vitani were created as Zira's henchmen. Vitani was the equivalent of Shenzi, and Nuka was the equivalent of Banzai and Ed.

According with the above, the only confirmed hyena to be planned to appear in the sequel was Banzai, because Cheech Marin (Banzai's voice actor) confirmed this via Daily News.

Despite being the main antagonists of the 2004 midquel The Lion King 1½, the hyenas have little screen time.
The Hyenas are similar to Lock, Shock and Barrel from the 1993 movie The Nightmare Before Christmas and are also similar to Pain and Panic from the 1997 movie Hercules.
Ed is the only non-speaking hyena. Curiously, Jim Cummings, his voice actor, voiced Scar in the final moments of Be Prepared and in The Lion King II: Simba's Pride.
In The Lion Guard, it's revealed that Janja, Chungu and Cheezi, the main antagonists of the 2015 TV film The Lion Guard: Return of the Roar and it's 2016 TV sequel series The Lion Guard, are descendants of the Hyena Clan. However, it remains unknown if they were descendants of Shenzi, Banzai and Ed.
It's possible that Shenzi, Banzai & Ed will return in The Lion Guard. It's not official, but is 99% probably. However, until today, their fate after The Lion King and during The Lion King II: Simba's Pride is unknown.

According to the above, in the episode of Timon and Pumba, "TV Dinner"; Shenzi, Banzai & Ed become TV hosts of the Martin Partin's documentary program. Remembering that the TV series take place after The Lion King, this would be the hyenas' glorius fate. But unlike Lion Guard, Timon and Pumbaa are non-canon with the movies.

Originally, they were planned to appear in Kingdom Hearts. However, The Lion King world was scrapped, and for this reason, the three hyenas were cut from the video game.
It is possible that Shenzi, Banzai and Ed will return in the upcoming TBA video game Kingdom Hearts III.

Villains
Animated Features
Queen Grimhilde | Magic Mirror | Honest John | Gideon | Stromboli | Coachman | Coachman's Minions | Monstro | Chernabog | Zeus | Vulcan | Boreas | Pink Elephants | Man | Ronno | Tetti-Tatti | Lumpjaw | Willie | Rustlers | Mr. Winkie | Weasels | Headless Horseman | Lady Tremaine | Anastasia Tremaine | Drizella Tremaine | Lucifer | Queen of Hearts | Card Soldiers | Cheshire Cat | Walrus & Carpenter | James Hook | Neverland Pirates (Mr. Smee) | Tick Tock | Rat | Si & Am | Maleficent | Diablo the Raven | Maleficent's Goons | Cruella De Vil | Jasper & Horace | Madam Mim | Shere Khan | Kaa | Bandar Log (King Louie) | Edgar Balthazar | Prince John | Sheriff of Notthingham | Sir Hiss | Captain Crocodile | Rhino Guards | Wolf Arrowmen | Trigger & Nutsy | Heffalumps and Woozles | Madame Medusa | Mr. Snoops | Brutus & Nero | Amos Slade | Chef | Horned King | Horned King's Army (Creeper & Gwythaints) | Cauldron Born | Orddu, Orwen & Orgoch | Arawn | Professor Ratigan | Thugs (Fidget, Felicia & Bartholomew) | Bill Sykes | Roscoe & DeSoto | Ursula | Flotsam & Jetsam | Percival C. McLeach | Joanna | Beast | Gaston LeGume | LeFou | Asylum D'Loons (Monsieur D'Arque) | Tom, Dick, Stanley & Walter | Wolves | Jafar | Iago | Razoul | Prince Achmed | Gazeem | Cave of Wonders | Scar | Hyena Clan (Shenzi, Banzai & Ed) | John Ratcliffe | Claude Frollo | Frollo's Soldiers (Captain Phoebus, Brutish Captain, Oafish Guard, Pierrat Torturue & Henriet Cousin) | Hades | Pain & Panic | Fates | Cerberus | Titans (Lythos, Hydros, Pyros, Stratos & Cyclops) | Nessus | Hydra | Nemean Lion | Shan Yu | Hun Army (Hayabusa & Elite Hun Soldiers) | Cecil Clayton | Sabor | Clayton's Pirates | Firebird | Black Triangles | Jack-in-the-Box | Kron | Bruton | Kuzco | Yzma | Kronk | Lyle Tiberius Rourke | Rourke's Mercenaries (Helga Sinclair) | Leviathan | Vikings | Gantu | John Silver | Pirates (Scroop, Onus, Hands, Turnbuckle, Blinko, Longbourne, Fayvoon, Grewnge, Krailoni, Hedley, Torrance, Mertock, Verne, Crex & Zoff) | Nathaniel Flint | Alameda Slim | Rico | Willie Brothers | Mr. Wesley | DOR-15 | Bowler Hat Guy | Dr. Calico | Dr. Facilier | Lawrence | Facilier's Shadow | Shadow Demons | Ian the Gator | Marlon the Gator | Reggie, Darnell & Two Fingers | Friends on the Other Side | Mother Gothel | Stabbington Brothers | Turbo | Cy-Bugs | Sour Bill | Wynnchel & Duncan | Snow Queen | Prince Hans | Duke of Weselton | Erik & Francis | Wolves | Yokai | Alistair Krei | Mr. Yama | Dawn Bellwether | Doug Ramses | Woolter | Jesse | Sheep Cops | Ram Thug | Duke Weaselton | Mr. Big | Polar Bear Thugs (Koslov, Raymond & Kevin) | Te Kā | Tamatoa | Kakamora | Arthur | King Runeard
Live-Action Movies
Captain Nemo | Pony Sugrue | Prince John (1952) | Red Stick | Bigfoot Mason | Chato | Samuel Mason | Harpe Brothers | The Marten | Wilse Owens | Kuala | Vicky Robinson | Ute Chief | Jacques Lebeau | Makoos | Durante | Barnaby | James Haggin | Cattlemen | Comanche Chief | Apaches | Mr. Dawes Sr. | Tanamashu | Judge Huggins | Mountain Ox | Peter Thorndyke | Havershaw | Vince Heber | Mrs. Satterfield | A.J. Arno | Chillie Walsh | Colonel Pierson | Ab Cross | Colonel Heller | King Leonidas | Bookman | Swinburne | Mr. Eben | Mark Pierson | Hugh McRae | Sam Eagle Speaker | Kerwood Krinkle | Frank Sitwell | Hnup Wan | Dr. Terminus | Gogans | Charles Olympus | Wooly Bill Hitchcock | Big Mac | Hans Reinhardt | The Watcher | George McKinzie | Alec Frost | Bluto | Vermithrax Pejorative | Master Control Program | Sark | Ed Dillinger Sr. | Mark Jennings | Kelly | Mr. Dark | Mike | Rosie Little | Hunters | Nome King | Princess Mombi | Connie | Bullwhip | Parker | Buzz | Wolf's Owner | Timber Wolf | Hunter | Eagle | Alistair Patton | Patton Sr. | Judge Doom | Toon Patrol (Smartass, Greasy, Psycho, Wheezy & Stupid) | Abdullah | Mr. Patel | Nigel | John Merrick | Beauty Smith | Luke & Tinker | Sykes | Cherokee | Lip-Lip | Fritz | Neville Sinclair | Lothar | Nigel Snyder | Joseph Pulitizer | Delancy Brothers | Charles Hendrickson | Terrence Wheeler | Winifred Sanderson | Mary Sanderson | Sarah Sanderson | John Ricketts | The King and the Duke | Pap Finn | Cardinal Richelieu | Comte de Rochefort | Milady de Winter | Borg Guillarson | Leland Drury | Heath | Miners | Lloyd Halverson | William Boone | Buldeo | John Wilkins | Tabaqui (1994) | Sergeant Harley | Bandits | Sergeant Clairbourne | Shere Khan (1994) | Bandar Log (1994) (King Louie (1994) & Kaa (1994)) | Juice | Ranch Wilder | Injun Joe | Tony Perkis | Agent Woods | Jack and Ralph | Ashcan and Pete | Aunt Sponge | Aunt Spiker | Rhino | Skeleton Pirates | Shark | Cruella De Vil (1996) | Jasper and Horace Badun (1996) | Mr. Skinner | Jean-Pierre Le Pelt | Alonzo | Norman Snively | Ricky King | Charlotte | Lyle Van de Groot | Max & Thor | Lion | Beatrice Stanhope | Chester Hoenicker | Wilson Croft | Smith & Wesson | Bennett Hoenicker | Luanne LeSeur | Meredith Blake | Natalya | Popov | Shere Khan (1998) | Tabaqui (1998) | Bandar Log (1998) | Eddie Taffet | Andrei Strasser | Elliot Coleye | Dr. Claw | Kramer | RoboGadget | Malcolm | Snerbert | Lana Thomas | Elliot T. Jindraike | Professor Siles | Toy Santa | Louise Walker | Mr. Sir | Charles "Trout" Walker | Kissin' Kate Barlow | Linda Walker | Sheriff | Doug & Gordon | Hector Barbossa | Crew of the Black Pearl (Bo'sun, Scratch, Pintel & Ragetti) | Master Gracey | Madame Leota | Ramsley | Zombies | Werecat Lady | Carla Santini | Lord Kelvin | Black Scorpions (General Fang) | Inspector Fix | Viscount Mabrey | Ian Howe | Bill Fawcett | Zaphod Beeblebrox | Frankie & Benjy | Prostetnic Vogon Jeltz | Vogons | Humma Kavula | Gag Halfrunt | Royal Pain | Stitches | Lash | Speed | Penny Lent | Jadis the White Witch | Jadis' Secret Police (Maugrim & Vardan) | Ginarrbrik | General Otmin | Dr. Kozak | Jack Frost | Davy Jones | Crew of the Flying Dutchman (Maccus & Kraken) | Cutler Beckett | East India Trading Company | Janice Avery | Queen Narissa | Mitch Wilkinson | Sinon Bar Sinister | Cad Lackey | El Diablo | Henry Burke | Miraz | Telmarines (Glozelle & Sopespian) | Nikabrik | Hag & Werewolf | Kendall Duncan | Tess Tyler | Speckles | Lucinda | Oswald Granger | Red Queen | Knave of Hearts | Card Soldiers | Jabberwock | Jubjub Bird | Hamish Ascot | Morgana le Fay | Morganians (Maxim Horvath, Abigail Williams, Sun Lok, Drake Stone & Marrok) | Nizam | Ms. Stout | CLU 2 | Rinzler | Blackbeard | Angelica Teach | The Spaniard | King Ferdinand VI | King George ll | San Than | Matai Shang | Tal Hajus | Jenny | Latham Cole | Butch Cavendish | Jay Fuller | Evanora | Theodora | Maleficent (2014) | Diaval | King Stefan (2014) | King Henry | The Witch | The Wolf | Lady Tremaine (2015) | Grand Duke (2015) | Anastasia Tremaine (2015) | Drizella Tremaine (2015) | Lucifer (2015) | David Nix | Shere Khan (2016) | Bandar Log (2016) (King Louie (2016)) | Kaa (2016) | Fleshlumpeater | Giants (Bloodbottler & Bonecruncher) | Pramod Kadam | Beast (2017) | Gaston LeGume (2017) | LeFou (2017) | Asylum D'Loons (Monsieur D'Arque (2017)) | Tom, Dick & Stanley (2017) | Wolves (2017) | The King (2017) | Armando Salazar | Crew of the Silent Mary (Lesaro) | Scarfield | It | Heffalumps | Sugar Plum Fairy | Tin Soldiers | William Weatherall Wilkins | V.A. Vandevere | Neils Skellig | Pink Elephants (2019) | Rufus Sorghum | Jafar (2019) | Iago (2019) | Cave of Wonders (2019) | Scar (2019) | Hyena Clan (2019) (Shenzi, Kamari & Azizi) | Queen Ingrith | Gerda | Borra | Rat (2019) | Devon & Rex | Isaac
Other Animated Movies
Br'er Fox & Br'er Bear | Giant Magnet | Evil Clown | Merlock | Dijon | Oogie Boogie | Lock, Shock & Barrel | Bill Bluff | BluffCo Industries (Guy Graham, Bob & Bluff Agents) | Gloomius Maximus | Ivan Krank | Von Talon | Cufflingk and Underlingk | Kazar | Wildebeests (Blag) | Vidia | Jacob Marley | Old Joe | Supervisor | Mr. Whiskers | Shelley | Were-Rat | Sea Monkeys | Mr. Burgermeister | Ripslinger | Zed | Ned | Zarina
Sequels
Abis Mal | Sa'Luk | Forty Thieves | Maestro Forte | Fife | Jesters | Zira | Outsiders (Nuka & Vitani) | Mack McCro | Jim Bob | Supreme Commander | Morgana | Undertow | Cloak & Dagger | Bradley Uppercrust III | The Gammas | Buster | Sarousch | Pom-Pom | Tad White | Jacques von Hamsterviel | Reuben | Sparky | Leroy | Erik Hellstorm | Ashton Carnaby | Edgar Volgud | Krakken | Lil Lightning | Bandits | Mama Gunda | Uto & Kago | Marina Del Rey | Cad Spinner
Shorts, Television, Comics and Video Games
Peg Leg Pete | Phantom Blot | Skeletons | Grim Reaper | Mad Doctor | Demon Cats | Gustav the Giant | Lonesome Ghosts | Doctor Vulter | Solego the Chaos God | Arpine Lusene | Eli Squinch | Sylvester Shyster | Fantomius | Inquinator | Spectrus | Zafire | H. U. Hennessy | Jolly Roger | Witch | Zeke Midas Wolf | Captain Katt | Mortimer Mouse | Butch the Bulldog | Beagle Boys | Foxy Loxy | Ajax Gorilla | Witch Hazel | Adolf Hitler | Nazi School Teacher | Little Hans | Fat Cat | Norton Nimnul | Aldrin Klordane | Baby Thaddeus | Ratso Ratzkiwatzki | Julius | Dr. Frankenollie | Mizrabel | Huntsman | Huntsgirl | Dark Dragon | Al Roker | Chuckles | Princess Irmaplotz | Grace Goodwin | Molly | Shadow Blot | False Shadow Blot | Foxy Loxy | Goosey Loosey | Suzi | Oswald Gardner | Commander Heist | Lazlo
Disney Parks
Alien | Lava Monster | Mad Hatter | Nebula Ghosts | Professor J.T. Wu | S.I.R. | Yeti (Expedition Everest) | Yeti (Matterhorn Bobsleds)

Villains
Movies
The Lion King (1994): Scar | Hyena Clan (Shenzi, Banzai & Ed)
The Lion King II: Simba's Pride: Outsiders (Zira, Nuka & Vitani) | Scar
The Lion King 1 1/2: Hyena Clan (Shenzi, Banzai & Ed) | Scar
The Lion King (2019): Scar | Hyena Clan (Shenzi, Kamari & Aizi)
Television
Timon & Pumbaa: Quint | Mel | Shenzi, Banzai & Ed | Pimon & Tumbaa | Ralph & Eddie | El Toro | Claudius | Native Chief | The Three Natives | Cheetayta & Cheetahto | Dragon
The Lion Guard: Janja's Clan (Janja, Mzingo, Cheezi and Chungu, Nne & Tano) | Scar's Army (Scar, Ushari, Kiburi, Reirei, Goigoi, Dogo, Kenge & Sumu) | Outsiders (Zira, Nuka & Vitani) | Makuu | Mapigano | Makucha | Chuluun | Ora | Strange Lion | Strange Cobra
Community content is available under
CC-BY-SA
unless otherwise noted.