Click to help Cruella!

This scum Shin Myung-hoon is driving Cruella insane!
IT MUST BE REWRITTEN OR ADDED TO!!
So sayeth the great Lord of Darkness Sauron, or he will send Darth Vader to terminate you.

Help improve this article by rewriting, expanding, updating the poorly written text of the article. ✓
Jafar says: Read my lips and come to grips with the reality!


This article is a stub and is in need of expansion. You can help Villains Wiki by expanding it.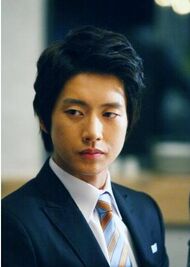 Shin Myung-hoon is one of the villains of 2008 Korean series East of Eden.
He was portrayed by Park Hae-Jin in the present and by Won Dyeok-hun in his 10 years old version.
Biography
He is the biological brother of Lee Dong-gul and fake son of Shin Tae-hwan. He was switched with Lee Dong-wook at birth by Tae-hwan's ex lover Rebecca for revenge after death of his father and Myung Hoon was obsessed on Ji-hye since his childhood left him spoiled and she become girlfriend of Dong-wook. During at Myung-hoon's anger and as boss who tormented lee brothers, senting his bodyguards burning fire on Lee's home and even he kidnapped and raped Ji-hyun which result pregnancy -their son by forced marriage and left Dong-wook heartbroken.
Years later, Ji-hyun become heir while Myung Hun learns about the truth about his background and father's illegal actives caused pain of his mother and brother. he even apologized to his mother and visited grave of his father, Myung Hoon was against Tae-hwan by betrayed him for police and beaten by thugs before he was saved by Dong-chul. Later Myung-hoon tefisefed aginast Shin Tae-hwan for crimes only Ji-hyun and their son supported him after Dong-chul's death Myung-hoon, Ji-hyun and their son Tae-ho attemed his niece's birthday
Community content is available under
CC-BY-SA
unless otherwise noted.