Jurassic World: Dominion Dominates Fandom Wikis - The Loop
Play Sound
Shrapnel is a supervillain in the DC Comics universe and is an enemy of the Doom Patrol and the Outsiders.
History
Very little about Shrapnel's past and identity is known, although it is known that his name is Mark Scheffer and that he was a normal human at one time and has an ex-wife and two very human blond-haired daughters. Shrapnel has tried to stay incognito, but failed to do so after deciding to slaughter anyone who caught even a glimpse of him.
He was discovered by the Doom Patrol in Kansas while on a murder spree and forced into combat by the team. Celsius quickly flooded Shrapnel encasing him within a solid prison block of ice. Shrapnel blew it apart, hitting Mrs. Caulder point blank and hospitalizing the heroine.
It is also noted that Lodestone was not able to magnetize some control over Shrapnel. It was energy blasting Tempest who worked out that Shrapnel is a series of organic cells creating a single consciousness- that feeds on the blood of victims. Shrapnel escaped the encounter with the Doom Patrol.
He has since joined the Secret Society of Super Villains. Shrapnel has later resurfaced as one of the exiled supervillains in Salvation Run.
In DC Special: Cyborg mini-series, Shrapnel has joined The Cyborg Revenge Squad.
Following the Final Crisis, he was with Cheetah III's Secret Society of Super Villains at the time when Genocide was created. He was defeated by Wonder Woman.
Shrapnel appeared in the intercompany crossover JLA/Avengers as one of the villains who attack the Vision and Aquaman in Metropolis. He actually makes the first attack, but the Vision blocks it by increasing his density. After the two heroes are subdued, Shrapnel prepares to blast Aquaman when Green Lantern attacks him and knocks him out.
In other media
Television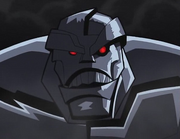 Shrapnel appeared in the Batman: The Brave and the Bold episode "When OMAC Attacks!" voiced by Greg Ellis. This version of Shrapnel is originally

General Kafka

(inspired by the eponymous future villain in the OMAC comic book series), a Russian war criminal who was turned into an organic metal being through a lab accident. As Shrapnel, he continuously fights OMAC in a destructive battle arranged by Equinox. Shrapnel is driven by revenge. He claims to hail from a poor Russian village that was razed and burnt to the ground during an unspecified conflict (apparently as collateral damage in failed attempt of the GPA to curb Kafka's power base), dooming its farmer inhabitants (or better the survived ones) to poverty and famine. In this precarious state of mind, Shrapnel is exploited by Equinox coaxed into trying to set up a meltdown to burn New York City into a nuclear holocaust as a balance for the earlier loss of his people. He was defeated by OMAC and Batman.
Mark Scheffer appeared in Arrow, portrayed by Sean Maher. In "Blast Radius", he is an anti-government serial bomber, part of a terrorist militia group. Team Arrow identifies him by analyzing the remains of his explosive devices. Scheffer uses the alias "Shrapnel", but the character otherwise does not resemble the comic book version. After bombing two government buildings in Starling, Shrapnel targets Sebastian Blood's Unity Rally. He is interrupted by the Arrow, who pursues and apprehends him. In the episode "Suicide Squad", Scheffer is a reluctant member of the Suicide Squad which ties in with the title. Shrapnel tries to abandon the team on their first mission, unaware of a failsafe bomb implanted in his head by Amanda Waller. Waller detonates the bomb, killing him.
Gallery

Villains
Comics
Black Manta | Black Spider | Brain | Brick | Bronze Tiger | Brother Blood | Brotherhood of Evil | Catman | Cheshire | China White | Clayface | Clock King | Count Vertigo | Constantine Drakon | Crumbler | Cupid | Deadshot | Deathstroke | Double Down | Dr. Light | Dr. Sivana | Electrocutioner | Jinx | Joker | Killer Croc | Kodiak | Komodo | League of Assassins | Longbow Hunters | Mammoth | Merlyn | Metallo | Mister Freeze | Neron | Onomatopoeia | Professor Ojo | Professor Zoom | Prometheus | The Queen | Ra's al Ghul | Red Dart | Richard Dragon | Riddler | Royal Flush Gang | Skylark | Solomon Grundy | Stinger | Warp | Wizard
Movie
DC Showcase: Green Arrow: Merlyn | Count Vertigo
Television
Season 1: Oliver Queen | Malcolm Merlyn | China White | Edward Fyers | Billy Wintergreen | Adam Hunt | Constantine Drakon | Martin Somers | Deadshot | Jason Brodeur | Royal Flush Gang | Huntress | Frank Bertinelli | Firefly | Ted Gaynor | Count Vertigo | Amanda Waller
Season 2: Oliver Queen | Deathstroke | Isabel Rochev | Brother Blood | Anthony Ivo | League of Assassins (Nyssa al Ghul & Al-Owal) | China White | Dollmaker | Mayor | Officer Daily | Amanda Waller | Count Vertigo | Cyrus Gold | H.I.V.E. (Milo Armitage) | William Tockman | Suicide Squad (Bronze Tiger, Deadshot & Shrapnel) | Huntress | Frank Bertinelli | Clinton Hogue
Season 3: Oliver Queen | League of Assassins (Ra's al Ghul, Maseo Yamashiro, Nyssa al Ghul & Chase) | Matthew Shrieve | Amanda Waller | China White | Werner Zytle | Komodo | Cooper Seldon | Captain Boomerang | Roy Bivolo | Danny Brickwell | Deathstroke | Michael Amar | Joseph Cray | Suicide Squad (Deadshot & Cupid) | H.I.V.E. (Mina Fayad) | Jake Simmons
Season 4: Oliver Queen | H.I.V.E. (Damien Darhk, Ruvé Darhk, Malcolm Merlyn, Andrew Diggle, Milo Armitage, Phaedra Nixon, Mina Fayad, Thomas, Demolition Team, Michael Amar, Danny Brickwell & Cooper Seldon) | Shadowspire (Baron Reiter, Conklin & Joyner) | Amanda Waller | Lonnie Machin | Jeremy Tell | Rogue Anti-Vigilante Task Force (Liza Warner) | Vandal Savage | Calculator | Cupid | Brie Larvan | Evelyn Sharp
Season 5: Oliver Queen | Prometheus | Talia al Ghul | Evelyn Sharp | Black Siren | Konstantin Kovar | Ishmael Gregor | Tobias Church | Lonnie Machin | Ragman | Janet Carroll | J.G. Walker | Derek Sampson | Scimitar | Vigilante | Dominators | Laura Washington | Hideo Yamane | Sean Sonus | James Edlund | China White | Liza Warner | Cupid | Anatoly Knyazev | Captain Boomerang | Justin Claybourne
Season 6: Oliver Queen | (Ricardo Diaz, Black Siren, Anatoly Knyazev, Kimberly Hill & Sam Armand) | Cayden James | Sheck | Vigilante | Alex Faust | Jackals (Joe Wilson & Nylander) | Dark Arrow | Overgirl | Eobard Thawne | Prometheus (Earth-X) | Quentin Lance (Earth-X) | Athena
Season 7: Oliver Queen | Ninth Circle (Emiko Queen, Dante, Virgil & Beatrice) | Kevin Dale | Ricardo Diaz | Longbow Hunters (Red Dart, Kodiak & Silencer) | Stanley Dover | Danny Brickwell | Derek Sampson | John Deegan | Monitor | A.M.A.Z.O. | Psycho-Pirate | Ghost Initiative (Joe Wilson, China White & Cupid)
Season 8: Oliver Queen | Anti-Monitor | Deathstroke Gang (John Diggle, Jr. & Grant Wilson) | Monitor | Athena | Edward Fyers | Billy Wintergreen | Shadow Demons | Lex Luthor

Video Games
Injustice: Superman | Killer Frost | Solomon Grundy | Sinestro | Black Adam | Wonder Woman | Nightwing | Raven | Catwoman | The Flash | Bane | Gorilla Grodd
Villains
Comics
Alex Luthor | Amanda Waller | Amazo | Anomaly | Anti-Monitor | Atlas | Atomic Skull | Ballser | Bane | Barbatos | Bernadeth | Bertron | Bizarro | Black Adam | Black Banshee | Black Mercies | Black Zero | Blanque | Blackrock | Blaze | Bloodsport | Bloody Mary | Brainiac | Bruno Mannheim | Boss Moxie | Bug-Eyed Bandit | Captain Boomerang | Captain Cold | Catwoman | Cheetah | Chemo | Chessure | Circe | Clayface | Coldcast | Commander Gor | Composite Superman | Cyborg Superman | Cythonna | Dabney Donovan | Dark Knights | Darkseid | Dax Novu | Deathstroke | Desaad | Deuce & Charger | Dev-Em | Devilance | The Devastator | Doctor Light | Doctor Manhattan | Doctor Polaris | Donna Troy | Doomsday | Earth-Man | Eclipso | The Enchantress | Epoch | Equus | Eradicator | Eradicator (Dark Multiverse) | Ernest Smalley | Eve Teschmacher | Faora Hu-Ul | Fastbak | Female Furies | Fifth-Dimensional Imps | Forgotten Villains | Francis Redhorn | Funky Flashman | Galactic Golem | Gilotina | Gorilla Grodd | Granny Goodness | Green Man | Glorious Godfrey | Gzptlsnz | H'El | Heat Wave | Hector Hammond | Hellgrammite | Helspont | Hfuhruhurr | Imperiex | Intergang | Jax-Ur | Joker | Jon Lane Kent | Justice League of Earth | Kaizen Gamorra | Kalibak | Kanto | Karkull | Killer Croc | King Shark | Kobra Cult | Ku Klux Klan | Lashina | Last Sun | Legion of Super-Villains | Lex Luthor | Livewire | Lobo | Mad Harriet | Magpie | Major Disaster | Major Force | Malice Vundabar | Manchester Black | Mandrakk | Mantis | Master Jailer | Masters of Disaster | Match | Maxima | Maxwell Lord | Mercy Graves | Metallo | Mister Oz | Mongal | Mongul | Mongul II | Morgaine Le Fey | Morgan Edge | Mr. Freeze | Mxyzptlk | Neron | Neutron | Nick O' Teen | Nimrod The Hunter | Overman | Parademons | Parallax | Parasite | Phantom Zoners | Planeteer | Plasmus | Plastique | Prankster | Preus | Princess Zala Jor-El | Prometheus | Psycho-Pirate | Queen Bee | Queen of Fables | Rampage | Rogol Zaar | Reverse-Flash | Royal Flush Gang | Samuel Lane | Scarecrow | Secret Society of Super Villains | Shockwaver | Shrapnel | Silver Banshee | Sinestro | Sleez | Solomon Grundy | Subjekt-17 | Suicide Squad | Superboy-Prime | Superdoom | Superman Revenge Squad | Superman (Earth-2) | Superman (The Dark Side) | The SuperMan | Spellbinder | Steppenwolf | Stompa | Talia al Ghul | Tarantula | Thaddeus Killgrave | Thunder & Lightning | Titano | Tobias Whale | Toyman | Two-Face | Ultra-Humanite | Ultraman | Ursa | Vincent Edge | Virman Vundabar | Vyndktvx | Weather Wizard | Whirlicane | Whisper A'Daire | William Dunn | Xa-Du | Zod
Theatrical Movies
Superman: Lex Luthor | Otis | Eve Teschmacher | General Zod | Non | Ursa | Brad Wilson
Superman II: General Zod | Non | Ursa | Lex Luthor | Otis | Eve Teschmacher | Rocky
Superman III: Ross Webster | Corrupted Superman | Vera Webster | Lorelei Ambrosia | Gus Gorman | Brad Wilson
Superman IV: The Quest for Peace: Lex Luthor | Nuclear Man
Superman Returns: Lex Luthor
Man of Steel: Sword of Rao (Dru-Zod, Faora-Ul, Nam-Ek, Jax-Ur, Tor-An, Car-Vex, Nadira, & Dev-Em II)
Batman v Superman: Dawn of Justice: Lex Luthor | Doomsday | Anatoli Knyazev | Mercy Graves | Cesar Santos | Amajagh | Joe Chill | Zod | Steppenwolf
Direct-to-video Movies
Superman: Brainiac Attacks: Brainiac | Lex Luthor | Mercy Graves | Mister Mxyzptlk
Superman: Doomsday: Lex Luthor | Superman Clone | Doomsday | Toyman | Mercy Graves
Superman/Batman: Public Enemies: Lex Luthor | Major Force | Metallo | Amanda Waller | Toyman | Solomon Grundy | Gorilla Grodd | Killer Frost | Lady Shiva | Giganta | Mongul | Captain Cold
Superman/Batman: Apocalypse: Darkseid | Female Furies (Granny Goodness, Gilotina, Mad Harriet, Lashina & Stompa) | Doomsday
Superman/Shazam!: The Return of Black Adam: Black Adam
All-Star Superman: Lex Luthor | Solaris | Parasite | Nasthalthia Luthor | Bar-El & Lilo-El
Superman vs. The Elite: The Elite (Manchester Black, Coldcast, Menagerie & Hat) | Atomic Skull
Superman: Unbound: Brainiac
The Death Of Superman: Doomsday | Lex Luthor | Intergang (Bruno Mannheim) | Mercy Graves | Cyborg Superman
Reign Of The Supermen: Cyborg Superman | Darkseid | Parademons | Lex Luthor | Mercy Graves
Superman: Red Son: Superman | Brainiac | Lex Luthor | Batman | Superior Man
Superman: Man of Tomorrow: Parasite | Lobo | Lex Luthor
Television
1940's Superman
Bulleteers | Inventor | Mechanical Monsters | Mad Scientist
Superman: The Animated Series
Lex Luthor | Brainiac | Darkseid | Metallo | Toyman | Intergang (Bruno Mannheim, Spider Spinelli, & Blaine) | Mercy Graves | Joey | Parasite | Dr. Vale | Lobo | Gnaww | Preserver | Kanto | Earl Garver | Jax-Ur | Mala | Prometheon | General Hardcastle | Weather Wizard | Livewire | Bizarro | Kurt Bowman | Luminus | Mister Mxyzptlk | Superman (Brave New Metropolis) | Lex Luthor (Brave New Metropolis) | Titano | Desaad | Kalibak | Joker | Harley Quinn | Karkull | Corey Mills | Suit | Maxima | De'Cine | Steppenwolf | Parademons | Female Furies (Granny Goodness, Stompa, Mad Harriet, & Lashina) | Volcana | Kurt | Starro | Roxy Rocket | Penguin | Bane | Riddler | Mad Hatter | Darci Mason | Sinestro | Unity | Reverend Amos Howell | Society of Shadows (Ra's al Ghul, Talia al Ghul, & Ubu)
Krypton
Brainiac | Zod | Doomsday | Lobo | Jax-Ur | Kol-Da | Lis-Ser | Daron-Vex | Araame | Lyta-Zod Clone
Superman & Lois
Tal-Rho | John Henry Irons | Leslie Larr | Mitch Anderson | Bizarro | Zeta-Rho | Superman (John Henry Irons' Earth) | Reno Rosetti | David Fuglestad | Atom-Man | Zod | Phillip Karnowsky | Kit Faulkner | Inverse Society (Ally Allston, Lana-Rho, Jonathan-El, & Erin Wu) | Intergang (Thaddeus Killgrave)
Video Games
Superman Arcade: Emperor Zaas | Lex Luthor | Metallo | Parasite
Superman: Shadow of Apokolips: Lex Luthor | Darkseid | Metallo | Livewire | Parasite | Kanto | Mercy Graves | Volcana
Mortal Kombat vs. DC Universe: Dark Kahn | Lex Luthor | Scorpion | Shang Tsung | Darkseid
Injustice: Superman | Brainiac | Doomsday | Aquaman | Black Adam | Sinestro | Lex Luthor | Joker | Darkseid
See Also
Legion of Super-Heroes Villains | Lobo Villains | Smallville Villains | Steel Villains | Superboy Villains | Supergirl Villains | Superwoman Villains

Villains
Comics
Amanda Waller | Bane | Basilisk | Black Adam | Black Manta | Black Mask | Black Spider | Blackguard | Bloodsport | Brainiac | Bronze Tiger | Captain Boomerang | Captain Cold | Cheetah | Chemo | Chronos | Clock King | Copperhead | Count Vertigo | Crime Syndicate of America | Darkseid | Deadshot | Deathstroke | Doomsday | Doctor Light | Eclipso | The Enchantress | Electrocutioner | Female Furies | Gentleman Ghost | Giganta | Harley Quinn | Heat Wave | James Gordon, Jr. | Javelin | Joker | Joker's Daughter | KGBeast | Killer Croc | Killer Frost | King Shark | Klarion | Kobra Cult | Lobo | Magpie | Major Disaster | Major Force | Man-Bat | Manchester Black | Manhunters | Master Jailer | Match | Mindboggler | Nocturna | Owlman | Parademons | Parasite | Plasmus | Plastique | Poison Ivy | Professor Zoom | Punch and Jewelee | Shrapnel | Solomon Grundy | Starro | Suicide Squad | Talon | Tattooed Man | Thinker | Ultraman | Vandal Savage | Weasel | Zebra-Man | Zod
Movies
Suicide Squad: Eyes of the Adversary (Enchantress & Incubus) | Suicide Squad (Deadshot, Harley Quinn, Captain Boomerang, El Diablo, Killer Croc, Slipknot & Amanda Waller) | Joker's Gang (Joker, Jonny Frost, Panda Man & Monster T) | Griggs
Suicide Squad: Hell To Pay: Professor Zoom | Suicide Squad (Amanda Waller, Deadshot, Harley Quinn, Captain Boomerang, Bronze Tiger, Copperhead, Punch, Jewelee, & Count Vertigo) | Killer Frost | Blockbuster | Silver Banshee | Vandal Savage | Scandal Savage | Professor Pyg | Tobias Whale | League of Assassins (Deathstroke) | Two-Face
The Suicide Squad: The Thinker | Starro | Silvio Luna | Corto Maltese Armed Forces (Mateo Suarez & Vera) | Suicide Squad (Bloodsport, Ratcatcher 2, Harley Quinn, Peacemaker, King Shark, Polka Dot Man, Captain Boomerang, Blackguard, Mongal, Javelin, The Detachable Kid, Weasel, Savant & Amanda Waller) | Kaleidoscope | Calendar Man | Double Down | Karma | Ratcatcher | Polka Dot Man's Mother | Bloodsport's Father
See Also
Harley Quinn Villains | Peacemaker Villains