House of the Dragon Trailer - The Loop
Play Sound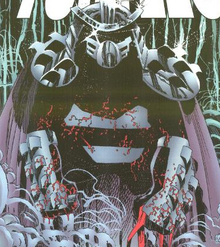 In Image Comics Raphael was blasted in the face with a laser (by a cyborg TMNT) and part of his face was disfigured. After that, he wore one of Casey Jones' old hockey masks for much of the time to hide his scars, and eventually just an eye patch.
He also had some contacts with the Foot Clan; some he even called his friends. Later, after a few incidents Raphael wore the Shredder's armor in an attempt to psychologically dominate a number of the New York Mob, with whom the Foot Clan was engaged in a losing gang war. He had accidentally stumbled into a battle between Foot members and these gun-toting Mobsters and was chased right into Shredder's old forge. He donned a slightly variant version of the armor (which had far more blades on the arms than just the two held on the hand by a type of brass knuckle band seen in other versions of the Shredder), and pretended to be the Shredder to get the advantage on his pursuers.
He succeeded in defeating them and was then accepted into, and given control of, the New York faction of the Foot Clan for a brief time. Of course, conflicts arose with his brothers, and he came to be attacked by Splinter as a bat, who thought he was the real Shredder. He was eventually overthrown by Lady Shredder.

Villains
Comics
Shredder (Mirage, Archie, IDW, Mirage Comics, Raphael, Doctor Shreddarius & Lady Shredder) | Foot Clan | Foot Elite | Karai | Ch'rell | Baxter Stockman (Archie & IDW) | Krang (Archie & IDW) | Hun | Purple Dragons | Adolf Hitler | Ninjara | Slash | Leatherhead | Triceratons | Commander Mozar | Zanramon | Shredder Clones | Tokka & Rahzar | Alopex | Kitsune | Koya | Bludgeon | Rat King | Agent Bishop | Bebop and Rocksteady | Savanti Romero | Skonk | Darius Dun | Tatsu | Master Sliver | General Tragg | Dragon | Null (IDW Version) | Maligna (IDW Version) | Craniac | Armaggon | Old Hob
Television
1987 TV series: Shredder | Bebop & Rocksteady | Baxter Stockman | Krang | Rat King | Lord Dregg | Antrax | Barney Stockman | Don Turtelli | General Tragg | Groundchuck & Dirtbag | Krangazoids
1997 TV series: Foot Clan (Shredder) | The Rank (Dragon Lord | Wick | Dr. Quease | Good Dragon | Rank Lieutenant | Clone Turtles) | Simon Bonesteel | Silver | Monkey Thief Mick and Monkey Thief Dick | VamMi | Bing | Chi Chu | Heavy Duke
2003 TV series: Utrom Shredder (Future Self, Tengu Shredder & Cyber Shredder) | Karai | Baxter Stockman | Rat King | Drako | Ultimate Ninja | Hun | Darius Dun | Sh'Okanabo | Dark Turtles | Viral | Torbin Zixx | Agent Bishop | General Blanque | Zanramon | Commander Mozar | Lonae | Mr. Touch and Mr. Go | Abigail Finn | Parker | Harry Parker | Kluh | Ammag | Levram Wizard | Dragon Face | Johnny | Two Ton | Yukio Mashimi | Moriah | Weasel | Master Sliver | Savanti Romero | Skonk | Triple Threat | Nano | Mephos | Boss Zukko | High Mage | Lord Hebi | The Brotherhood (Councilor) | Garbageman
2012 TV series: Foot Clan (Shredder, Karai, Tiger Claw, Rahzar, Fishface, Bebop, Rocksteady, Baxter Stockman, Antrax, Shredder Mutants/Mega Shredder, Hattori Tatsu, Chrome Dome & Koga Takuza) | The Kraang (Kraang Prime & Kraang Subprime) | Triceraton Empire (Emperor Zanmoran & Captain Mozar) | Lord Dregg | Armaggon | Savanti Romero | Newtralizer | Slash | Kavaxas | Rat King | Purple Dragons (Hun & Fong) | Visiozo's Mob (Don Vizioso, Fulci Twins & The Hammer) | Snakeweed | Spider Bytez | Overmind | Za-Naron | Dracula | Justin | Mutagen Man | Pizza Face | Dream Beavers | Speed Demon | Squirrelanoids | Chimera | Spy-Roach | Maximus Kong | Verminator Rex | Jei
Rise of the TMNT: Baron Draxum | Albearto | Baxter Stockboy | Big Mama | Meat Sweats | Hypno-Potamus | Foot Brute | Foot Lieutenant | Warren Stone | Repo Mantis | Evil League of Mutants | Shredder
Movies
TMNT 1 & 2: Foot Clan (Shredder, Danny Tatsu, Tokka and Rahzar)
TMNT 3: Walker | Lord Norinaga
TMNT (2007): Stone Generals (Aguila, Gato, Mono & Serpiente) | Foot Clan (Karai)
TMNT (2014): Foot Clan (Shredder, Eric Sacks, Karai & Baxter Stockman)
TMNT: Out of the Shadows: Krang | Foot Clan (Shredder, Karai, Baxter Stockman, Bebop and Rocksteady)
Batman vs. TMNT: Foot Clan (Shredder & Baxter Stockman) | League of Assassins (Ra's al Ghul, Ubu & Talia al Ghul) | Joker | Harley Quinn | Scarecrow | Mr. Freeze | Poison Ivy | Bane | Two-Face | Penguin
Video Games
NES Platformer: Shredder | Mechaturtle
TMNT II: The Arcade Game: Shogun | Tora
TMNT: Mutants in Manhatten: Shredder