She-Hulk Trailer Dropped - The Loop
Play Sound



Click To Help Darkseid!

Darkseid has declared that this article requires immediate Cleanup in order to meet a higher standard.
Help improve this article by improving formatting, spelling and general layout - least it fall victim to an Omega Effect


✓
Jafar says: Read my lips and come to grips with the reality!


This article is a stub and is in need of expansion. You can help Villains Wiki by expanding it.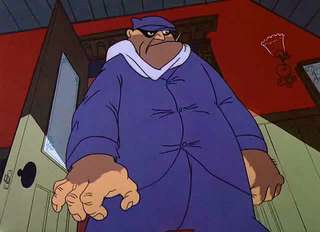 The Shropshire Slasher is a criminal in the Looney Tunes cartoon "Deduece, You Say!" It features Daffy Duck as the dim-witted detective Dorlock Homes (a parody of Sherlock Holmes) and Porky Pig as his sidekick Watkins (based on Dr. Watson), as they attempt to locate and apprehend the dangerous "Shropshire Slasher". Mr. Watkins' narrates throughout the cartoon. Dorlock Holmes live on Beeker St. in London. Inside of their apartment, Holmes is busily engaged in "deduction" — tax deduction, that is, hoping to write off such costs as "taxi fares, to and from murders". Following a knock on the door, a mailman falls into their flat. While Holmes attributes it to curare, a type of poison, the mailman chides him for not fixing the step. The letter identifies that there is a criminal on the loose named The Shropshire Slasher.
Holmes and Watkins go to a pub where the Slasher is known to hang out. Holmes' attempts to gather clues land darts in his bill. When the Shropshire Slasher is finally revealed, Holmes repeatedly attempts to arrest him, but the Slasher proves much stronger and effortlessly defeats Holmes; meanwhile, Watkins speaks reasonably to the suspect and he not only willing divulges his identity but is peacefully persuaded to turn himself in to the police.
Just then, a woman arrives selling flowers. Holmes accuses her of selling them without a license and threatens to arrest her. The Shropshire Slasher moans "Mother!" Before Holmes has time to consider what has happened, the Shropshire Slasher grabs him by the neck and starts shaking him violently, causing all of Holmes' possessions to fall out of his pockets. The Shropshire Slasher and his mother then leave. Watkins asks a beat-up looking Holmes in what school he learned to be a detective. Holmes answers: "Elementary, my dear Watkins. Elementary".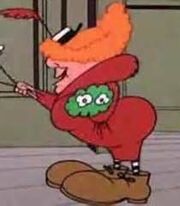 Looney Tunes Show
Shropshire appears in "The Jailbird and Jailbunny", shown alongside other characters such as Elmer Fudd, Wile E. Coyote, Sylvester and others going to Yosemite Sam's anger management classes in the song Blow My Stack.
Tweety's High Flying Adventure
Shropshire latter appeared in Tweety's High Flying Adventure. In the movie, he stole the Royal Passport and went off to steal Tweety's. When Tweety was reaching London, he managed to steal Tweety's passport as planned, only to be distracted by Aoga, to have Tweety get it back. When the police arrived, he escaped. While Tweety and Aoga flew to London, and while Sylvester was taken the blame for stealing the Royal Passport, Shropshire was eating fish and chips in defeat