Spider-Man: No Way Home Trailer Dropped - The Loop
Play Sound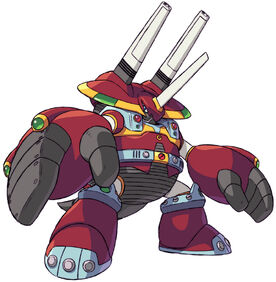 Silver Horn is a villain that only appeared in the videogame Mega Man X: Command Mission.
Personality
Silver Horn is a cruel and abusive tyrant, who tortured and destroyed those who did not join the Rebellion Army (including the original Steel Massimo). He uses intimidation tactics to coerce Nana to serve the Rebellion Army, promising to execute the remaining prisoners there at the Tianna Camp, in case she had second thoughts.
He takes extreme pride in his size and power, along with an arrogant attitude which leads to his downfall.
He also proudly enjoys mocking those who are weak, stating the they should just only obey the strong ones while stepping on Nana (stating that she was a bad girl and needs to be punished). He also delightfully laughs in the the new Massimo's face as he describes the torture by dismembering the previous incarnation, while labeling him as "feeble Massimo" (much to the current current Massimo's outrage).
Role
He appears with Nana at the Tianna Camp, telling her that the Rebellion Army owns her and gives warning that if she tries anything otherwise, he'll make sure that the POW's will be turned into scrap. He was later confronted by X, Spider, and Massimo, where he decides to engage the Hunters in battle, but was defeated and destroyed.
Powers and Abilities
Silver Horn has control over water-elemental techniques: The three horns on his head serves as a projector of his signature "Pressure Abyss" attack. He can also generate a tidal wave (simply by jumping), and can sheathe himself in liquid metal coating to raise his defense.
Trivia
He is based on a Triceratops.
He is the polar opposite of Flame Mammoth from the original Mega Man X: (Silver Horn can generate water, whereas Flame Mammoth can generate fire). However the one thing the two share in common is that they're both based on an extinct creature.
He is vaguely compared with The Dominator from Samurai Jack.