Silver Sablinova, better known as Silver Sable, is an anti-hero/anti-villain from Marvel Comics. She is a mercenary assassin-for-hire who hunts down any target she is tasked with.
History
Ultimate Marvel
In the Ultimate Marvel universe (and also the non-canon
Ultimate Spider-Man
video game) Silver Sable is depicted as a completely callous and self-interested mercenary who will accept jobs from anyone. Though both iterations of the character do retain some of the 616 version's moral scruples (an unwillingness to hurt innocents for example) she is still a villain due to having no problem targeting and kidnapping Spider-Man simply because she was paid to. Made more egregious by the fact that, in the video game, even after Spider-Man risks his own life to save her from Venom, she still delivers him to Trask Industries where they perform experiments on him (briefly turning him into Carnage), and shows no remorse over this at all. All because she was paid. In addition, her claim that she's "not out to kill innocent people" is in fact hypocritical, given that Spider-Man himself is innocent, and so are his family (who Sable earlier threatened to try and force his compliance). 
The Spectacular Spider-Man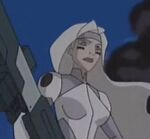 In
The Spectacular Spider-Man
animated TV series, Silver Sable is a villain and the daughter of crime boss Silvermane. She does part of the fighting for him, battling
Hammerhead
, Spider-Man, and
Rhino
in "Accomplices". She is a skilled fighter, and totes a huge gun, a bolas, and shruiken as weapons, similar to her comic counterpart. Unlike her 616 counterpart however, she is nowhere near as competent, and is manipulated by Hammerhead in her last appearance in the show.
Spider-Man: The New Animated Series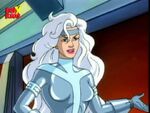 In
Spider-Man: The New Animated Series
, Sable was a bounty hunter who teamed up with
Kraven the Hunter
to take down Spider-Man.
Spider-Man:Shattered Dimensions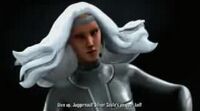 In the video game
Spider-Man:Shattered Dimensions
, Silver Sable is after
Juggernaut
, the level's main villain. She and her Wild Pack attempted to capture Spider-Man as well as a secondary target, because there was a reward on his head. Unfortunately for Sable, her men are not only shown to be completely incapable of defeating either Juggernaut or Spider-Man, she also falls for Spider-Man's deceptions when he purposefully misdirects her and her men by removing the tracer on Juggernaut and throwing it away.
Spider-Verse
An alternate Silver Sable is one of several "Hounds" used by the Inheritor Verna to hunt Spider-Totems. She is killed by Superior Spider-Man.
Marvel's Spider-Man (2018)
Silver Sable appears as a minor antagonist in the 2018 video game Marvel's Spider-Man by Insomniac Games. Much like in the Ultimate Spider-Man game and Spider-Man: Shattered Dimensions, she is hunting Spider-Man as a hired mercenary.
Gallery
External Links

Villains
Comics
Abomination | Adversary | Ahab | A.I.M. | Alliance of Evil | Apocalypse | Arcade | Arkon | Avalanche | Azazel | Badoon | Bastion | Batroc | Beyonder | Blastaar | Blood Brothers | Bolivar Trask | Blob | Brotherhood of Evil Mutants | Bullseye | Cameron Hodge | Cassandra Nova | Children of the Vault | Clan Akkaba | Count Nefaria | Crossbones | Dark Beast | Dark Phoenix | Dark X-Men | Deadpool | Doctor Doom | Dracula | Emma Frost | Entity | Exodus | Fenris | Freedom Force | Friends of Humanity | Galactus | Graydon Creed | Hand | Hela | Hellfire Club | High Evolutionary | Holocaust | Horsemen of Apocalypse | HYDRA | Impossible Man | Juggernaut | Kang | Kid Omega | Kingpin | Krakoa | Kraven | Lady Deathstrike | Legion | Leper Queen | Lilith | Living Monolith | Lizard | Loki | Madelyne Pryor | Magneto | Magus | Mandarin | Marrow | Masters of Evil | Master Mold | Mesmero | Mikhail Rasputin | Mister Jip | Mister Sinister | Mojo | Mole Man | Morlocks | Moses Magnum | Mutant Response Division | Mystique | N'Astirh | Nanny | Nekra | Neo | Nimrod | Nitro | Obnoxio the Clown | Omega Gang | Omega Red | Onslaught | Orphan-Maker | Ozymandias | Pandemonia | Phalanx | Pilgrimm | Predator X | Proteus | Psycho-Man | Purifiers | Pyro | Quicksilver | Reavers | Red Ghost | Red Skull | Rhino | Right | Rising Sons | Rogue | Sabretooth | Sauron | Savage Land Mutates | Scarlet Witch | Sebastian Shaw | Selene Gallio | Sentinels | Serpent Society | Shadow King | Shocker | Silver Sable | Silver Samurai | Simon Trask | Skrulls | Spiral | Stranger | Stryfe | Stephen Lang | Sublime | Sugarman | Super-Adaptoid | Supreme Intelligence | Toad | Trevor Fitzroy | Typhoid Mary | Tyrannus | Unus | Upstarts | Vulcan | Wendigo | William Stryker | Xemnu | Xorn
Movies
X-Men: Magneto | Brotherhood of Mutants (Mystique, Sabretooth & Toad) | Pyro
X2: William Stryker Jr. | Lady Deathstrike | Jason Stryker | Brotherhood of Mutants (Magneto, Mystique & Pyro)
The Last Stand: Magneto | Brotherhood of Mutants (Dark Phoenix, Pyro, Juggernaut, Multiple Man & Mystique) | Omega Gang (Callisto, Psylocke, Quill, Arclight, Avalanche, Spike, Glob Herman & Phat) | Archangel
First Class: Sebastian Shaw | Hellfire Club (Emma Frost, Azazel, Angel Salvadore & Riptide) | William Stryker Sr. | Magneto | Mystique
Days of Future Past: Bolivar Trask | Trask Industries (William Stryker Jr. & Sentinels) | Magneto | Mystique | Toad | Apocalypse | Horsemen of Apocalypse
Apocalypse: Apocalypse | Ashir En Sabah Nur/Horsemen of Apocalypse (Magneto, Psylocke & Archangel) | Dark Phoenix | Mystique | William Stryker Jr.
Captain America Villains
Comics
Absorbing Man | Adolf Hitler | A.I.M. | Aleksander Lukin | Arcade | Arnim Zola | Awesome Android | Baron Blood | Baron Von Strucker | Baron Zemo | Baron Zemo II | Batroc the Leaper | Black Talon | Black Widow | Blitzkrieg | Blizzard | Boomerang | Bullseye | Cache | Constrictor | Count Nefaria | Cowled Commander | Crimson Dynamo | Crossbones | Cutthroat | Dark Avengers | Doctor Doom | Doctor Faustus | Doctor Octopus | Electro | Famine | Firebrand | Fixer | Flag-Smasher | Ghost | Grand Director | Grant Ward | Griffin | Grim Reaper | Heinz Kruger | Herr Kleiser | HYDRA | Hydro-Man | Jack O' Lantern | Killer Shrike | King Cobra | Kingpin | Klaw | Korvac | Lady Deathstrike | Living Laser | Lucia Von Bardas | Machinesmith | Madame Viper | Madcap | Magneto | Man-Ape | Mandarin | Master Man | Mentallo | Mesmero | Mister Hyde | M.O.D.A.M. | M.O.D.O.K. | Mole Man | Moonstone | Nightmare | Nightshade | Obadiah Stane | Punisher | Quicksand | Red Skull | Rhino | Ringmaster | Ronan | Roxxon | Säurespritze | Scarecrow | Scorpion | Secret Empire | Selene Gallio | Serpent Society | Shocker | Shockwave | Sidewinder | Sin | Skeleton Crew | Slug | Stilt-Man | Super-Adaptoid | Superia | Super Patriot | Supreme Intelligence | Tarantula | Taskmaster | Terminus | Thanos | Titania | Titanium Man | Trapster | Typhoid Mary | Unicorn | Ultron | Vermin | Whirlwind | Winter Soldier | Worthy | Wrecker | Yellow Claw | Zahnmörder | Zodiac
Movies
Captain America (1990): Red Skull | Valentina de Santis
Captain America: The First Avenger: Red Skull | HYDRA (Arnim Zola, Heinz Kruger, HYDRA Lieutenant & Velt) | Adolf Hitler | Roeder | Hutter | Schneider
Captain America: The Winter Soldier: Alexander Pierce | HYDRA/STRIKE (Winter Soldier, Brock Rumlow, Jack Rollins, Jasper Sitwell, Russo, Senator Stern, Arnim Zola, Wolfgang von Strucker, List, Scarlet Witch & Quicksilver) | Georges Batroc | Ferdinand Lopez | Gerald Durand
Captain America: Civil War: Helmut Zemo | Thunderbolt Ross | Winter Soldier | Scarlet Witch | HYDRA (Vasily Karpov & Winter Soldiers) | Hero Mercs (Crossbones)