Jurassic World: Dominion Dominates Fandom Wikis - The Loop
Play Sound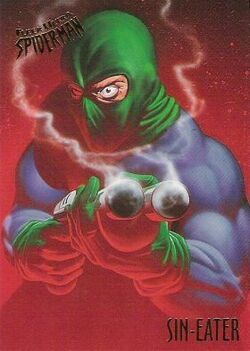 | | | |
| --- | --- | --- |
| " | I wanted Jameson because he opposed masked vigilantes. I killed the priest because he opposed capital punishment. I killed the judge because he coddled criminals. And I killed Jean DeWolff because I felt like it. | " |
| | ~ The Sin-Eater explaining his motivation for his killings. | |
Stanley "Stan" Carter, better known as the Sin-Eater, is an antagonist in Marvel Comics. He is a mentally unstable seriel killer who believes it to be his duty to purify the sins of what he views as a corrupt society. He is an enemy of both Spider-Man and Daredevil, being responsible for the murders of their respective friends. Several other individuals have since taken the Sin-Eater mantle for themselves, serving as enemies of either Spider-Man or Ghost Rider.
Biography
Stan Carter was born in Fort Meade, Maryland, and had worked as a SHIELD agent before entering the ranks of the New York Police Department. While he was with SHIELD, Stan had been a part of one of their experimental programs that had attempted to refine and sustain the strength enhancing effects of antipsychotic medication such as PCP. The experiments had the desired effect, enhancing his physical attributes, though they took their toll on Stan's mind and he began to become more violent. SHIELD soon pulled the plug on the program after it was deemed too dangerous to continue and Stan resigned from the organization.
When Stan's partner was killed in the line of duty, he became obsessed with killing those who had "sinned" through the abuse of authority, which, combined with his deeply religious beliefs, prompted him to become the Sin-Eater. Armed with a shotgun, his first victim was police captain Jean DeWolff. Unlike his later murders, which were committed for the victim's actions, Stan murdered DeWolff simply because he felt like doing so, and added her police badge to his belt, later allowing Spider-Man to identify the Sin-Eater as DeWolff's killer.
Ironically, Stan was put in charge of the DeWolff murder case. In the mean time, Spider-Man had learned of the death of his friend DeWolff and went to Carter to offer his services in hopes of catching her killer. No one, not even Spider-Man, could have guessed that Stan was in fact the murderer.
As the Sin-Eater, Stan confronted Matt Murdock. who had just won a pro bono publico trial that had aquitted a trio of muggers for assaulting May Parker's elderly tenant, Ernie Popchick. Murdock, being the secret identity of the superhero Daredevil, was able to hold the Sin-Eater off until his friend and mentor, Judge Horace Rosenthal, appeared to investigate the commotion; Rosenthal, being the Sin-Eater's true target due to his alleged coddling of criminals, was shot and killed by the killer. The death of his friend and mentor now had Daredevil also determined to bring the Sin-Eater to justice.
Fleeing from the courthouse where he murdered Judge Rosenthal, Sin-Eater was brought into his first confrontation with Spider-Man. Because of the PCP in his system, Sin-Eater was able to withstand some of Spider-Man's toughest blows. During the fight, Spider-Man dodged one of the blast's from Sin-Eater's gun, but by doing so caused the shotgun shell to strike a group of bystanders, one of whom would later die from his wounds, thus bringing the Sin-Eater's death toll up to three victims.
Seeing his Aunt May lying in the street, Spider-Man became too distracted and concerned for her, which allowed the Sin-Eater to escape; thankfully, May turned out to be uninjured. Later, when searching DeWolff's apartment for clues Spider-Man discovered that his friend kept a collection of newspaper clippings of him, leading him to believe that she may have been romantically interested in him; the revelation made Spidey more determined than ever to stop his latest adversary.
Stan later attended Dewolff's funeral; coincidentally, Rosenthal's funeral was being held nearby. Murdock, attending the latter funeral, sensed the Sin-Eater's presence in the former, recognising his heartbeat, but there were too many mourners for the lawyer to pinpoint which one was the killer. Stan then murdered Father Bernard Finn, who had officiated Dewolff's funeral, due to his objection to capital punishment. Finn's murder resulted in an enormous media circus surrounding the Sin-Eater murders, with Reverand Jackson Tulliver adding more fuel to the flames of public discontent.
The Sin-Eater later broke into the offices of the Daily Bugle, in search of his intended victim, J. Jonah Jameson. Unbeknownst to the Sin-Eater, Jameson was out of town on vacation at the time. Editor-in-chief Joe Robertson stalled for time by posing as Jameson, giving Peter Parker the chance to knock the killer out with the roller from a type writer. By knocking the killer out, Sin-Eater was unmasked and taken into custody.
In an interrogation room at police HQ, Emil Gregg, the accused killer, was being questioned on his motives. Gregg claimed that he did not remember killing his victims, but heard voices ordering him to murder them on the nights before their deaths; believing that he could not resist the voices, he decided to try and kill Jameson early, hoping that something would go wrong and he would be caught. While Spider-Man was convinced he had caught the killer, Daredevil realized that Gregg was a copycat, as his heartbeat did not match that of the Sin-Eater he had encountered previously.
Upon Spider-Man and Daredevil searching Gregg's apartment for clues, they noticed a jimmied door knob at the apartment next to Gregg's; a pile on unopened mail revealed it to be Stan Carter's. Daredevil determined that the voices Gregg heard was Stan recording his war journal on a tape recorder in the neighboring apartment, which convinced the mentally ill Gregg he was the Sin-Eater. Finding a a closet that contained all of Stan's Sin-Eater gear, Spider-Man and Daredevil noticed that two shotguns were missing. They deduced that Gregg had taken one of them, while the real Sin-Eater had taken the other.
Realizing that Sin-Eater was still at large and that Jameson was his next intend victim, Spider-Man and Daredevil raced to Jameson's house where Betty Brant and Marla Jameson were staying. Sin-Eater had planned to kill Jameson because he opposed masked vigilantes, but was going to kill Betty as a message to Jameson when he returned from his vacation; he also planned to return and kill Jameson when he got back. Brant was surprisngly able to fend off the Sin-Eater until Spider-Man and Daredevil arrived, and Spider-Man beat Stan to a pulp, not relenting even after Cater had fallen unconscious. Daredevil attempted to intervene, but Spider-Man was so consumed by his rage that he attacked his ally; Daredevil was able to use Spider-Man's anger against him, creating a window that allowed him to knock the webslinger unconscious.
Later at the NYPD, a mob of angry citizens arrived to kill Stan. Daredevil tried to get Spider-Man to help him stop the mob, which an angry Spider-Man promptly refused to do, since he felt Stan deserved whatever happened to him. Outmatched by the crowd, Daredevil, in an act of desperation, called out "Peter!" and Spider-Man arrived just in time to save Daredevil and Stan after he came to his senses.
It was later revealed that Emil Gregg, the false Sin-Eater, had gave anonymous false interviews to Eddie Brock when he believed that he was the Sin-Eater. This was Brock's big break, the high point in his editorial career. When Spider-Man captured the real Sin-Eater, Brock was exposed as a fraud and fired from the Daily Globe, his marriage ended, and his father disowned him. This drove Brock to want to commit suicide. He was at a church praying when the symbiote found Eddie and formed the composite entity, Venom. The symbiote had picked up on Eddie's hatred for Spider-Man and his anger for Spidey catching the real Sin-Eater; and thus the two shared a mutual hatred. It is suggested that if not for the Sin-Eater, there never would have been Venom.
Sometime later, Stan was released from prison when doctors and SHIELD decided he was sane and the drugs had been purged from his system. He was now walking with a limp, had a stutter, and also had partial deafness as a result of the beating Spider-Man had given him when he attempted to kill Betty. He had also developed the Sin-Eater persona as a split personality that was unknown to the doctors and SHIELD; only he could see and communicate with this dark persona. He was now also jobless as well, which prompted him to write a memoir of his Sin-Eater career in the hopes of living off the royalties.
Spider-Man was enraged that Stan was released and attempting to make money off a book, but was shocked to find Stan in the condition he had left him in after their previous battle. Spider-Man then decided to leave Stan alone and was hesitant in a battle with Electro that he might end up doing to him what he did to Stan. Meanwhile, Stan seemed to lose to his Sin-Eater personality, and had to be taken down by the shots from at least six policemen at a television studio where Spider-Man was fighting Electro. Spider-Man was able to conquer his fear that he might do to Electro what he did to Stan and dropped Electro off to one of the policemen that were at the scene of the final Sin-Eater showdown. Spider-Man came to realize that the Sin-Eater persona became a separate personality from Stan's own conscience. It seemed that Stan Carter had conquered his Sin-Eater personality after all, since the gun he had been using as Sin-Eater was unloaded, which was later revealed to have been Stan's doing. As he lay dying, the Sin-Eater persona had finally disappeared, and Stan finally believed he could begin living his life.

Villains
Comics
Abomination | Absorbing Man | Agony | A.I.M. | Alistair Smythe | Annihilus | Answer | Arcade | Ares | Arnim Zola | Attuma | Awesome Android | Baron Mordo | Baron Zemo | Basilisk | Batroc the Leaper | Beetle | Beyonder | Big Man | Black Cat | Black Widow | Blackie Drago | Blastaar | Blizzard | Blob | Bolivar Trask | Bombshell | Boomerang | Brothers Grimm | Burglar | Bulldozer | Bullseye | Bushwacker | Cadaverous | Calypso | Carlton Drake | Carnage | Carrion | Chameleon | Chance | Constrictor | Count Nefaria | Crime-Master | Crossbones | D'Spayre | Daemos | Dark Avengers | Deadpool (Earth-1610) | Demogoblin | Destroyer | Diablo | Doctor Doom | Doctor Faustus | Doctor Octopus | Doppelganger | Dormammu | Dracula | Dreadknight | Electro | Enclave | Enforcers | Equinox | Fancy Dan | Firelord | Fixer | Freak | Frightful Four | Gabriel Stacy | Galactus | Ghost | Gibbon | Gog | Goliath | Grant Ward | Graviton | Green Goblin (Norman Osborn (Earth-1610), Harry Osborn and Bart Hamilton) | Grey Gargoyle | Grizzy | Hammerhead | Hand | Hazmat | High Evolutionary | Hitman | Hobgoblin | Hood | Human Fly | Humbug | Hybrid | HYDRA | Hydro-Man | Ironclad | Impossible Man | Inheritors | Iguana | Jackal | Jack O' Lantern | Jester | Jigsaw | J. Jonah Jameson | Johnny Ohm | Jonas Harrow | Juggernaut | Justin Hammer | Kangaroo | Kang | Kaine | Karn | Killer Shrike | King Cobra | Kingpin | Knull | Kraven the Hunter | Kristoff Vernard | Lady Octopus | Lasher | Lady Deathstrike | Leader | Leap-Frog | Lee Price | Life Foundation | Lightmaster | Living Brain | Living Laser | Lizard | Loki Laufeyson | Lucia Von Bardas | Mad Thinker | Madame Masque | Madame Viper | Maestro | Maggia | Magneto | Mandarin | Man-Spider | Man-Wolf | Mania | Masked Marauder | Master Mold | Masters of Evil | Maximus | Menace | Mephisto | Mesmero | Mister Brownstone | Mister Fear | Mister Hyde | Mister Negative | M.O.D.O.K. | Mojo | Mole Man | Molten Man | Montana | Moonstone | Morbius | Morlun | Moses Magnum | Mysterio (Quentin Beck, Daniel Berkhart and Francis Klum) | Nebula | Nekra | Nightmare | Niles Van Roekel | Nitro | Onslaught | Overdrive | Orka | Owl | Ox | Phage | Phil Urich | Piledriver | Princess Python | The Prowler | Psycho-Man | Puma | Punisher | Punisher (Earth-95126) | Puppet Master | Quasimodo | Quicksilver | Ramrod | Raze | Red Ghost | Red Skull | Rhino | Rhino II | Richard Fisk | Ringer | Ringmaster | Riot | Roland Treece | The Rose | Roxxon Energy Corporation | Sabretooth | Sandman | Sarah Stacy | Sauron | Scarecrow | Scarlet Witch Scorcher | Scorpion | Scorn | Scream | Sebastian Shaw | Secret Empire | Serpent Society | Sentinels | Seth Youngblood | Shocker | Shriek | Sin-Eater | Silvermane | Silver Sable | Sinister Six | Skip | Skrulls | Solus | Songbird | Patton Parnel | Spider-Carnage | Spider-Man Revenge Squad | Spider-Slayers | Spot | Stegron | Street | Super-Apes | Supercharger | Swarm | Symbiotes | Tarantula | Taskmaster | Terminus | Terrax | Thanos | The Thousand | Thunderball | Thunderbolt Ross | Thunderbolts | Tiger Shark | Tinkerer | Titania | Titanium Man | Toad | Tombstone | Trapster | Turner D. Century | Typhoid Mary | Tyrannus | U-Foes | Ultimatum | Ultron | Vapor | Vanessa Fisk | Vector | Venom (Eddie Brock) | Vermin | Vulture | Walrus | Whiplash | White Rabbit | Whirlwind | Will-O'-The-Wisp | Wizard | Worthy | Wrecker | X-Ray | Zodiac | Zombie Spider-Man | Zombie Giant-Man
Movies
Spider-Man: Green Goblin | Dennis Carradine | Bank Robbers | Harry Osborn | J. Jonah Jameson
Spider-Man 2: Doctor Octopus | Harry Osborn | J. Jonah Jameson | Green Goblin
Spider-Man 3: Venom | Sandman | New Goblin | J. Jonah Jameson | Green Goblin | Dennis Carradine
The Amazing Spider-Man: Lizard | Gustav Fiers | Cash Register Thief | Norman Osborn
The Amazing Spider-Man 2: Electro | Green Goblin | Donald Menken | Rhino | Alistair Smythe | Ashley Kafka | Felicia Hardy | Gustav Fiers | Norman Osborn
Spider-Man: Homecoming: Bestman Salvage (Vulture, Tinkerer, Shocker #1, Shocker #2 & Randy Vale) | Mac Gargan | Aaron Davis
Spider-Man: Into the Spider-Verse: Kingpin | Doctor Octopus | Prowler | Tombstone | Scorpion | Green Goblin | Vanessa Fisk | Richard Fisk
Spider-Man: Far From Home: Mysterio's Crew (Mysterio, William Ginter Riva, Victoria Snow, Gutes Guterman, Janice Lincoln, & Doug) | Elementals (Molten Man, Hydro-Man, Sandman, Cyclone and Elemental Fusion) | Skrulls (Talos) | Obadiah Stane | J. Jonah Jameson
Spider-Man: No Way Home: Raimiverse (Green Goblin (Earth-TRN925), Sandman (Earth-TRN927) & Doctor Octopus (Earth-TRN926)) | Webbverse (Electro (Earth-TRN929) & Lizard (Earth-TRN928)) | J. Jonah Jameson | Venom | Mysterio

Television
Spider-Man (1967)
Vulture | Green Goblin | Electro | Rhino | Mysterio | Doctor Octopus | Scorpion | Human Fly | Kingpin | Lizard | Spider-Slayer | Sandman | Dr. Matto Magneto | Enforcers (Cowboy and Ox) | Frederick Foswell | Mole Man | J. Jonah Jameson
Spider-Man (1981)
Doctor Doom | Kingpin | Doctor Octopus | Lizard | Black Cat | Sandman | Silvermane | Magneto | Mysterio | Ringmaster | Green Goblin | Sidewinder | Kraven the Hunter | Red Skull | Chameleon | Vulture | Hammerhead | Wizard | Medusa
Spider-Man and His Amazing Friends (1981)
Green Goblin | Kraven the Hunter | Doctor Doom | Swarm | Chameleon | Electro | Brotherhood of Mutants (Magneto, Blob, Toad, and Mastermind) | Mysterio | Loki Laufeyson | Ymir | Mordred | Kingpin | Doctor Faustus | Red Skull | Juggernaut | Shocker | Sandman | Dracula | Scorpion | Beetle | Doctor Octopus | A.I.M.
Spider-Man: The Animated Series
Kingpin | Green Goblin (Norman Osborn and Harry Osborn) | Doctor Octopus | Hobgoblin | Venom | Vanessa Fisk | Richard Fisk | Silvermane | Insidious Six (Scorpion, (Spider-Man (clone), Rhino, Mysterio, Chameleon, Shocker, and Vulture) | Black Cat | Lizard | Morbius | Spider-Carnage | Spider-Slayers (Alistair Smythe) | Carnage | Baron Mordo | Dormammu | Silver Sable | Hydro-Man | Prowler | Doctor Doom | Red Skull | Electro | Hammerhead | Tombstone | Punisher | Kraven the Hunter | Calypso | Herbert Landon | Jackal | Owl | Spot | Beyonder | J. Jonah Jameson
Spider-Man Unlimited
High Evolutionary | Venom | Carnage | Electro | Kraven the Hunter | Green Goblin | Vulture | Man-Wolf | J. Jonah Jameson
Spider-Man: The New Animated Series
Harry Osborn | Electro | Kraven the Hunter | Turbo Jet | Kingpin | Lizard | Shikata | Silver Sable
The Spectacular Spider-Man
Green Goblin | Tombstone | Doctor Octopus | Hammerhead | Venom (Eddie Brock) | Sinister Six (Rhino, Vulture, Electro, Sandman, Mysterio, and Kraven the Hunter) | Chameleon | Tinkerer | Enforcers (Shocker, Ricochet and Ox) | Molten Man | Silvermane | Silver Sable | Harry Osborn | Lizard | J. Jonah Jameson | Black Cat | Miles Warren | Frederick Foswell | Calypso | Roderick Kingsley | Morris Bench | Cletus Kasady
Ultimate Spider-Man
Doctor Octopus | Green Goblin | Harry Osborn | Taskmaster | HYDRA (Arnim Zola, Crossbones, Morbius, and Baron Mordo) | Sinister Six (Kraven the Hunter, Rhino, Electro, Scorpion, Vulture, and Hydro-Man) | Toad | Batroc the Leaper | Beetle | Lizard | Frightful Four (Wizard, Trapster & Klaw) | Juggernaut | Sandman | Venom | Loki Laufeyson | The Collector | Grandmaster | Carnage | Wolf Spider | Ultimate Green Goblin | Shocker | Shriek | Swarm | Dracula | Spider-Slayers (Kaine) | Absorbing Man | Abomination | Annihilus | Arcade | Attuma | Awesome Android | Blastaar | Blizzard | Boomerang | Chitauri | Deadpool | Destroyer | Doctor Doom | Dormammu | Skurge | Enforcers (Montana, Fancy Dan, Ox) | Frost Giants | Grizzly | Hammerhead | Jack O'Lantern | Korvac | The Leader | Living Laser | Man-Wolf | Maximus | Melter | Mesmero | M.O.D.O.K. | Molten Man | Mister Negative | Mysterio | Nightmare | Norma Osborn | Phalanx | Sabretooth | Skaar | Galactus | Ulik | Whirlwind | Wrecker | Piledriver | Thunderball | Bulldozer | Ymir | Zodiac | Scorpio | Zzzax | J. Jonah Jameson
Spider-Man (2017)
Symbiotes (Venom, Scream, Scorn, and Mania) | Dark Goblin | Hobgoblin | Doctor Octopus | Vulture/Goblin King | Alistair Smythe | Rhino | Jackal | Hammerhead | Electro | A.I.M. (M.O.D.O.K.) | Spider-Slayers | Lizard | Tinkerer | Swarm | Scorpion | Sinister Six | Kraven the Hunter | Man-Wolf | Silver Sable | Beetle | Spot | Prowler | Molten Man | Mister Negative | Chameleon | HYDRA (Crossbones and Arnim Zola) | Black Cat | Ghost | Blizzard | Absorbing Man | Crimson Dynamo | Overdrive | Mysterio | Jack O'Lantern | Silvermane | Lady Octopus | Paladin | Puma | Shocker | Living Brain | Sandman | Technovore | Baron Mordo | Knull | J. Jonah Jameson
Spidey and His Amazing Friends (2021)
Green Goblin | Doctor Octopus | Rhino
Video Games
The Amazing Spider-Man & Captain America in Dr. Doom's Revenge: Doctor Doom | Electro | Hobgoblin | Rhino | Boomerang | Grey Gargoyle | Oddball | Batroc the Leaper | Mysterio
Spider-Man: Return of the Sinister Six: Sinister Six (Doctor Octopus, Electro, Hobgoblin, Mysterio, Sandman and Vulture)
Spider-Man vs. The Kingpin: Kingpin | Doctor Octopus | Lizard | Electro | Sandman | Hobgoblin | Venom | Tinkerer | Mysterio | Vulture | Bullseye | Typhoid Mary
Spider-Man & X-Men: Arcade's Revenge: Arcade | Carnage | Rhino | Apocalypse | Juggernaut | Selene Gallio | Sentinels | Master Mold
Spider-Man and Venom: Maximum Carnage: Carnage | Shriek | Doppelganger | Demogoblin | Carrion
Spider-Man and Venom: Separation Anxiety: The Jury | Sentry | Ramshot | Screech | Bomblast | Firearm | Wysper | Life Foundation | Symbiotes (Carnage | Riot | Phage | Lasher | Agony | Scream)
Spider-Man (2000): Doctor Octopus | Symbiotes | (Carnage, Venom) | Jade Syndicate | Monster Ock | Scorpion | Rhino | Mysterio, J. Jonah Jameson, Lizard
Spider-Man 2: Enter Electro: Electro | Beetle | Hammerhead | Lizard |Sandman | Shocker
Spider-Man (2002): Green Goblin | Shocker | Vulture | Spider-Slayers | Scorpion | Kraven the Hunter | Dennis Carradine | Harry Osborn | J. Jonah Jameson
Spider-Man 2: Doctor Octopus | Harry Osborn | Rhino | Mysterio | Shocker | Puma | Black Cat | Vulture | Calypso | J. Jonah Jameson
Ultimate Spider-Man: Bolivar Trask | Venom | Vulture | Silver Sable | Shocker | R.H.I.N.O. | Electro | Beetle | Green Goblin | Sandman | Carnage
Spider-Man 3: Venom | Sandman | New Goblin | Lizard | Scorpion | Kraven the Hunter | Calypso | Kingpin | Rhino | Morbius | Shriek | H-Bombers (Mad Bomber) | J. Jonah Jameson
Spider-Man: Web of Shadows: Spider-Man | Venom | Kingpin | Black Cat | Vulture | Electro | Tinkerer | Rhino
Spider-Man: Shattered Dimensions: Mysterio | Kraven the Hunter | Hammerhead | Hobgoblin | Electro | Sandman | Vulture | Scorpion | Deadpool | Juggernaut | Silver Sable | Goblin | Serena Patel | Carnage
Spider-Man: Edge of Time: Peter Parker | Atrocity | Walker Sloan
The Amazing Spider-Man: Spider-Slayers (Alistair Smythe) | Lizard | Rhino | Vermin | Scorpion | Felicia Hardy | Iguana | Nattie
The Amazing Spider-Man 2: Carnage | Kingpin | Green Goblin | Shocker | Kraven the Hunter | Black Cat | Electro | Chameleon | Norman Osborn | Cash Register Thief
Marvel's Spider-Man: Sinister Six (Doctor Octopus, Mister Negative, Electro, Vulture, Rhino and Scorpion) | Inner Demons | Norman Osborn | Silver Sable | Kingpin | Shocker | Tombstone | Taskmaster | Black Cat | Screwball | Hammerhead | Walter Hardy | Yuriko Watanabe
Marvel's Spider-Man: Miles Morales: Roxxon Energy Corporation (Simon Krieger) | The Underground (Tinkerer) | Prowler | Rhino | Kingpin | Norman Osborn | Doctor Octopus | Vulture
See Also
Black Cat Villains | Cloak & Dagger Villains | Morbius: The Living Vampire Villains | Prowler Villains | Punisher Villains | Scarlet Spider Villains | Silk Villains | Silver Sable Villains | Solo Villains | Sony's Spider-Man Universe Villains | Spider-Girl Villains | Spider-Gwen Villains | Spider-Man 2099 Villains | Spider-Man Noir Villains | Spider-Woman Villains | Toei's Spider-Man Villains | Venom Villains