We're Getting Mutants in the MCU - The Loop
Play Sound
| | | |
| --- | --- | --- |
| " | Long live the Brotherhood! | " |
| | ~ Mondern day members of the Singh Brotherhood citing their ancient oath. | |
The Singh Brotherhood is a historical global crime syndicate and the long-time adversaries of the The Phantom, and have made many appearances in Phantom comic books and comic strips throughout the years. The name has from time to time changed into "Sangh" in the Phantom comic strip and "Sengh" in the 1996 Phantom movie.
Biography
Although it has never been revealed when and how the Singh Brotherhood started, it is known that they have existed for many centuries. In 1536, they attacked a British merchant ship outside the coast of Bangalla, killing both Captain Christopher Walker and his crew. Only the son of the Captain survived, and he later on swore a sacred oath to fight evil, injustice and cruelty, and to put an end to the Brotherhood's activities. He later became The Phantom, The Ghost Who Walks.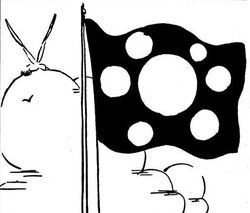 After originating The Phantom, the brotherhood have existed in many different incarnations throughout the centuries. As of today, they exist as a worldwide organisation of modern day pirates, smugglers, thieves, and hit men.
In the European Phantom stories published by Egmont, the modern leader of the brotherhood is Sandal Singh, daughter of Dogai Singh. In the US Phantom stories by Moonstone Books, the leader is Temur Singh.
In other media
The Singh Brotherhood was rechristened to the Sengh Brotherhood in Paramount's 1996 movie Phantom. Their leader, Kabai Sengh, was played by Cary-Hiroyuki Tagawa.
The Brotherhood undergoes a drastic change in SyFy Television's 2009 miniseries The Phantom, becoming more like a corporation board with their leader Rhatib Singh being the last direct descendant of the Singh bloodline.

Villains

Villains
Animated Features
Noah the Elder | Leopard Seal | Killer Whales | Surtr | Nyra | Kludd | Allomere | Jatt and Jutt | Pure Ones | Doomberg | Lord Business | Super Secret Police (Bad Cop & Sheriff Not-A-Robot) | Duplo Aliens | Joker | Harley Quinn | Phantom Zone Criminals (Zod, Sauron, Kraken, Lord Voldemort, Agent Smith, Jaws, Gremlins, Medusa, Lord Vampyre, Wicked Witch of the West, Flying Monkeys, The Swamp Creature & Daleks) | Catwoman | Poison Ivy | Two-Face | Bane | Riddler | Salvatore Maroni | Nolan Sorrento | Innovative Online Industries (I-R0k, F'Nale Zandor & Sixers)
Live-Action Films
Toecutter | Toecutter's Gang (Bubba Zanetti, Nightrider & Johnny the Boy) | Lord Humungus | Lord Humungus' Marauders (Wez) | Aunty Entity | Ironbar Bassey | Hughie Warriner | Sala | Sky Bandits | Xander Drax | Charlie Zephro | Skulls of Touganda | Quill | Singh Brotherhood (The Great Kabai Sengh, The Evil Kabai Sengh & Kabai Sengh) | Ray Zephro | Styles | Jack Farley | Morgan | Breen | Agent Smith | Cypher Reagan | Agents (Agent Jones, Agent Brown & Agent Johnson) | Susan McCallister | Jim Whitlock | Mako Sharks | Kathy Morningside | Jeremy Melton | Judith Fessbeggler | Lewis Strutt | Stanley Jobson | Gabriel Shear | Mr. Tinkles | Calico | The Russian | Alonzo Harris | Patrick Koster | Roger | Jacobim Mugatu | Terry Benedict | Lestat | Akasha | Spiders (Consuela & Tank) | Mayor Wade | Jack Ferriman | Francesca | Mr. Gray | Byrus | Machines (The Architect) | The Merovingian | Agent Thompson | Agent Jackson | Twins | Bane | Vamps | Deus Ex Machina | Trainman | Henry James | Jay McPherson | China | Luther | Martin Asher | Patience Phillips/Catwoman | Hedare Beauty (Laurel Hedare & George Hedare) | Gabriel | Mammon | Balthazar | Lucifer Morningstar | Bo Sinclair | Vincent Sinclair | Arthur Slugworth | Boss Hogg | Sheriff Rosco P. Coltrane | Bill Cox | Oliver Potter | Willy Bank | Alpha Male | Darkseekers | Royalton Industries (Arnold Royalton & Cruncher Block) | Snake Oiler | Agent 23 | KAOS (Siegfried) | Dalip | Shtarker | Spider | Smokie | Lord Henry Blackwood | Lord Coward | Irene Adler | Kitty Galore | Paws | James Moriarty | Sebastian Moran | Keith Clayton | Angelique Bouchard | Dr. Julia Hoffman | Collins Family | Mickey Cohen | Tom Buchanan | Jay Gatsby | Myrtle Wilson | George Wilson | Daisy Buchanan | Donaka Mark | Pearly Soames | Lucifer | Mimics | Nicolai Itchenko | Vladimir Pushkin | Slavi | Guy Danlily | Miss Hannigan | Annie's Fake Parents | Balem Abrasax | Titus Abrasax | Immortan Joe | Cult of the V8 (Rictus Erectus, Prime Imperator, Bullet Farmer, People Eater, Organic Mechanic, Coma-Doof Warrior, Nux, Slit, Ace, Morsov & War Boys) | Daniel Riddick | Susan Riddick | Slappy the Dummy | Monsters (Giant Praying Mantis, Will Blake, Lawn Gnomes, Madame Doom, Brent Green, Haunted Car, Count Nightwing, The Haunted Mask, Igor, Headless Horseman, Nila Rahmad, Grim Reaper & Bride of Frankenstein) | Rhonda George | Léon Rom | Rowan North | Mayhem | Martin Heiss | Electrocuted Ghost | Gertrude Aldridge | Marshmallow Man | Bartholomew Bogue | McCann | Denali | King Vortigern | Mordred | Nolan Sorrento | Innovative Online Industries (I-R0k, F'Nale Zandor & Sixers) | Damian Lewis | Arthur Fleck | Penny Fleck | Clowns (Clown & Ambulance Clown) | Wall Street Three | Penny Fleck's Boyfriend | The Analyst
See Also
20th Century Studios Villains | Amblin Entertainment Villains | Batman Villains | Buena Vista International Villains | Cats & Dogs Villains | Catwoman Villains | Constantine: The Hellblazer Villains | Disney Villains | Lantern Entertainment Villains | Mad Max Villains | Metro-Goldwyn-Mayer Villains | New Line Cinema Villains | Paramount Villains | Sony Pictures Villains | Sherlock Holmes Villains | Stephen King Villains | Steven Spielberg Villains | Tarzan Villains | The Equalizer Villains | The LEGO Movie Villains | The Matrix Villains | Tim Burton Villains | Universal Studios Villains | Warner Bros. Villains