We're Getting Mutants in the MCU - The Loop
Play Sound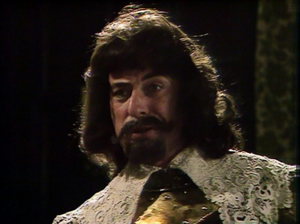 Sir George Hutchinson is the secondary antagonist of the Doctor Who story "The Awakening".
He was portrayed by Denis Lill, who also played Sir Reuben Astwell in Agatha Christie's Poirot, the Simulant Commander and Death in Red Dwarf, and Sir Talbot Buxomly in Blackadder.
Biography
Sir George Hutchinson was the lord of the manor and local magistrate of the English village of Little Hodcombe in 1984. He was said to have once been an honourable man but that changed when local historian Andrew Verney informed him of the existence of the Malus, a local legendary god of war that was actually an alien war machine buried beneath the church. Hutchinson's unstable mind made contact with the Malus and he fell under its influence, imprisoning Verney to keep him quiet. Although he seemed to retain some of his original personality at first, he became dedicated to activating the Malus, which would require a massive charge of psychic energy.
Since the Malus had been partly revived during the English Civil War in 1643, Hutchinson began staging war games recreating the event. Initially portrayed as simply a bit of fun, Hutchinson intended for the recreations to become more brutal and eventually be real. Hutchinson's only opponent was local teacher Jane Hampden, who could see that the games were getting out of hand. When the Doctor, Tegan and Turlough arrived at the village, searching for Verney, Tegan's grandfather, they also became a threat to Hutchinson. He tried to hold the trio prisoner, eventually having Turlough imprisoned with Verney.
Hutchinson intended to bring the war games to a crescendo by burning Tegan at the stake in the old tradition of the Queen of the May. However, his subordinate Ben Wolsey, having learned the truth of Hutchinson's intentions, freed her and brought a straw dummy to the burning. The Doctor managed to cut the Malus' psychic connection with the village, weakening it, causing it to take full control of Hutchinson. He headed to the church where the Doctor tried to reason with him. Wolsey tried to stab Hutchinson and, in the melee that followed, Will Chandler, a young man brought through time from 1643, pushed Hutchinson into the Malus, killing him and breaking its last connection.