| | | |
| --- | --- | --- |
| " | She was on vacation with her husband and they were scoping out graveyards on the way, as you do, when she saw it. Rising out of the old cemetery, big as an old (macabre) telephone pole. Was this some kind of bizarre art piece the authorities hadn't gotten wise to yet? Even as she stepped out of the car, the megaphones on its "head" screeched to life. "NINE. EIGHTEEN. ONE. CHILD. SEVENTEEN. REMOVE. VILE.". A buzzing, doubled voice screamed random words at her. At this point, it jerked into motion, striding down the hill towards her. | " |
| | ~ The Tumblr caption for the original drawing of Siren Head. | |
Siren Head is an Urban-Legend creature, mainly known for its odd appearance.
Biography
Siren Head is a 40-feet tall humanoid-skinny creature with two sirens as its head. Its arms are as long as its legs are. The first depiction of Siren Head was at a graveyard, where a photograph of Siren Head standing in the middle of graves appeared. Siren Head's speakers randomly play odd music, pieces of conversations, and various words and numbers. Siren Head mainly lures in its victims with the voices of their loved ones.
As expected, Siren Head is very hostile and dangerous. Siren Head is mainly located in rural towns and wooden areas. The victims of Siren Head are lost travelers, hikers, and even little children. If the sounds of someone in distress are released, it can be a method of Siren Head trying to lure the victims into the woods. Since Siren Head can blend in very well with trees, people do not even notice Siren Head, so it could make its brutal attack at any time, and get captured, while the screams of the victims are being played from Siren Head's sirens.
Siren Head is a manifestation of fear, anxiety, and war. Siren Head's sound echoes into the victim's mind and creates a clear vision of not having a long time. The victim's heart would also start rising rapidly when they are close to Siren Head.
Sightings
The first sighting of Siren Heard occurred in 1966, when a family on vacation in Arizona Desert, captured an image of Siren Head. Twenty years later on, on 16.7.1995, Chad and his friends were hiking in the woods of Tanyard Creek, where they found Siren Head to be lurking. According to Chad, his friends got snatched by something gigantic, striding through the trees, which mimicked their voices. Chad was found alive with a few injuries, while the friends were gone, either taken or killed by Siren Head. In total, there have been nine reports of sighting the Siren Head, all of the stories got released by the victims.
Such as a photo of Siren Head in Indiana, where citizens started disappearing, and Siren Head appeared on the streets of Indiana. Although, these incidents aren't the first depictions of Siren Head. Ancient rocks paintings of siren Head have been founded all over North America, which indicates that Siren Head isn't a new species on earth. There have been also sightings of creatures that resemble Siren Head, but they lack similar features.
For example, a photo of Siren Head got leaked, where Siren Head appears to be having a head of the streetlight, in which Siren Head is trying to blend in with the other streetlights. It's very possible that Siren Head has the ability to transform into various structures, in order to resemble and lure it's victims. However, they are theories that Siren Head is actually a hostile-species, that there used to be a lot of similar-same creatures as Siren Head, which deceased, and Siren Head is the last-remaining of it's species.
In video games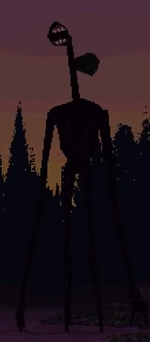 A video game developer created a video game named Siren Head, where the player, portraying a forest ranger, is supposed to escape from Siren Head inside of the woods while searching for a missing hiker. At the beginning of the game, the player starts at two ramps with their car. The player then turns around and explores the woods.
Further on, the player sees various scratch marks along the ground and a few items such as a backpack and a t-shirt covered in bushes. At the end of the woods, the player finds the mutilated dead traveler with blood on the ground. Once the player turns around, Siren Head appears behind the player. Siren Head would start chasing the player with releases of various sounds though its sirens, slashing its claws when it gets close to the player. The player's goal is to run away back into the car and escape the Siren Head.
If the Siren Head gets close enough to the player, glitch-effects would start appearing, and Siren Head would eventually grab the player and kill them instantly.
Gallery
Images
Videos
Trivia
Siren Head was created by Trevor Henderson, who is known for making various bizarre creatures over the internet. His other creations include Cartoon Cat, the Country Road Creature, the Bridge Worms, and the Long Horses.
The only parts of Siren Head that are manmade are its sirens and wires, which are fused to its dry and mummified skin.
When asleep, Siren Head produces white noise.
There is possibly more than one Siren Head, some possibly with different head pieces.
Community content is available under
CC-BY-SA
unless otherwise noted.