Wiki Targeted (Entertainment)
Play Sound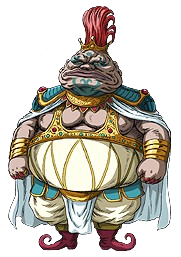 Siska is the main antagonist of the Fist of the North Star movie, New Saviour Legend: Legend of Kenshiro.
He was voiced by Shozo Iizuka, who also voiced Heart.
Biography
Years ago, he was once a computer company section chief until the nuclear apocalypse. He later built a city called Gesso City that he ruled with an iron fist.
He is first seen in his palace surrounded by computers that he managed to renovate. As a man in charge of his city, he could do whatever he pleases, such as eating and drinking. He first meets his underling, Guruma who was once Siska's past-boss about a rival slave-trader named Jinia and of the "wolf-killer" they had spotted. Siska warns that if Guruma takes long on his repayments, he could lose his shop.
At the Gesso City Stadium, Siska watches the fight between Kenshiro and Gades, the "Bear-Killer". Siska orders the two combatants to fight with weapons, but Guruma insists they fight unarmed. After Kenshiro wins, Siska plans to have him sold off to slavery.
Later on, Jugai invades the city and Siska orders some civilians be handed over to the former Nanto Koshu Ken student. The dictator is horrified when Jugai has the slaves killed. With the city's water supply poisoned, Siska orders his troops to fight lest their families be executed. He also shows a remote detonator that will blow up the hostages.
When Kenshiro confronts Siska, he announces he would kill him himself but the tyrant shows the same detonator and gives the same warning.
After Kenshiro begins to fight back against Jugai's invasion, Siska shows that his detonator was a forged harmless one then reveals the real one from his belt. As he threatens to detonate the bombs, Siska's hand is cut off by Jugai's henchmen. He gives them the password, MOMO-0328, the birthday of his now dead daughter and is sliced open by the goons. Clinging to life, Siska reveals another detonator in his chair and says no one will be allowed to have his city. He then activates the detonator and blows the entire city, its population and himself sky high.