Jurassic World: Dominion Dominates Fandom Wikis - The Loop
Play Sound

✓
This villain was proposed but was rejected by the community for not being heinous enough or lacks what is necessary to be a Pure Evil villain. Therefore, this villain shall be added to our "Never Again List", where proposed villains rejected by the community shall be placed to prevent future proposals of the same evil-doer. They can be proposed again (with the permission of an administrator) if new elements appear in their series that can change their status as non-PE villains.
Any act of adding this villain to the Pure Evil category without a proposal or creating a proposal for this villain without the permission of an administrator will result in a ban.
Additional Notice: This template is meant for admin maintenance only. Users who misuse the template will be blocked for a week minimum.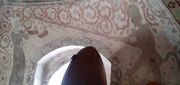 Sko-Ella is the titular protagonist villain of Scandinavian folk tale, who is known as the woman who terrified even the devil.
History
According to legend, the devil wanted to separate a couple, but all his attempts failed due to the man and woman being very close and love each other very much. Even using all his tricks, the devil saw that the more he tried to separate them, the more in love with each other, they stayed.
However, the devil felt that a woman named Sko-Ella really wants a pair of red shoe, then he made her a proposal, claiming that if she managed to separate the couple mentioned, he would give her the reddest shoe in the world, not knowing where the woman's ambition for these shoes would take her. Without hesitating, Sko-Ella accepts the agreement and sets up a plan to do her part and have the shoes she so desperately wanted.
Highly intelligent and cunning, Sko-Ella went to the wife playing her friend and telling her that she could do a spell that would make her husband love her forever, but that for that, she needed chest hair or beard of wife's husband. Having convinced his wife to collect such hair, Sko-Ella, in parallel, works on the husband's mind. She alerts the man that his wife was jealous of him and that she was obsessed with the idea that he was cheating on her, to the point that she planned to kill him in his sleep. With this alert, the man takes a knife to bed at bedtime. When his wife arrives to collect beard or chest hair (depending on the version) and kneels before him, the husband, with the idea cultivated by Sko-Ella, deduces that his wife really wants to kill him and, in order to defend, he kills his wife, stabbing her several times.
Thus, Sko-Ella did not succeed in separating the couple, but it caused the husband to kill his own wife, which did not fail to count in the agreement. The devil is surprised that a simple mortal has achieved what even he, with all his wiles and knowledge of evil, has not. Proud of her achievement, she told how she cheated husband and wife to the point of making him kill her, causing even the devil to be shocked, horrified and even afraid of her after learning what she was able to do just for a pair of shoes.