Jurassic World: Dominion Dominates Fandom Wikis - The Loop
Play Sound



Click To Help DIO!

DIO has declared that this article has stopped in time, and any and all information on it may be outdated.
Help improve this article by checking and updating it's info wherever necessary
And now time resumes!

✓



Click To Help Vader!

Darth Vader finds your lack of faith in this page's infobox disturbing, as many, if not all sections in this infobox have been left empty.
Help improve this article by updating and expanding the infobox.
NOOOOOOO!

✓
| | | |
| --- | --- | --- |
| " | Don't worry. We'll make them regret undooming themselves. | " |
| | ~ Skywarp as the Decepticons prepare to destroy the Autobots. | |
Skywarp is one of the Decepticon seekers and an antagonist in Transformers. Skywarp has the ability to teleport and transforms into a purple/black F-15 Eagle jet just like Starscream and Thundercracker. He was the first Decepticon to be awakened in 1984 after he lied dormant and deactivated over four million years. Despite his obvious lack of intelligence, Skywarp is Megatron's favourite among the seekers. Yet, he is rebellious towards his fellow seeker and superior Starscream. He is very loyal to Megatron (whom he views as a father figure). Skywarp was the master of sneak attacks, using his teleportation abilities to cause mayhem amongst the Autobots and his fellow Decepticons when playing malicious pranks. However, his arrogance and relative lack of intelligence mean he needs to be constantly monitored by his superiors, Megatron and Starscream, or else he would be useless. If it were not for his lack of intelligence as well as his dependence on his superiors, Skywarp would have replaced Starscream as Air Commander since Megatron clearly favors him over his second in command.
Biography
Toy Biography
Skywarp is the sneakiest of the Decepticons. Enjoys playing cruel pranks on fellow Decepticons & appearing out of nowhere to attack Autobots. Not too smart. Would be useless without Megatron's supervision. Top speed of 1500 mph. Can instantly teleport up to 2.5 miles. Carries heat-seeking missiles & variable calibre machine guns
G1 Transformers
On Cybertron, Skywarp was among Megatron's elite warriors. At some point, he and Thundercraker faced the Guardian Robots, and was still frightened of them millions of years later. In the opening three parter, More than Meets the Eye, Skywarp and his fellow Seekers were stationed a mega-mile out from the bridge to Iacon when Autobots Wheeljack and Bumblebee returned from stealing energy conductors. Once Wheeljack broke through their defenses, Skywarp and Thundercracker transformed to their jet modes and followed the Autobots. They managed to get a good shot in against Bumblebee, but soon both Autobots escaped to the underground. Skywarp was part of the attack on the Autobot spacecraft and joined the rest of the Earth-bound Transformers in their 4 million years in stasis under an inactive volcano. He was the first to be awakened, and proceeded to revive Megatron, and the rest of the Decepticons.
Transformers: The Movie
Skywarp made his final appearance in Transformers: The Movie, once again as one of its minor villains. He was present during the Decepticon assault on Autobot City & was among the few casualties, leaving him injured. He retreated back to Astrotrain with the rest of his allies but his retreat was cut short when Astrotrain began to complain about the heavy load on their way back to Cybertron. After Starscream argued with the rest of the Decepticons to whom shall succeed Megatron, with Bonecrusher suggesting a survival of the fittest, the rest of the Decepticons agreed on this. After a short brawl, Skywarp was among the weak Decepticons thrown overboard, alongside Megatron, Thundercracker and the Insecticons. His misery was put to an end when Megatron made a deal with Unicron. After Megatron became Galvatron, Skywarp was then reformatted into a generic minion or Cyclonus.
Marvel Comics
Skywarp was one of the original cast of the comics, accompanying Megatron in his attack on the Ark and subsequently being stranded on Earth and revived four million years later. He took part in all the Decepticons' early missions, including the skirmish with the Autobots at the drive-in, the abduction of Sparkplug Witwicky and a mission to England where (according to the original printing) he killed the lost Autobot known as the Man of Iron. He and Thundercracker hunted down Starscream after he attacked Ravage. Suffering damage during the Autobots' assault on their base, Skywarp was left behind when the majority of the Decepticons launched a final attack on the Ark and later brought back online by new leader Shockwave.
Skywarp joined with Shockwave in capturing an oil rig. During Soundwave's temporary command of the Decepticons, Skywarp took part in a failed ambush on Optimus Prime, then joined Soundwave and Scavenger in ambushing Autobots Gears, Windcharger and Cliffjumper and arranging a fight between the feral Grimlock and Sludge that caused a number of Autobot casualties. He, Starscream and Thundercracker were later recruited by the newly returned Shockwave to try and steal the sound energy from a concert.
When Megatron returned as co-commander, he took Skywarp and most of the other members of his original command to attack the apparently deserted Ark. Instead, they were slaughtered by Omega Supreme, leaving most of the Decepticons inactive. Skywarp suffered further damage when he was used by future Autobots Kup, Hot Rod and Blurr to trick the time-travelling Decepticon leader Galvatron. He was blown apart by Galvatron after being mistaken for Starscream, leaving Galvatron convinced he was in an alternate timeline.
Skywarp and the others were finally retrieved from stasis by the Constructicons with him being restored to life by new Decepticon leader Ratbat. He was pressed into service during a battle with Scorponok's Decepticon faction, exchanging fire with Bugly. Not long after, he and Thundercracker challenged their old comrade Starscream, who had absorbed the power of the Underbase, and were killed by him.
Other Media
Unicron Trilogy
Two versions of Skywarp appears in the Unicron Trilogy. The first, the Armada version of Skywarp, was an excellent marksman, who is Starscream's cousin, and wishes to escape the shadow of his famous relative. Skywarp was said to have served with, and become a close friend of Scavenger. When Scavenger rejoined the Autobots, Skywarp regretted they would have to fight on opposite sides.
Skywarp made a few cameos in Dreamwave's Armada comics, guarding Megatron's Solar Scalpel in Death Valley alongside Sideways and Wheeljack, which launched without interference, despite being spied on by Scavenger and Smokescreen. Skywarp was also seen to have survived Unicron's attack on Cybertron. Skywarp would have made an appearance in the (unpublished) Energon comics, as a Decepticon who had been provoked into rebelling against the Autobots by Megatron's return. Skywarp was among those hassling the Autobot Dropshot when Starscream's ghost appeared.
The Cybertron version of Skywarp, set in the animated universe, was very similarly characterised to the original, as a somewhat stupid and petty prankster with warping powers, and appears in several pieces of Cybertron fiction. In Cyber Key Code content on the website, Starscream sent Skywarp on a fool's errand. Tasked with faking a "proper" alien invasion, Skywarp gleefully caused classic UFO accidents such as crop circles, theft of livestock and appearances of flying saucers. After spending a month working his teleportation magic around Roswell, he had successfully tricked ten thousand humans into believing in his "Martian invasion" scenario. Skywarp also made cameos in novels, including becoming first mate on the pirate vessel Kalis' Lament after the war.
IDW Comics
Main article:

Skywarp (IDW Comics)
Transformers film series
Main article:

Skywarp (Transformers Film Series)
Transformers: Animated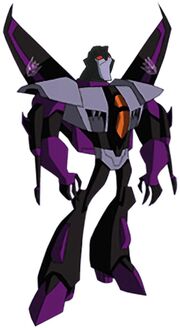 Main article: Starscream Clones
Skywarp was among an army of clones of Starscream, in the second season two-parter A Bridge Too Close, with each clone representing an exaggerated part of himself. In Skywarp's case, he represented Starscream's cowardice, as seen when he panicked about facing Megatron and his army. During the battle, Skywarp took a shot at Megatron, and stopped when Megatron deflected his blasts with his swords. Skywarp cowered from when Bumblebee started shooting at him. Blurr got a pair of stasis cuffs on him, to which Skywarp claimed that he had an irrational fear of stasis lock. However, Skywarp and Blurr got stuck with Thundercracker in Mixmaster's glue, and fell into the space bridge, to an unknown destination.
In "Transwarped", left floating in space, Skywarp hated being trapped in the glue, and was forced to endure Blurr's plan of escaping the goo with Thundercracker's sonic booms. While not being hurt by the resulting explosion, and Skywarp did not follow Thundercracker in pursuing Blurr.
Skywarp is implied to be reformatted into Cyclonus at some point in the future, as the time traveller had some of Starscream's "self preservation codes" buried within him.
Aligned Universe
Main article:

Skywarp (Aligned)
Cyberverse
Main article:

Skywarp (Cyberverse)
War for Cybertron Trilogy
Skywarp was one of the seekers under the command of Jetfire. On a patrol mission Jetfire killed him due to Skywarp and the Decepticons want to commit a genocide of the Autobots.

Villains
Animated Features
Holli Would | The Goons | Beavis and Butt-head | Dallas Grimes | Muddy Grimes | Principal McVicker | Angelica Pickles | Eric Cartman | Saddam Hussein | Sheila Broflovski | Satan | Mr. Garrison | Chef | Randy Marsh | Shelly Marsh | Gerald Broflovski | Coco LaBouche | Jean-Claude | Robosnail | King Goobot | Ooblar | Poultra | Alphonse Perrier du von Scheck | Nick Vermicelli | Big Bob Pataki | Sloan Blackburn | Bree Blackburn | Poachers | Siri | Sheldon Plankton | Karen Plankton | Mr. Krabs | Dennis | Cyclops | Victor | Boat Jacker | The Thug Tug Gang | Kim Jong-il | Film Actor's Guild (Alec Baldwin) | Vincent | Gladys Sharp | Dwayne LaFontant | Dag | Nora Beady | Coyotes | The Toad | Le Frog | Spike & Whitey | Thimblenose Ted | Fat Barry | Ladykiller | Henchfrogs | Prince Charming | Rapunzel | Pirates (Captain Hook) | Evil Queen | Cyclops | Headless Horseman | Stromboli | Steve and Ed | Mabel | Black Knights | Witches | Gnomes | Layton T. Montgomery | Ken | Grendel | Grendel's Mother | Dragon | Tai Lung | Criminals | Makunga | Teetsi | Nana | Tour Guide | Poachers | Gallaxhar | Robot Probes | Red Death | Rumpelstiltskin | Griselda | Baba | Pied Piper | Megamind | Minion | Tighten | Tortoise John | Rattlesnake Jake | Bad Bill | Hawk | Balthazar Douglas Peterson | Lord Shen | Lord Shen's Wolf Army (Boss Wolf) | Jack and Jill | Humpty Alexander Dumpty | Maybelle | Ivan Ivanovitch Sakharine | Allan | Tom | Pedro | Falcon | Aristides Silk | Red Rackham | Chantel DuBois | DuBois' Men | Max Mordon | Kopponen | Odysseus Inc. | Pitch Black | Nightmares | Burger-Beard | Jack Rackham | Moriarty | Reggie and Ronnie | Chimpanzombies | King Poseidon | El Diablo | Mayor Humdinger | Kitten Catastrophe Crew | Ruben and Butch | Tentacular | Jimothy Brett-Chadley III | Lady Mayhem
Live-Action Films
Frank | Pod People | Arthur Slugworth | Emilio Barzini | Emilio Barzini Jr. | Fabrizio | Jack Woltz | Luca Brasi | Francesco Ciccio | Carmine Cuneo | Michael Corleone | Vito Corleone | Sonny Corleone | Fredo Corleone | Connie Corleone | Vincent Corleone | Peter Clemenza | Carmine Cuneo | Don Fanucci | Paulie Gatto | Archbishop Gilday | Moe Greene | Tom Hagen | Rocco Lampone | Licio Lucchesi | Mark McCluskey | Al Neri | Frank Pentangeli | Carlo Rizzi | Hyman Roth | Virgil Sollozzo | Victor Stracci | Philip Tattaglia | Bruno Tattaglia | Salvatore Tessio | Joey Zasa | Petrox Corporation (Fred Wilson) | Orca | Captain Nolan | Leo Balmudo | Mr. Firat | Assassins (Moras) | Katahdin | Pamela Voorhees | Bluto | The Miner (Axel Palmer) | Jason Voorhees | Vermithrax Pejorative | Tyrian | Adolf Hitler | René Belloq | Major Arnold Ernst Toht | Herman Dietrich | Gobler | German Mechanic | Otto | Satipo | Barranca | Mola Ram | Chief Guard | Chattar Lal | Lao Che | Eh Tar | Mrs. Dribb | Victor Maitland | Curly Shepard | Tim Shepard | Texan Thugs | Maxwell Dent | Karla Fry | Walter Donovan | Elsa Schneider | Ernst Vogel | Panama Hat | Garth | Koji Sato | Carl Bruner | Willy Lopez | Don Altobello | Abigail Craven | Tully Alford | Benjamin Oliver | Holli Would | The Goons | Bobby Cahn | Debbie Jellinsky | Gary and Becky Granger | Amanda Buckman | Mr. Curran | Ellis DeWald | Orrin Sanderson | Steve Fulbright | Paul Barish | Beverly Barish Burns | King Edward I | Prince Edward | Robert de Brus | Craig | Mornay | Marion Hawthorne | Agatha K. Plummer | Governor Tracy | Aaron Stampler | John Shaughnessy | Archbishop Richard Rushman | Jim Phelps | Franz Krieger | Max Mitsopolis | Claire Phelps | Matthias | Sala | Sky Bandits | Xander Drax | Charlie Zephro | Skulls of Touganda | Quill | Singh Brotherhood (The Great Kabai Sengh, The Evil Kabai Sengh & Kabai Sengh) | Ray Zephro | Styles | Jack Farley | Morgan | Breen | Castor Troy | Pollux Troy | Kurt Bozwell | Troy and Griffin | Roxanne | Dr. William Weir | Cal Hockley | Spicer Lovejoy | Ruth DeWitt Bukater | Steamboat Willie | Christof | Lady Van Tassel | Headless Horseman | Reverend Steenwyck | Sean Ambrose | Hugh Stamp | John C. McCloy | Wallis | Ulrich | Michael | Simon | Jacobim Mugatu | Henry Gates | Richard and Jay | James Rethrick | Madame Vandersexxx | Claire Wellington | Vincent | Paco | Felix Reyes-Torrena | Jed Parry | Plankton | Karen Plankton | Mr. Krabs | Dennis | Cyclops | Victor | Boat Jacker | The Thug Tug Gang | Count Olaf | Hook-Handed Man | Henchperson of Indeterminate Gender | Bald Man | White-Faced Women | Zateb Kazim | Yves Massarde | Zakara | Martians | Owen Davian | John Musgrave | Brownway | Kimbrough | Ramses | Brooks & Elwyn | Curtis Taylor, Jr. | Jean-Baptiste Grenouille | Norbit's Parents | Rasputia Latimore | Big Black Jack Latimore | Blue Latimore | Earl Latimore | Deion Hughes | Buster Perkin | Stranz Van Waldenberg | Fairchild Van Waldenberg | Katie Van Waldenberg | Robert Turner | Megatron | Decepticons (Starscream, Barricade, Frenzy, Blackout, Scorponok, Bonecrusher, Brawl, & Dispensor) | Charles Meachum | Issac Johnson | Mikhaylo Sczerbiak | Officer Timmons | Lila Cantrow | Assef | Sweeney Todd | Mrs. Lovett | Judge Turpin | Beadle Bamford | Jonas Fogg | Adolfo Pirelli | Clover | Parasites | Mulgarath | Red Cap | Goblins | Mole Troll | Lindsay Marlings | Predatory Vines | Irina Spalko | Antonin Dovchenko | George McHale | Tran | Les Grossman | ARIIA | Jake | Max | Anna Ivers | Jason Voorhees | Ozymandias (Watchmen) Romulans (Nero, Ayel) | The Fallen | Decepticons (Soundwave, Sideways, Grindor, Ravage, Alice, & Scalpel) | Constructicons/Devastator (Demolishor, Rampage, Long Haul, Mixmaster, Scrapper, & Scavenger) | Theodore Galloway | Cobra Commander | COBRA/M.A.R.S. Industries (Destro, Storm Shadow, Baroness, Zartan, Dr. Mindbender & Cobra Troopers) | George Harvey | Fire Nation (General Zhao, Ozai & Zuko) | Therman Murch | Darla | Sentinel Prime | Decepticons (Dylan Gould, Laserbeak, Shockwave, Driller, Igor, Watch-Out, Crankcase, Crowbar & Devcon) | Kurt Hendricks | Marius Wistrom | Sabine Moreau | Brij Nath | Bogdan Anasenko | The Zec | Charlie | Emerson | Muriel | Firefly | Zandar | Jordan Belfort | Donnie Azoff | Gordon Gekko | Colonel Nelec | Cooper | Khan Noonien Singh | Alexander Marcus | Zombies | Harold Attinger | Cemetery Wind (Lockdown, James Savoy, Steeljaw, & Shadow Raiders) | Kinetic Solutions Incorporated (Joshua Joyce, Stinger & KSI Drones) | The Creators | Noah | Tubal-Cain | Shredder | Foot Clan (Eric Sacks & Karai) | Dr. Mann | Burger-Beard | The Syndicate (Solomon Lane, Janik Vinter, Kagan, Saif, Richter, & Atlee) | T-3000 | T-5000 | T-1000 | T-800 | Skynet | Howard Stambler | Krang | Baxter Stockman | Bebop and Rocksteady | Krall | Manas | General James Harkness | The Hunter | Reece Tenneson | Burke | Quintessa | Infernocons | Decepticons (Nitro Zeus, Mohawk, Berserker, Onslaught & Dreadbot) | Transformers Reaction Force (Commander Santos) | Unicron | Death Angels | August Walker | White Widow | Zola Mitsopolis | Nils Debruuk | Rev-9 | Legion | Shatter | Dropkick | Blitzwing | Agent Jack Burns | Dr. Powell | Alejandro Gutierrez | Swiper | Powell | Viper | Christina X | Clayton Verris | Dr. Robotnik | Agent Stone | Echidna Tribe (Pachacamac) | Lyfegro (Zac Tieran & Colette) | Ghostface | Richie Kirsche | Amber Freeman | Abigail Fairfax
See Also
Amblin Entertainment Villains | Avatar Villains | Avengers Villains | Beavis and Butt-Head Villains | Beverly Hills Cop Villains | Captain America Villains | Chinatown Villains | Clone High Villains | CSI Villains | Danny Phantom Villains | Dimension Films Villains | DreamWorks Villains | Farrelly Brothers Villains | Friday the 13th Villains | G.I. Joe Villains | Henry Danger Villains | Indiana Jones Villains | Invader Zim Villains | Iron Man Villains | Jack Ryan Villains | Jerry Bruckheimer Villains | Jimmy Neurton Villains | King Kong Villains | Kung Fu Panda Villains | Legendary Entertainment Villains | Lemony Snicket Villains | Lucasfilm Villains | Madagascar Villains | Marvel Cinematic Universe Villains | Miramax Villains | Mission Impossible Villains | N.C.I.S. Villains | Nickelodeon Villains | Nickelodeon Movies Villains | Norbit Villains | Rango Villains | Ridley Scott Villains | Rugrats Villains | Scream Villains | Sherlock Holmes Villains | Shrek Villains | Sleepy Hollow Villains | Sonic the Hedgehog Villains | South Park Villains | SpongeBob SquarePants Villains | Star Trek Villains | Syfy Villains | Sweeney Todd Villains | Terminator Villains | The Addams Family Villains | The Cloverfield Universe Villains | The Fairly OddParents Villains | The Godfather Villains | The Loud House and The Casagrandes Villains | Thor Villains | Tim Burton Villains | TMNT Villains | Transformers Villains | Transformers Cinematic Universe Villains | Village Roadshow Pictures Villains | XXX Villains

Cinematic Universe Villains
Original Continuity

Movies
Transformers: Decepticons (Megatron, Starscream, Barricade, Frenzy, Blackout, Scorponok, Bonecrusher, Brawl & Dispensor)
Transformers: Revenge of the Fallen: Decepticons (The Fallen, Megatron, Starscream, Soundwave, Scorponok, Sideways, Grindor, Ravage, Alice & Scalpel) | Constructicons/Devastator (Demolishor, Rampage, Long Haul, Mixmaster, Scrapper, Hightower, Scavenger & Overload) | Theodore Galloway
Transformers: Dark of the Moon: Sentinel Prime | Decepticons (Megatron, Starscream, Soundwave, Laserbeak, Shockwave, Driller, Watch-Out, Igor, Crankcase, Crowbar, Hatchet & Devcon) | Dylan Gould
Transformers: Age of Extinction: Cemetery Wind (Harold Attinger, James Savoy), Lockdown, Steeljaws & Shadow Raiders | Kinetic Solutions Incorporated (Joshua Joyce, Galvatron, Stinger, & KSI Drones) | The Creators
Transformers: The Last Knight: Quintessa | Infernocons | Decepticons (Megatron, Barricade, Nitro Zeus, Mohawk, Berserker, Onslaught & Dreadbot) | Transformers Reaction Force (Commander Santos) | Unicron
Comics
Transformers: Movie Prequel: Swindle | Dreadwing | Payload | Wreckage
Transformers: The Reign of Starscream: Thundercracker | Ramjet | Stockade | Hardtop | Crankcase
Transformers: Alliance: Fracture | Reverb | Overcast | Jetstorm
Transformers: Defiance: Skywarp | Divebomb
Transformers: Tales of the Fallen: Flatline
Transformers: Nefarious: Rumble | Ratbat | Buzzsaw | Beastbox | Breakdown | Dirt Boss | Ransack | Fortress | Thrust | Skystalker | Tankor | Sonar
Transformers: Foundation: Astrotrain
Transformers: Rising Storm: Fearswoop | Ruination | Deadlift | Bludgeon | Mindwipe | Space Case
Reboot Continuity
Bumblebee: Decepticons (Shatter, Dropkick, Blitzwing, Soundwave, Ravage, Shockwave, Starscream, Thundercracker, Skywarp & Thrust) | Jack Burns | Dr. Powell