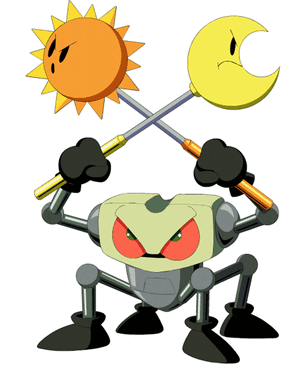 | | | |
| --- | --- | --- |
| " | You two will never be one again... | " |
| | ~ Slice n' Splice | |
Slice n' Splice, also called the KittariHattari, is the main antagonist in the Kirby Right Back At Ya! episode "The Fofa Factor". He is a Demon Beast that can slice one in two and mix them up, which the monster uses to his advantage.
Appearance
Slice n' Splice is a light green, somewhat insect-like, four-legged robot.
Biography
Slice n' Splice was ordered from Nightmare Enterprises by King Dedede. While King Dedede tested out Slice n' Splice, he demonstrated its power from his weapons, the Moon Rod and Sun Rod on both Dedede and Escargoon, having theirheads mixed with each other. Dedede and Escargoon took Slice n' Splice to Cappy Town to have some fun. Slice n' Splice mixes up most of the Cappies with sheep, but mixes Chief Bookem with Dedede's body, even Tokkori and Rick. Mayor Len Blustergas demands Dedede to give them back their bodies, so Slice n' Splice gave their bodies back. Then Dedede, Escargoon, and Slice n' Splice went to pursue Kirby instead. Kirby came out of nowhere and Slice n' Splice attacked Kirby. Unfortunately, with the help of Dedede and Escargoon, Slice n' Splice slashed Kirby with the Moon Rod, being split into two beings.
It is revealed that Slice n' Splice created Lololo and Lalala (Fololo and Falala in the English dub), who were originally one being named Fofa. Fololo and Falala rejoiced as they found out their origins, and attacked Slice 'n Splice while Tiff and Tuff managed to escape with the two Kirbys from Dedede and Escargoon. Slice n' Splice lost his balance and was knocked down by Fololo and Falala who manage to steal the Sun Rod and flew to the top of the castle and managed to put the two Kirbys back together. However, Slice n' Splice emerges from the stairs, and Kirby sucks up his Moon Rod and became Cutter Kirby. Kirby grabs his cutter and threw it like a boomerang at Slice n' Splice, severing his left arm, and Kirby finished of Slice n' Splice with a final cutter, completely slicing him in half. Slice n' Splice's body then explodes, destroying him along with the Sun Rod.
Trivia
Slice n' Splice is the first monster that can speak. The other monsters that can speak, are Yamikage, Lovely, and Broom King.
The two rods are similar to Mr. Shine & Mr. Bright, which marks their only appearance in Kirby: Right back at Ya!.
Community content is available under
CC-BY-SA
unless otherwise noted.