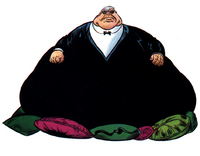 Slug is a villain from the Marvel comics. He is a very large individual who has learned to use his mass for devastating effect.
History
Slug was a powerful drug lord whose full history and origin remain unknown. Slug first came into conflict with the heroes Captain America and Nomad, as the two heroes raided Slug's luxury yacht. Nomad was already beginning to use excessive force at this time, and Nomad assumed that Slug perished when his yacht exploded in the battle.
He first came to Spider-Man's attention when the crime-fighter intercepted some of Slug's operatives who were attempting to murder a drug-pusher named Santos. Spider-Man discovered a large supply of cocaine along with enough evidence to link it to both Slug and a Latverian arms-deal scandal. However, the supply of drugs and the evidence were destroyed by agents of the villainous High Evolutionary.
The Slug was later pursued by Poison, who ultimately confronted him at his estate but allowed him to live.
His next appearance came at the meeting of the underworld crime syndicates, wherein the empire of the fallen Kingpin of Crime was being divided among the leading criminal powers. The proceedings were broken up by Nomad, Daredevil and the Punisher. The Slug was apprehended by the heroes, but it is unclear if he was taken into police custody, or simply escaped after their departure.
Later, the Slug was a target of Nomad's, who had been programmed to kill him by the evil psychiatrist Dr. Faustus. Captain America intervened, and the Slug again managed an escape.
The Slug was imprisoned on "the Raft," a high security holding facility built especially to hold super villains. Slug later broke out of the Raft and joined the Hood's criminal empire. He helped them fight the New Avengers, but was taken down by Dr. Strange.
As Hood's crime syndicate were questioning one of a group of Skrulls that had tried to take Madame Masque, it was discovered that Slug was a Skrull in disguise. As a result, the Skrull posing as Slug was killed by the Hood. The others wondered when Slug had been replaced.
Those replaced during the "Secret Invasion" were found at the end of the battle by Iron Man, as the Skrulls had kept the individuals they replaced alive for use in their plans.
The real Slug is later seen as part of the Hood's criminal gang that is sent by Norman Osborn to attack the New Avengers.
Powers and Abilities
The Slug's body is so terribly obese that it was difficult to penetrate enough fat to strike his vital organs. Also, Slug had mastered the rather grotesque talent of suffocating opponents in the folds of his flesh.

Villains
Comics
Absorbing Man | Adolf Hitler | A.I.M. | Aleksander Lukin | Anaconda | Arcade | Arnim Zola | Attuma | Awesome Android | Baron Wolfgang von Strucker | Baron Zemo | Batroc the Leaper | Beetle | Bi-Beast | Black Cat | Black Talon | Black Mamba | Black Widow | Blitzkrieg | Blizzard | Blood Brothers | Boomerang | Boomslang | Brotherhood of Muntants | Brothers Grimm | Bulldorzer | Bullseye | Cache | Carnage | Carrion | Chameleon | Chemistro | Constrictor | Cottonmouth | Controller | Count Nefaria | Cowled Commander | Crimson Dynamo | Crossbones | Dark Avengers | Darren Cross | Death Adder | Demogoblin | Doctor Doom | Doctor Faustus | Doctor Octopus | Doppelganger | Eel | Electro | Famine | Fer-De-Lance | Firebrand | Fixer | Flag-Smasher | Ghost | Gorgon | Grand Director | Grant Ward | Graviton | Grey Gargoyle | Griffin | Grim Reaper | Grizzly | Heinz Kruger | Herr Kleiser | HYDRA | Hydro-Man | Iron Monger | Ironclad | Jack O' Lantern | J. Jonah Jameson | Kang the Conqueror | Killer Shrike | King Cobra | Kingpin | Klaw | Korath the Pursuer | Korvac | Kraven the Hunter | Lady Deathstrike | Living Laser | Lizard | Loki | Lucia Von Bardas | Machinesmith | Madame Viper | Madcap | Magneto | Man-Ape | Mandarin | Master Man | Masters of Evil | Mentallo | Mesmero | Mister Hyde | M.O.D.A.M. | M.O.D.O.K. | Mole Man | Moonstone | Namor | Nebula | Nightmare | Nightshade | Nitro | Norman Osborn | Piledriver | Princess Python | Puff Adder | Punisher | Punisher (Earth-95126) | Quicksand | Quicksilver | Rattler | Red Ghost | Red Skull | Rhino | Ringmaster | Rock Python | Ronan | Roxxon | Sabretooth | Säurespritze | Scarecrow | Scarlet Witch | Scorpion | Sebastian Shaw | Secret Empire | Selene Gallio | Sentinal | Serpent Society | Shocker | Shockwave | Shriek | Sidewinder | Silver Sable | Sin | Sinister Six | Skeleton Crew | Skrulls | Slither | Slug | Songbird | Super-Adaptoid | Super-Apes | Superia | Super Patriot | Supreme Intelligence | Tarantula | Taskmaster | Terminus | Thanos | Thunderball | Thunderbolt Ross | Thunderbolts | Tiger Shark | Tinkerer | Titania | Titanium Man | Trapster | Typhoid Mary | U-Foes | Unicorn | Ultron | Vapor | Vector | Vermin | Vulture | Whiplash | Whirlwind | Winter Soldier | Wizard | Worthy | Wrecker | X-Ray | Yellow Claw | Zahnmörder | Zodiac
Movies
Captain America (1990): Red Skull | Valentina de Santis
Captain America: The First Avenger: HYDRA (Red Skull, Arnim Zola, Heinz Kruger, HYDRA Lieutenant, & Velt) | Adolf Hitler | Roeder | Hutter | Schneider
Heroes United: Iron Man and Captain America: HYDRA (Red Skull & Taskmaster)
Captain America: The Winter Soldier: HYDRA/STRIKE (Alexander Pierce, Winter Soldier, Crossbones, Jack Rollins, Jasper Sitwell, Russo, Senator Stern, Arnim Zola, Wolfgang von Strucker, List, Scarlet Witch, & Quicksilver) | Georges Batroc | Ferdinand Lopez | Gerald Durand
Captain America: Civil War: Helmut Zemo | Thunderbolt Ross | Winter Soldier | Scarlet Witch | HYDRA (Vasily Karpov, Josef, & Winter Soldiers) | Hero Mercs (Crossbones)
TV Series
The Falcon and The Winter Soldier: Winter Soldier | Flag Smashers (Flag-Smasher, Dovich, Gigi, DeeDee, Lennox, Nico, Matias, & Diego) | Sharon Carter | Baron Zemo | LAF (Georges Batroc & Louie) | Senator Atwood | Valentina Allegra de Fontaine | Thanos
What If...?: Red Skull | Arnim Zola | Heinz Kruger | HYDRA's Champion

Video Games
The Amazing Spider-Man & Captain America in Doctor Doom's Revenge: Doctor Doom | Electro | Hobgoblin | Rhino | Boomerang | Grey Gargoyle | Oddball | Batroc the Leaper | Mysterio
Captain America and the Avengers: Red Skull | Crossbones | Klaw | Living Laser | Whirlwind | Sentinel | Grim Reaper | Wizard | Mandarin | Juggernaut | Ultron
Captain America Super Soldier: HYDRA (Red Skull, Arnim Zola, Madam Hydra & Baron Strucker) | Baron Zemo
Captain America: The Winter Soldier: Winter Soldier | Sin | Taskmaster | Shockwave | Serpent Society (King Cobra, Puff Adder & Diamondbak)
See Also
Agent Carter Villains