The Smorg (Jap.: モアモア, Moamoa) are minor antagonists in Paper Mario: The Thousand-Year Door, being the main antagonists of Chapter 6.
Biography
The Smorg themselves are a species of small creatures about the size of a typical Fuzzy and resemble small dark clouds with yellow eyes and some of them are magenta. The Smorg can become a formidable threat when they congregate into a large mass of them and attack Mario and the other passengers, presumably with the intent to eat them.
This boss does not hold a Crystal Star, but it attacks the Excess Express during the ride to Poshley Heights. This boss is made up of a massive horde of smaller Smorgs and the base was made up of Magenta Smorg. They are first seen at the Riverside Station, where they lift the drawbridge to stop the train from going far (it is unknown if it is working for the Shadow Sirens to stop Mario and his teammates from reaching the Garnet Star).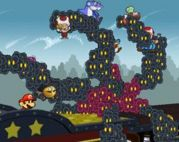 Later on, they stow away on the train and kidnap the passengers. Mario and his teammates fight the Smorgs on the rooftop of the train to rescue the passengers. When they are defeated, they will blow away in the wind and release the passengers.
In the beginning of their fight, three tentacles will surround the main body, and near the end, they are replaced with a pincer claw that can do a large amount of damage to Mario and his partner.
Trivia
Its name may come from the word "smog", based on its dark, cloudy appearance, and the term miasma, referring to a poisonous cloud and/or dangerous atmosphere, likely referencing the appearance (the "tentacles", specifically) and hostile nature of the Smorgs.
Smorg is the only chapter boss in Paper Mario: The Thousand-Year Door (with exception of the Shadow Queen) that does not possess a crystal star.
Smorg, Cortez and Macho Grubba are the only three bosses that have no known relation to the Shadow Queen or Sir Grodus.
The smaller Smorg resemble Fuzzies.
Earlier in the game's development, the Smorg were monsters created or tamed by Beldam who sicced them after Mario in order to halt his progress (they were supposed to fight the Shadow Sirens in Riverside Station after the Smorg battle), but this was cut in the final game, leaving no explanation for the Smorg's appearance.
Villains
Koopa Troop
Bowser | Baby Bowser | Count Koopula | Bowser Jr. | Captain Goomba | Chain Chomps | Koopalings: (Larry Koopa | Morton Koopa Jr. | Wendy O. Koopa | Iggy Koopa | Roy Koopa | Lemmy Koopa | Ludwig Von Koopa) | Kamek | Toadies | Kammy Koopa | Paper Bowser | Paper Bowser Jr. | King Boo | King Bob-omb | Petey Piranha | Gobblegut | Torkdrift | Elite Trio | Goombas | Boom Boom | Pom Pom | Boos | Koopa Troopas | Hammer Bros | Reznor | Bloopers | Bob-ombs | Piranha Plants | Burt the Bashful | Salvo the Slime | Roger the Potted Ghost | Red & Blue Goomba | Goomba King | Koopa Bros | Tutankoopa | Tubba Blubba | Shy Guys | General Guy | Lava Piranha | Huff N. Puff | Crystal King | Koopa Kids | Hoo | Blizzaurus | Army Hammer Bro
8 Bit Club
Wart | Mouser | Tryclyde | Birdo | Shy Guys
Secret Society of X-Nauts
Sir Grodus | Lord Crump | Shadow Sirens | Doopliss | Shadow Queen
Shroobs
Elder Princess Shroob | Princess Shroob | Sunnycide
Count Bleck's Minions
Count Bleck | Nastasia | O'Chunks | Mimi | Dimentio | Mr. L
Folded Soldiers
King Olly | Handaconda | Paper Macho Soldiers
Legion of Stationery: Colored Pencils | Rubber Band | Hole Punch | Tape | Scissors | Stapler
Smithy Gang
Smithy | Exor | Mack | Bowyer | Yaridovich | Axem Rangers | Blade | Count Down | Domino |
Beanbean Kingdom
Queen Bean | Popple | Rookie | Beanies | Mechawful | Sharpea | Troopea | Beanerang Bro | Clumphs | Lakipea
Cackletta and Fawful's faction: Cackletta | Fawful & Dark Star (Midbus, Fawful Express, Fawful Mountain, Super Peach's Castle of Fury, Crawful, Snawful, Chain Chawful, Fawflant, Fawful Guy, Fawfulcopter, Fawflopper, Mawful Mole, Mechawful)
Other
Antasma | Belome | Best Fitness Friends | Big Guy the Stilted | Black Jewel | Bonechill | Booster | Bouldergeist | Brobot | Broodals: (Topper | Harriet | Spewart | Rango) | Bugaboom | Chuckolator | Cookatiel | Cortez | Count Bleck's Father | Count Cannoli | Croco | Culex | Dino Piranha | Dodo | Donkey Kong | Donkey Kong (Mario VS Donkey Kong) | Draggadon | Foreman Spike | Francis | Giga Lakitu | Glamdozer | Gloomtail | Gooper Blooper | Grouchy Possessor | Grubba | Harsh Possessor | Hisstocrat | Hooktail | Jojora | Jr. Troopa | Kaptain Skurvy | Kent C. Koopa | King Croacus | King Kaliente | King K. Rool | Kritters | Lamp Scam Snifit | Lena | Lucien | Madame Broode | Major Burrows | Metal Mario | Mario | Mechawiggler | MegaBug | Mizzter Blizzard | Mollusque-Lancuer | Nabbit | Overset Possessor | Peewee Piranha | Peps | Phantamanta | Portrait Ghosts: (Neville | Chauncey | Bogmire | Biff Atlas | Boolossus | Sir Weston | Vincent Van Gore) | President Koopa | Prince Pikante | Rabbids: (Phantom of the Bwahpera | Rabbid Kong) | Rawk Hawk | Ricky | Rollodillo | Rudy the Clown | Ruined Dragon | Sabasa | Shadoo | Shake King | Shrewd Possessor | Skellobits | Smorg | Squizzard | Tatanga | Three Little Pigheads | Tolstar | Topmaniac | Tough Possessor | Tower Power Pokey | Valentina | Viruses | Waluigi | Wario | Watinga | Whomp King | Wigglers | Wingo | Wracktail | Yellow Belly/Helio
Comics
Bowser
Cartoon
Big Bad Wolf | "Crime Wave" Clyde | King Koopa | Robot Princess | Wizardheimer
See Also
Donkey Kong Villains | Luigi's Mansion Villains | Wario Villains
Community content is available under
CC-BY-SA
unless otherwise noted.