Jurassic World: Dominion Dominates Fandom Wikis - The Loop
Play Sound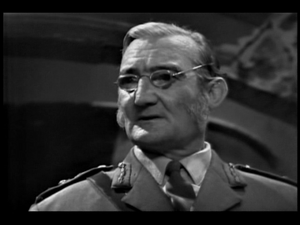 General Smythe is initially the main antagonist and later a supporting antagonist of the Doctor Who story "The War Games".
He was portrayed by the late Noel Coleman.
Biography
General Smythe was one of the Aliens running the "War Games", an attempt to select an army of human soldiers to use in their plan to conquer the galaxy. To this end, the Aliens kidnapped soldiers from human wars and brainwashed them into believing they were still fighting the wars under their guidance, in order to find the best fighters. As part of the recreation, Smythe took on the role of a British general in 1917 during World War I.
Smythe directed operations from his chateau, with his room containing both a video screen and a reception point for the SIDRAT time machines. He exercised hypnotic control over his human underlings, causing his adjutant Captain Ransom to forget that he had disappeared. When the Doctor, Jamie and Zoe stumbled upon the War Games and were accused of being German spies, Smythe presided over a court martial, reading out a slanted version of events that accused them of helping the Germans capture an ambulance and then trying to sneak back to the German lines with information on the British position. Smythe claimed they had the right to a defence, but cut them off whenever they tried to question the witnesses. He then hypnotised Ransom and Major Barrington into passing a guilty verdict, sentencing Jamie to be posted to the front line, Zoe to ten years in jail and the Doctor to execution by firing squad.
Smythe headed to the control area and thus saw that the three travellers, now joined by Lieutenant Carstairs and Lady Jennifer, two humans who had broken their conditioning, had discovered the video screen. Returning to his own time zone, Smythe ordered Ransom to arrange an artillery barrage to destroy the ambulance the group were travelling in, but they escaped through a time zone barrier.
Smythe reported the incident to the War Chief, who, on hearing the three had claimed to be time travellers, ordered them taking alive. Smythe also met with Von Weich, an Alien posing as a German officer, to compare notes on their next planned offensives.
Some time later, Smythe's human troops recaptured the Doctor, Jamie and Carstairs. Despite his orders, Smythe ordered the Doctor's execution carried out, noting revenge could be very satisfying. He contacted the War Chief claiming the Doctor was dead, only to learn he was supposed to recover a processing machine the Doctor had stolen. At that moment, a resistance group made up of soldiers who had broken their conditioning attacked the chateau, saving the Doctor. Smythe sent out a request for reinforcements but was told to disable the controls in his office. Smythe tried to do so but Sergeant Russell burst in. There was an exchange of fire between the pair and Smythe was killed.