✔
| | |
| --- | --- |
| | This Article Contains Spoilers - WARNING: This article contains major spoilers. If you do not wish to know vital information on plot / character elements in a story, you may not wish to read beyond this warning: We hold no responsibility for any negative effects these facts may have on your enjoyment of said media should you continue. That is all. |
| | | |
| --- | --- | --- |
| " | Light isn't always good neither shadows are always evil. Light often plays with human eyes and pranks shadows. | " |
| | ~ The Snow Queen | |
The Snow Queen is the titular main antagonist of Hans Christian Anderson's 1844 Danish fairytale of the same name and its film adaptations, with the exception of the sympathetic portrayal in Disney's 53rd full-length animated feature film Frozen, though she is portrayed as a villain in some parodies . She is a morally ambigous witch who possesses the magical ability to manipulate ice and cold, known as cryokinesis. 
History
1957 Film
In the 1957 animated film (though the English version came out in 1959), the Snow Queen saw Kay through her mirror, saying that if she came in, he would put her on a hot stove and melt her. Angrily, the Snow Queen smashed her mirror and sent its shards flying toward the village.
Two shards pierced Kay's eye and heart, turning him evil. The Snow Queen then took him to her palace, intending to keep his heart cold and for him to stay with her forever. However, Gerda made her way to the Snow Queen's Palace and broke the Snow Queen's spell. As they were about to leave, the Snow Queen appeared and attempted to stop them. Gerda asked her to go away. Though the Snow Queen did not listen, spring did and came to the area where the Snow Queen's palace was, causing the Snow Queen and her palace to melt.
She was voiced by the late Louise Arthur in the 1959 dub, and Kathleen Turner in the 1998 dub.
1995 Film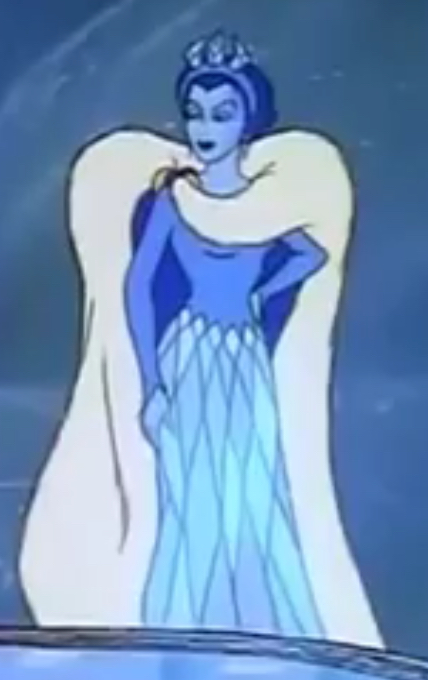 In the 1995 animated film, the Snow Queen lives at a palace in the North Pole. She has three trolls named Eric, Baggy, and Wardrobe. Her plan was to set up her magic mirror (which was her most valuable possession) up on a mountain to freeze the entire world, however, the trolls messed up causing the mirror to fall onto their flying machine's propeller and break, shattering it into pieces.
Two of the pieces hit Tom in the eye and heart, turning him evil. The Snow Queen sent her bats to retrieve the pieces. Realizing that the last two were inside Tom, the Snow Queen captured him and took him to her palace, where he began to rebuild her mirror. When the trolls warned him that the Snow Queen would kill him to get the last two pieces, she kissed him, turning his veins to ice, which would kill him when it reached his heart. However, Ellie, Peeps the bird, Dimly the reindeer, and Freda arrived at the Snow Queen's palace and the trolls decided to help them.
Freda made a potion to dissolve the mirror, but before Tom could drink it, the Snow Queen blasted it away with her staff causing it to be impaled on an icicle. After a fierce battle, the vial of potion was hit and fell onto the mirror, destroying it and freezing the Snow Queen. However, according to Freda, she will not stay frozen forever and will return.
She returned sooner than expected; in The Snow Queen's Revenge, her bats took her staff and placed it in her hand, unfreezing her. The Snow Queen confronted her trolls, who seemed to go back over to her side (with much reluctance from Baggy and Wardrobe) and told her that Ellie escaped. The Snow Queen kidnaps Dimly (who had just returned to take the trolls somewhere to live) to lure Ellie to her palace and get her revenge. As it was getting to warm in the North Pole, the Snow Queen left for her other palace in the South Pole, on a volcano. There, two more of her minions were seen; two penguins, Pearl and Elspeth. While waiting for Ellie to come to her, the Snow Queen began construction on an ice pterodactyl called an Iceosaurus, which can freeze anything with its eyes.
Ellie arrived at the palace and rescued Dimly from his cell, but he was unable to fly away from the palace. The Snow Queen and the Iceosaurus attacked Ellie, Peeps, and Dimly, however, Ellie used Freda's magic device as a shield to deflect the Snow Queen's attacks, which hit the Iceosaurus and caused it to fall to its death, causing a volcanic eruption, destroying the Snow Queen's palace. Brenda the wallbird flew Ellie, Peeps, and Dimly away, while the trolls and penguins were able to escape as well, however, the Snow Queen was unable to escape due to her palace crumbling and fell into the lava. Her body was shown intact afterward and turned to stone (along with her staff). Before the credits roll, her eyes are shown glowing blue, indicating that she is still alive, but either trapped forever or doomed to eventually die from the lava.
She was voiced by Helen Mirren in The Snow Queen and Julia McKenzie in The Snow Queen's Revenge.
2002 Film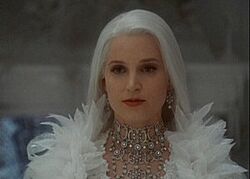 In the 2002 made-for-TV movie of the same name, which is roughly based on the story
The Snow Queen
, The Snow Queen in this version is intentionally malicious towards Gerda and desires to keep Kai for herself. Throughout the movie it is slowly revealed that the Snow Queen has been hoarding power for some time, intending to destroy all of the other seasons and ruling the earth alone. She intended to achieve this goal using the Devil's mirror, which was shattered into thousands of pieces above the earth. The Snow Queen initially kidnaps Kai because the final piece of the mirror fell into his eye, but she takes him to her palace and charges him to fix the mirror the way it was.
Additionally, it is implied that the Snow Queen caused the death of Gerda's mother because she was also a magicallyi nclined rival of the Snow Queen. In the movie, she is not the only woman who controls a season; three other women, who originally have never got anything to do with seasons, are the other seasons: The witch rules spring, the queen rules summer, the robber hag rules fall and the Snow Queen rules winter. There is also a minor subplot involving a fierce talking polar bear who is the Snow Queen's henchman and stays by her side because he is in love with her. After her defeat, he carries her off and is seen taking the form of an elegantly dressed man.
She was portrayed by Bridget Fonda.
2012 Film
| | | |
| --- | --- | --- |
| " | Let those who dislike me disappear and turn into ice. | " |
| | ~ Irma before becoming the Snow Queen. | |
In the 2012 Russian animated film of the same name, she was voiced by Cindy Robinson in English. The Snow Queen was once a child named
Irma
, who had northern magic. However, when children kept accusing her, she went to Imana's cave and wished for the children to turn into ice. Her skin also turned blue in the process.
Due to her fear of magical mirrors, The Snow Queen took away Master Vegard and his wife Una and turned them into ice; but their children were safely hidden. Years passed and she sent Orm to get rid of Master Vegard's successors, which were Kai and Gerda. While Kai was abducted, the Snow Queen interrogated him to tell her that he has a sister. After hearing his words, she froze his heart and left him lying on the ground. Later at the Ice Palace, Gerda noticed that her brother was frozen and wept. During the final battle, Gerda exposed the Snow Queen to a magic mirror and turned back into Irma. After being hugged by Gerda, Irma turned back to a normal girl as well as the ice palace collapsing and that the eternal winter had stopped.
Frozen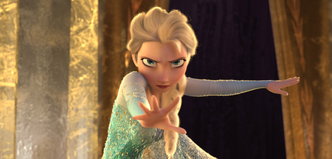 In this film, the Snow Queen, named Elsa, serves as the deuteragonist, as she is a foil to the hero, and an anti-villain/anti-hero. She is not evil at all, but all of her bad actions are due to despair and fear, as opposed to the original versions.
She is the Queen of Arendelle, who leaves the country after her powers are exposed and she flees to the mountains, while accidentally freezing Arendelle.
While Elsa is a good character, she committed various villainous deeds, including creating a snow monster to send Anna and Kristoff away, freezing Arendelle, freezing Anna's heart, almost killing Hans' guards and more, though they were for privacy, were unintentional and in self-defense respectively.
In the early concept of the film, in fact, Elsa was set to be the main antagonist of the movie, and her Snow Queen outfit used to be dark instead of pale blue. Elsa's early concept art was inspired by the late Amy Winehouse and some of her outfit's appearance were based from Jadis the White Witch. She was originally depicted as a ruthless, oppressive and cold-hearted tyrant with an army of giant snow monsters (only Marshmallow remained from this Snowmen Army).
However, this didn't go very well as it would have been very difficult to reform her as she was an outright villain and after listening to "Let It Go" (which is supposedly Elsa's villain song), the writers changed this idea after realizing the song's motivations of self-improvement were too positive to be expressed by a villain, thus turning Elsa into the anti-heroine of the film, leading to the creation of Prince Hans as the main antagonist instead.
Although Elsa is the deuteragonist of the film, she caused most of the protagonists' problems while Prince Hans acts as the main antagonist.
Elsa would later return as a supporting character in the 2018 film Ralph Breaks the Internet, where she is a resident of the Internet alongside Anna and the other Disney Princesses.
Elsa returns as the protagonist of the 2019 sequel Frozen II, where she learnrs that her mother Queen Iduna was a Northuldra tribeswoman who rescued her father King Agnarr during a war between the Northuldrans and Arendelle soldiers. She later learns that her deceased grandfather King Runeard instigated the war as he believes that the Northuldrans' connection to magic would serve as a threat to his power, and that his actions angered the forest spirits into creating a barrier from ever entering or leaving the Enchanted Forest. Elsa also learned that the forest spirits were responsible for giving her powers as a reward for Iduna's selfless act towards Agnarr and that Runeard had built a dam that would drain the forest's resources before his death, so she had Anna and the others to destroy the dam to end the war and save their kingdoms. In the end, Elsa decides to remain in the Enchanted Forest as its new Queen while declaring Anna as the new Queen of Arendelle.
Once Upon a Time
The Snow Queen, named Ingrid, is the main antagonist for the first half of Season 4 on ABC's Once Upon a Time. She is the aunt to Frozen's Snow Queen Elsa, who in this version acts as the main antagonist of the first two episodes of Season 4.
The Huntsman: Winter's War
The Snow Queen, named Freya (also known as the Ice Queen), is the secondary antagonist turned anti-heroine of the 2016 film, The Huntsman: Winter's War, a sequel of Snow White and the Huntsman. She is the evil Queen Ravenna's sister, a powerful sorceress with the ability to manipulate ice and snow. In this version, she is portrayed by Emily Blunt.
Gallery
Trivia
"Frozen" was very loosely based on the Anderson tale. In some ways, it has more in common with the story poem "Goblin Market", which emphasizes on the bond between sisters and involves one sister fighting supernatural odds to save the life of the other.
Some legends state the Snow Queen's true name was "Sambala".
The Snow Queen's servants were twin fairy sisters.
The Snow Queen has a magical dark blue stone that served for making difference between good and evil, light and darkness.
In the Frozen adaption, the Snow Queen is an anti-villain turned anti-heroine who was insecure and traumatized with her ice powers and the film's plot involves troubles she unintentionally caused that made her look like a villain and even did acts that were close to villainy in spite of well-intended up until she learned how to control her cryokinetic abilities such as:

Shutting her sister out for 13 years with an intent to protect her but left their relationship irreversibly strained.
Accidentally freezing Anna's heart.
Unintentionally freezing Arendelle when her powers exposed to the public.
Attempting to drive Anna away to protect her from her powers by conjuring Marshmallow, and
Attempting to kill Weselton's guards for self-defense because they were attempting to kill her as well.

Villains
Animated Features
Queen Grimhilde | Magic Mirror | Honest John | Gideon | Stromboli | Coachman | Coachman's Minions | Monstro | Chernabog | Zeus | Vulcan | Boreas | Pink Elephants | Man | Ronno | Tetti-Tatti | Lumpjaw | Willie | Rustlers | Mr. Winkie | Weasels | Headless Horseman | Lady Tremaine | Anastasia Tremaine | Drizella Tremaine | Lucifer | Queen of Hearts | Card Soldiers | White Rabbit | Cheshire Cat | The Walrus and the Carpenter | Captain James Hook | Neverland Pirates (Mr. Smee) | Tick Tock the Crocodile | Rat | Si and Am | Maleficent | Diablo the Raven | Maleficent's Goons | Cruella De Vil | Jasper and Horace | Madam Mim | Shere Khan | Kaa | Bandar Log (King Louie) | Edgar Balthazar | Prince John | Sheriff of Nottingham | Sir Hiss | Captain Crocodile | Rhino Guards | Wolf Arrowmen | Trigger & Nutsy | Heffalumps & Woozles | Madame Medusa | Mr. Snoops | Brutus & Nero | Amos Slade | Chief | Horned King | Horned King's Army (Creeper & Gwythaints) | Cauldron Born | Orddu, Orwen & Orgoch | Arawn | Padraic Ratigan | Thugs (Fidget, Felicia & Bartholomew) | Bill Sykes | Roscoe and DeSoto | Ursula | Flotsam and Jetsam | Glut | Percival C. McLeach | Joanna | Beast | Gaston LeGume | LeFou | Asylum D'Loons (Monsieur D'Arque) | Tom, Dick, Stanley & Walter | The Baker | Wolves | Jafar | Iago | Razoul | Prince Achmed | Gazeem | Cave of Wonders | Scar | Hyena Clan (Shenzi, Banzai & Ed) | John Ratcliffe | Claude Frollo | Frollo's Soldiers (Phoebus de Chateaupers, Brutish Captain, Oafish Guard, Pierrat Torturue & Henriet Cousin) | Hades | Pain & Panic | Fates | Cerberus | Titans (Lythos, Hydros, Pyros, Stratos & Cyclops) | Nessus | Hydra | Nemean Lion | Shan Yu | Hun Army (Hayabusa & Elite Hun Soldiers) | Cecil Clayton | Sabor | Clayton's Pirates | Firebird | Black Triangles | Jack-in-the-Box | Kron | Bruton | Emperor Kuzco | Yzma | Kronk | Lyle Tiberius Rourke | Rourke's Mercenaries (Helga Katrina Sinclair) | Leviathan | Vikings | Gantu | Long John Silver | Pirates (Scroop, Onus, Hands, Turnbuckle, Blinko, Longbourne, Fayvoon, Grewnge, Krailoni, Hedley, Torrance, Mertock, Verne, Crex & Zoff) | Nathaniel Flint | Alameda Slim | Rico | Mr. Wesley | DOR-15 | Mike Yagoobian | Dr. Calico | Dr. Facilier | Lawrence | Facilier's Shadow | Shadow Demons | Ian the Gator | Marlon the Gator | Reggie, Darnell and Two Fingers | Friends on the Other Side | Mother Gothel | Stabbington Brothers | Turbo | Cy-Bugs | Sour Bill | Wynnchel and Duncan | Queen Elsa | Prince Hans Westergaard | Duke of Weselton | Erik & Francis | Wolves | Yokai | Alistair Krei | Mr. Yama | Dawn Bellwether | Doug Ramses | Woolter | Jesse | Sheep Cops | Ram Thug | Duke Weaselton | Mr. Big | Polar Bear Thugs (Koslov, Raymond & Kevin) | Te Kā | Tamatoa | Kakamora | Arthur | King Runeard
Live-Action Movies
Long John Silver | Captain Nemo | Pony Sugrue | Prince John (1952) | Chato | The Marten | Kuala | Vicky Robinson | Ute Chief | Jacques Lebeau | Makoos | Durante | Barnaby | James Haggin | Cattlemen | Comanche Chief | Apaches | Mr. Dawes Sr. | Tanamashu | Judge Higgins | Mountain Ox | Peter Thorndyke | Vince Heber | Mrs. Satterfield | A.J. Arno | Chillie Walsh | Colonel Pierson | Ab Cross | Colonel Heller | King Leonidas | Bookman | Swinburne | Mr. Eben | Mark Pierson | Hugh McRae | Sam Eagle Speaker | Kerwood Krinkle | Frank Stillwell | Hnup Wan | Dr. Terminus | Gogans | Charles Olympus | Marshal Wooly Bill Hitchcock | Big Mac | Hans Reinhardt | The Watcher | George McKinzie | Alec Frost | Bluto | Vermithrax Pejorative | Master Control Program | Sark | Ed Dillinger Sr. | Mark Jennings | Kelly | Mr. Dark | Mike | Rosie Little | Hunters | The Nome King | Princess Mombi | Connie | Bullwhip | Parker | Buzz | Wolf's Owner | Timber Wolf | Hunter | Eagle | Alistair Patton | Patton Snr. | Judge Doom | Toon Patrol (Smarty, Greasy, Psycho, Wheezy & Stupid) | Abdullah | Mr. Patel | Nigel | John Merrick | Beauty Smith | Luke and Tinker | Sykes | Cherokee | Lip-Lip | Fritz | Neville Sinclair | Lothar | Nigel Snyder | Joseph Pulitzer | Delancey Brothers | Charles Hendrickson | Terence Wheeler | Winifred Sanderson | Mary Sanderson | Sarah Sanderson | John Ricketts | The King & the Duke | Pap Finn | Cardinal Richelieu | Comte de Rochefort | Milady de Winter | Borg Guillarson | Leland Drury | Mr. Heath | Miners | Lloyd Halverson | William Boone | Buldeo | John Wilkins | Tabaqui (1994) | Sergeant Harley | Bandits | Sergeant Claibourne | Shere Khan (1994) | Bandar Log (1994) (King Louie (1994) & Kaa (1994)) | Juice (Blank Check) | Ranch Wilder | Injun Joe | Tony Perkis | Agent Woods | Jack and Ralph | Ashcan and Pete | Aunt Sponge | Aunt Spiker | Rhino | Skeleton Pirates | Shark | Cruella De Vil (1996) | Jasper & Horace Badun (1996) | Mr. Skinner | Jean-Pierre Le Pelt | Alonzo | Norman Snively | Ricky King | Charlotte | Lyle Van de Groot | Max & Thor | Lion | Beatrice Stanhope | Chester Hoenicker | Wilson Croft | Smith and Wesson | Bennett Hoenicker | Luanne LeSeur | Meredith Blake | Natalya | Popov | Shere Khan (1998) | Tabaqui (1998) | Bandar Log (1998) | Eddie Taffet | Andrei Strasser | Elliot Coleye | Dr. Claw | Kramer | RoboGadget | Malcolm | Snerbert | Lana Thomas | Elliot T. Jindraike | Professor Siles | Toy Santa | Louise Walker | Mr. Sir | Charles "Trout" Walker | Kissin' Kate Barlow | Linda Walker | Sheriff | Doug and Gordon | Hector Barbossa | Crew of the Black Pearl (Bo'sun, Scratch, Pintel & Ragetti) | Ramsley | Zombies | Carla Santini | Lord Kelvin | Black Scorpions (General Fang) | Inspector Fix | Viscount Mabrey | Ian Howe | Captain Bill Fawcett | Zaphod Beeblebrox | Frankie and Benjy | Prostetnic Vogon Jeltz | Vogons | Humma Kavula | Gag Halfrunt | Royal Pain | Stitches | Lash | Speed | Penny Lent | Jadis the White Witch | Jadis' Secret Police (Maugrim & Vardan) | Ginarrbrik | General Otmin | Dr. Kozak | Jack Frost | Davy Jones | Crew of the Flying Dutchman (Maccus & Kraken) | Lord Cutler Beckett | East India Trading Company | Janice Avery | Queen Narissa | Mitch Wilkinson | Simon Bar Sinister | El Diablo | Henry Burke | Miraz | Telmarines (Glozelle & Lord Sopespian) | Nikabrik | Hag & Werewolf | Kendall Duncan | Tess Tyler | Speckles | Lucinda | Oswald Granger | Red Queen | Knave of Hearts | Card Soldiers | Jabberwock | Jubjub Bird | Hamish Ascot | Morgana le Fay | Morganians (Maxim Horvath, Abigail Williams, Sun Lok, Drake Stone & Marrok) | Nizam | Ms. Stout | CLU 2 | Rinzler | Blackbeard | Angelica Teach | The Spaniard | King Ferdinand VI | King George ll | Sab Than | Matai Shang | Tal Hajus | Jenny | Latham Cole | Butch Cavendish | Jay Fuller | Evanora | Theodora | Maleficent (2014) | Diaval | King Stefan (2014) | King Henry | The Witch | The Wolf | Lady Tremaine (2015) | Grand Duke (2015) | Anastasia Tremaine (2015) | Drizella Tremaine (2015) | Lucifer (2015) | David Nix | Shere Khan (2016) | Bandar Log (2016) (King Louie (2016)) | Kaa (2016) | Fleshlumpeater | Giants (Bloodbottler & Bonecruncher) | Pramod Kadam | Beast (2017) | Gaston LeGume (2017) | LeFou (2017) | Asylum D'Loons (2017) (Monsieur D'Arque (2017)) | Tom, Dick & Stanley (2017) | The Baker (2017) | Wolves (2017) | The King (2017) | Armando Salazar | Crew of the Silent Mary (Lesaro) | Scarfield | It | Heffalumps | Sugar Plum Fairy | Tin Soldiers | William Weatherall Wilkins | V.A. Vandevere | Neils Skellig | Pink Elephants (2019) | Rufus Sorghum | Jafar (2019) | Iago (2019) | Cave of Wonders (2019) | Scar (2019) | Hyena Clan (2019) (Shenzi, Kamari & Azizi) | Queen Ingrith | Borra | Gerda | Rat (2019) | Devon & Rex
Other Animated Movies
Br'er Fox & Br'er Bear | Giant Magnet | Evil Clown | Merlock | Dijon | Oogie Boogie | Lock, Shock and Barrel | Bill Bluff | BluffCo Industries (Guy Graham, Bob & Bluff Agents) | Phillium Benedict | Anti-Recess Legion (Kojak, Fenwick, Anti-Recess Agents, Anti-Recess Ninjas, Anti-Recess Scientists, Agent Henderson, Agent Smithson, Agent Underville, Agent Franklin, Agent Morrisey, Agent Goodman, Dr. Rosenthal, Dr. Lazenby & Dr. Steinheimer) | Gelman | Ivan Krank | Von Talon | Cufflingk & Underlingk | Kazar | Wildebeests (Blag) | Vidia | Supervisor | Mr. Whiskers | Shelley | Were-Rat | Sea Monkeys | Mr. Burgermeister | Ripslinger | Zed | Ned | Zarina
Sequels
Abis Mal | Sa'Luk | Forty Thieves | Maestro Forte | Fife | Jesters | Zira | Outsiders (Nuka & Vitani) | Mack McCro | Supreme Commander | Morgana | Undertow | Cloak & Dagger | Bradley Uppercrust III | The Gammas | Buster | Sarousch | Pom-Pom | Tad White | Jacques von Hämsterviel | Reuben | Sparky | Leroy | Erik Hellstrom | Edgar Volgud | Krakken | Lil' Lightning | Lord Qin | Bandits | Mama Gunda | Uto and Kago | Marina Del Rey | Cad Spinner
Shorts, TV Shows, Comics and Video Games
Peg Leg Pete | Phantom Blot | Skeletons | Grim Reaper | Mad Doctor | Demon Cats | Gustav | Lonesome Ghosts | Doctor Vulter | Solego the Chaos God | Arpine Lusène | Eli Squinch | Sylvester Shyster | Fantomius | Inquinator | Spectrus | Zafire | H. U. Hennessy | Jolly Roger | Witch | Zeke Midas Wolf | Captain Katt | Mortimer Mouse | Beagle Boys | Foxy Loxy | Ajax | Witch Hazel | Adolf Hitler | Nazi School Teacher | Little Hans | Fat Cat | Norton Nimnul | Aldrin Klordane | Baby Thaddeus | Ratso Ratzkiwatzki | Julius | Frankenollie | Mizrabel | Huntsman | Huntsgirl | Dark Dragon | Al Roker | Chuckles | Princess Irmaplotz | Grace Goodwin | Molly | Shadow Blot | False Shadow Blot | Foxy Loxy | Goosey Loosey | Cedric | Wormwood | Miss Nettle | Sofia the Worst | Mamanu | Princess Ivy | Wendell Fidget | Muck, Gunk & Grime | Crispy | Prisma | Twitch | Vor | Captain Hook | Shuriki | Fiero | Victor Delgado | Carla Delgado | Ash Delgado | Troyo | Chancellor Esteban | Chatana | Rippen | Cruz | Vestia | Duke Cristóbal | Zopilote | Oswald Gardner | Chatana | Commander Heist | Lazlo
Disney Parks
Alien | Auctioneer | Bartholomew Gore | Black Prince | The Bride | Constance Hatchaway | Daisy de la Cruz | Executioner | Hatbox Blast-Ups | Hatbox Ghost | Hitchhiking Ghosts | Knight of the Living Dead | Lava Monster | Mad Hatter | Madame Leota | Master Gracey | Medusa | Monkey King Statue | Nebula Ghosts | Phantom | Pirates | Professor J.T. Wu | S.I.R. | Thunderbird | Werecat Lady | Yeti (Expedition Everest) | Yeti (Matterhorn Bobsleds)
Community content is available under
CC-BY-SA
unless otherwise noted.