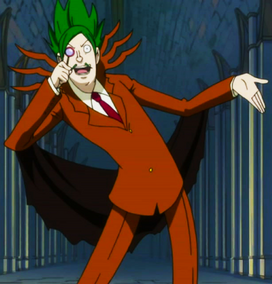 Sol was a Mage of the Phantom Lord Guild, being one of the strongest of his guild he was a member of Element 4 , his element is earth.  During his fight with Elfman, he would make him guilty by nonchalantly tell that his elder sister would be crushed by their guild robot, for tricking the master by transforming into Lucy. This is only made worse when he creates clones of his dead younger sister, who at that point had thought had killed at his own hands to further despair.  This is out of the same spite for Fairy Tail as his master.
This act proves to be his downfall as it results in Elfman taking a full Beast Take-Over. He was defeated by Elfman.
Magic and Abilities
Sol's abilities mainly lie in his use of Earth Magic, which allows him to merge with the earth to move underground or to take shelter from attacks, as well as to create rock and employ it as he wishes, mainly using it to attack his opponents. In the anime, he has also shown the ability to read in the memory of those who steps on him while he's merged with the ground.
Trivia
Sol speaks with a French accent and has a tendency to employ French words when talking, such as "salut" (meaning "greetings") and "cible" (meaning "target"), and referring to young women as "Mademoiselle" (meaning "Miss"). He also tends to repeat the phrase "non" (meaning "no"), usually three times in a row, to express denial or dismay.
Community content is available under
CC-BY-SA
unless otherwise noted.