Jurassic World: Dominion Dominates Fandom Wikis - The Loop
Play Sound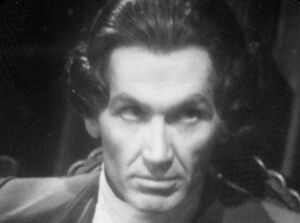 Solicitor Grey is the main antagonist of the Doctor Who story "The Highlanders".
He was portrayed by the late David Garth.
Biography
Solicitor Grey was the royal commissioner in charge of rebel prisoners in the aftermath of the Battle of Culloden. He plotted to use his position in order to gain profit, by selling Jacobite prisoners as slave labour at plantations in the Caribbean. He stumbled across a group of English soldiers attempting to hang the Doctor, Ben, highlander Jamie and his laird Colin McLaren as rebels and intervened, insisting they be given over to his custody. The Doctor aided him by pretending to be a German doctor, Doctor Von Wer.
Grey was working with a privateer captain, Trask, who would transport the slaves to the West Indies. He was determined however to make the arrangement appear legal. The Doctor managed to meet with Grey in private, claiming first to have news of a plot to assassinate the Duke of Cumberland, then to know the location of Bonnie Prince Charlie, on whom there was a reward of £30,000. However, he managed to trick and disarm Grey, leaving him locked in a cupboard while he escaped.
Once freed, Grey had the prisoners taken to Trask's ship, where he tried to get them to sign a contract agreeing to servitude in the plantations, saying they would be hanged otherwise. Ben, Jamie, Colin and the ship's former captain, Willy McKay, all refused, knowing being sent to the plantations was a death sentence, but the others were willing to agree. Ben tricked Grey into letting him read the contracts, then tore them up. As revenge, Grey had Trask lower Ben into the water tied up to try and drown him, but Ben managed to slip through the bonds and escape.
With new contracts drawn up and most of the prisoners having signed, Grey gave Trask instructions to set sail. The Doctor then arrived and told them Prince Charlie was among the prisoners on the ship. He took them to the hold, where Polly and Colin's daughter Kirsty had managed to pass the highlanders weapons through the porthole. A fight broke out and Trask and his men were quickly defeated, and Grey captured.
The Doctor and his friends took Grey ashore as a prisoner while Willy took the highlanders to safety in the ship. Grey escaped and tried to get the British authorities on his side but, with the Doctor having purloined the contracts, he found himself placed under arrest for his corrupt actions.