Jurassic World: Dominion Dominates Fandom Wikis - The Loop
Play Sound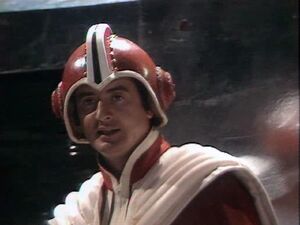 Solis is a minor antagonist in the Doctor Who story "The Deadly Assassin".
He was portrayed by the late Peter Mayock.
Biography
Solis was a member of the Chancellary Guard on Gallifrey. He was assigned to the Chancellor's personal guard, placing him under the direct command of Chancellor Goth. Unfortunately for him, Goth was a traitor in league with the Master and Solis fell under the latter's hypnotic control.
The Master initially settled for simply placing Solis in a trance while Goth engaged in a mental battle with the Doctor inside the Matrix. However, with it looking less likely that Goth would triumph, the Master instructed Solis to kill the Doctor as he lay helpless with his mind in the Matrix.
Solis went to the APC Net control room where the Doctor was being watched over by his allies Castellan Spandrell and Co-ordinator Engin. He told them that Goth wanted to see the Doctor and was told to wait. Solis noticed the control that would disconnect the Doctor from the Matrix and, aware that the mental shock of being pulled out abruptly would likely kill him, reached for it. Seeing what he was doing, Spandrell pushed him away from the controls. Solis lunged for the switch and Spandrell shot him with his staser pistol, killing him.