| | | |
| --- | --- | --- |
| " | It was me, brother. It was me! I was chosen by the gods! Do forgive me for deceiving you all like this. However, it was necessary to lure the seditious traitor here today! What a miserable man. Did you really covet my throne that badly? The gods have spoken, and I, Somnus Lucis Caelum, am king! | " |
| | ~ Somnus declaring himself to be king. | |
| | | |
| --- | --- | --- |
| " | The gods blessed you as their chosen; the people adored you as their savior. I was neither powerful nor popular...just envious, perhaps. […] I yearned desperately to be special, yet I had nothing to set me apart. Nothing at all! […] When I first donned the crown and put on the ring... When I first received my calling, I understood: that the daemons could not be allowed to remain in this world. That a sinner could not be allowed to sit the throne! […] What I did to you was unforgivable, but I did it for the future of our kingdom—of our people. […] Our line has done everything in our power to protect our people, just as the Gods bade. I was merely fulfilling my calling. […] I dare not ask for your forgiveness, but I do ask for your understanding. I pray your soul find repose, brother. | " |
| | ~ Somnus final words to his brother, Ardyn. | |
Somnus Lucis Caelum is one of the main antagonists of the Final Fantasy XV universe, serving as the main antagonist in Final Fantasy XV: Episode Ardyn and Final Fantasy XV: Episode Ardyn Prologue. He also serves as a minor antagonist in Final Fantasy XV Royal Edition, where he is the last of kings' spirits the players must face before facing Ardyn Izunia.
He is the Founder King of Lucis and the younger brother of Ardyn Lucis Caelum. Originally, the throne was intended to be passed down by his older brother, but Somnus had set him and his fiancée up by trapping them. He later imprisoned his brother on Angelgard for two thousand years while he focused on building his kingdom.
He is voiced by Daisuke Namikawa in the Japanese dub of the game while he is voiced by Zach Villa in the English dub.
Appearance
As a human, Somnus bore a great resemblance to his descendant, Noctis, as he possessed his black hair shaped in a similar style and had a similar facial structure. He wore a long, blue robe with a silk shawl attached to his hips with buckles on his shoulders, as well as a black cape. He also wore a wristguard on his left arm and wore caligae on his feet.
As the Mystic, he wore a gold plated knight armor with a winged, horned helmet and large, horned shoulder pads. The back of his helmet appeared to have a large, bone structure attached to it.
Personality
Somnus was described to be a charismatic leader, one filled with ambition. In contrast to his brother, who had idealistic views, Somnus was more of a realist who believed that, in order to save the world from the Starscourge, those that were infected by it were to be exterminated rather than be healed. His ruthlessness even extended to his own brother, who Somnus held in contempt for his inability to realize how flawed his approach was, which made Somnus see Ardyn as unworthy of being king, and he proved to be a deceiving man as he deceived his brother, Ardyn, into falling in his trap, in addition to labelling his brother as a traitor and miserable man for wanting the throne.
Though he was aware that Ardyn had ended up corrupted from his healing powers, he chose not to try to save his brother but instead to just kill him, showing his short-sightedness, albeit he himself admitted that he was envious of his brother for his popularity and powerful status. However, as the producers of Episode Ardyn noted, Somnus did what he did for the people and ultimately had righteous goals in his mind but years of being estranged with his brother and having to go as far as to burn alive everyone infected took a toll on Somnus despite still maintaining his righteous goals. At the same time, Somnus took no joy in what he did, only doing what he believed was necessary, and with all his callousness towards his brother, he did appear genuinely dismayed to see how his brother ended up becoming the very thing he sought to destroy, showing that even though he was persecuting his brother, he never took it to where he wanted Ardyn to be condemned by all, and seemed genuinely saddened by what he had to do.
Over the years, as Somnus established Lucis and became fully responsible for the state of the people, he started to see the error of his ways and short-sightedness. He justified himself in that what he did to his brother was for the people but came to see how his actions actually ended up turning Ardyn into the monster that he had to lock away, even if he only served to add the final incentive for his brother's corruption. When fighting his brother, despite initially insisting on how his actions were all for the people of Lucis and because he was corrupted by the darkness, he insisted his brother should not be allowed to sit on the throne, seeing how Ardyn only ever wanted to destroy Lucis because of what Somnus did. Somnus finally broke his hardened demeanor as he is defeated by his brother and confessed freely that what he did to him was unforgivable and asks not that his brother forgives him but that he simply understand the necessity of his actions, praying his soul finds repose. Even after having been brainwashed by his brother to fight the True King, Somnus bore no ill-will towards him and simply asked that Noctis save him.
History
Final Fantasy XV: Episode Ardyn Prologue
Somnus Lucis Caelum was the younger brother of Ardyn Lucis Caelum. As children, they spent much of their time together, getting along fine. He was also a childhood friend of Gilgamesh, who has since been his right hand as they grew together. The two brothers were then bestowed their own pair of longswords in hopes that they could rule the kingdom together. However, after their parents passed away, the brothers' relationships began to drift apart as the two developed different ideals and approaches on how to rule. While Ardyn helped those in need by healing the infected from Starscourge, Somnus sought out to burn down every remaining person that was infected with the curse.
Later in the night, Somnus sought to find the Oracle, Aera Mirus Fleuret and asked for her decision on the king, as the time was nigh. She refused to tell him at first but decided to give in and trust Somnus with her decision. Somnus then learns the horrifying truth: His brother had become corrupted by the Starscourge of the victims he healed and that Bahamut had declared Somnus will be the one to become the king. Although Aera clearly asked Somnus to save Ardyn, Somnus, having no power to save his brother, decided to dispose of him instead. When Ardyn received word that he was to be declared as king, he went back to the castle where he confronted his brother and their followers. Somnus, however, declared himself as king and labelled his brother as a traitor for wanting the throne badly, much to Aera's surprise. Ardyn asks what would he do if he objects, in which Somnus then proceeds to try and kill Ardyn, but in doing so, he accidentally strikes down Aera, who tried to protect her beloved. Somnus shook his head in disappointment then continues to carry on his calling by trying to strike Ardyn down. Ardyn ends up being consumed by the darkness living within him, much to Somnus' dismay, and he and Gilgamesh then strike down Ardyn after Ardyn is repelled by the Crystal and finally forced to see the truth: That the Gods have chosen Somnus because he had become unworthy, leaving Somnus to solemnly watch the rising sun solemnly. However, they realize that they are unable to kill him, due to his granted immortality from the curse. So Somus decided to imprison him on Angelgard for the next two thousand years while proceeding to establish his rule and bloodline.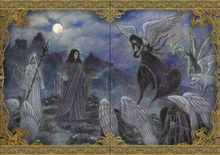 In doing so, Ardyn's name was kept off of any form of records and the Cosmogony painted a different tale of how Somnus' ascension came to be where he rose to fight and protect for the Oracle and the two travelled together where he went through the trials of the Astrals, in order to covenant them to his side. Somnus was then able to eradicate the Starscourge from Eos entirely with the power of the Astrals. From this point on, Somnus was branded as the Founder King of Lucis and he was given the Crystal of Eos, as well as the Ring of Lucii, both artifacts that would one day play a role in the hands of the True King.
Final Fantasy XV: Episode Ardyn
Years later, Somnus' brother, Ardyn, returns with the intent of destroying the very kingdom he established and built, along with his bloodline. Ardyn confronts his brother's descendant, Regis Lucis Caelum, demanding that he summons the spirit of Somnus so that he may face him. Upon defeating Regis, Somnus descends down from light, with the intent of putting an end to Ardyn's madness. As they battle, Somnus tries to justify his actions to his brother that, while he envied him, what he did was meant for the greater good of their people and that he could not allow Ardyn to sit on the throne, due to the Starscourge corrupting him. Ardyn, however, dismissed this as a fairy tale and ultimately defeats him.
With Somnus defeated, he begins to acknowledge that what he did to his brother was wrong and that Ardyn has every right not to forgive him. He asks not for Ardyn to forgive him, but for him to understand the necessity of his actions. This causes Ardyn to lash in anger, however, as he states he is responsible for his suffering and took everything away from him, having no right to ask for understanding. Somnus then expresses remorse for the monster he unintentionally created within his brother and that his last request for him was that he hopes Ardyn's soul will find repose.
It was only when Ardyn confronted Bahamut that he realized that Somnus truly did know of his corruption and was trying to save the world from him. This did little to soften his brother's opinion of him, however, as Ardyn, despite now choosing to seek peace over his vengeance, still relishes in the fact that he would get to take the True King and thus the last of Somnus's bloodline with him to his death and knowing now that Aera had also indirectly played into Somnus doing what he did to Ardyn, hallucinated the two of them working together, causing Ardyn to snap and kill them, cackling madly as he suffers a maniacal breakdown over the betrayal of the two people closest to him.
Final Fantasy XV: Royal Edition
Following the ten years of Noctis' absence, Ardyn has taken over Lucis and has enslaved the spirits of the kings, including his brother, who has become the spirit known as the Mystic. When Noctis and his friends reach to the Citadel in Insomnia, they battle the spirit kings of Lucis. They eventually confront the last spirit, the Mystic, who puts them through their final test before they are allowed to confront Ardyn. Following his defeat, the Mystic regains conscious of his former self in which he humbly asks his descendant, Noctis, to put an end to his brother's suffering.
Once Ardyn had been defeated by Noctis and sent into the in-between realm, Noctis proceeds to summon the kings to plunge his heart, as he is sent into the realm, confronting Ardyn once more. Noctis summons the kings once more, including the Mystic, all which proceed to extinguish the Starscourge within Ardyn for good. With Ardyn finally defeated and Eos saved, Somnus and the other Lucians moves on to the afterlife, finding peace after years of bound in the Ring of the Lucii.
Final Fantasy XV: The Dawn of the Future
Somnus's backstory is explored much further in the novel, with him having outright accused Ardyn was touched by the plight of the unchosen and completely unable to see the reality of their situation and thus unfit of becoming king. It was also revealed that from the beginning Bahamut gave Ardyn the power he did, knowing it would corrupt him, so as to force Somnus, who as the novel progressed was revealed to be similar to Bahamut in appearance, to strike his brother down and become king due to the War God favoring Somnus at the time.
Somnus is fought much earlier by Noctis in the wilds and after being bested humbly admits everything he did to Ardyn was wrong and pleads for Noctis to correct it and defeat his brother. Somnus approves that Ardyn uses the Ring of the Lucii to kill Bahamut in the Beyond, stating that although Ardyn may never forgave him, he will always ask for his forgiveness. Helping his brother strike down Bahamut, like in the original, Somnus moves on to the afterlife just as his brother did. It was never revealed if Somnus's true actions was exposed fully, but as Ardyn was declared the one who should have been the Founder King instead of outright erasing Somnus's status as the Founder King, it was likely that Noctis didn't reveal the full extent of Somnus's actions, seeing Somnus as being ultimately a misguided but genuinely well-meaning man.
Gallery
Trivia
Somnus' is named after the Roman god, the Greek counterpart of Hypnos, both of which personifies sleep. The name Somnus also translates to "sleep" in Latin. It is also the name of the game's main theme since its early days when it was being developed.
His middle, Lucis, is the genitive singular form of the word, lux, which translates to "light" in Latin. His last name, Caelum, also translates to "sky" in Latin.
Community content is available under
CC-BY-SA
unless otherwise noted.