The Son'a are the secondary antagonists in the movie Star Trek: Insurrection, a newly-introduced hostile species.
History
The Son'a were an offshoot of the Ba'ku people, who had objected to their leaders' refusal to use technology. They had attempted to stage a coup but had been defeated and sent into exile. They formed their own culture, becoming technologically advanced, until it reached the point where no-one, including the Ba'ku, was aware of their true origin. Deprived of the metaphasic radiation that had kept them young, they relied on medical techniques to artificially extend their lives, becoming more and more unrecognisable. Their culture was notoriously brutal, with them conquering two other races, the Tarlac and Ellora, and incorporating them into their own culture as a servant class.
Ultimately, the Son'a reached the conclusion that they needed to return to the Ba'ku planet in the Briar Patch, but discovered it would take ten years of normal exposure for the radiation to have any effect. They thus designed a metaphasic collector which would harvest the radiation but render the planet uninhabitable. Under the leadership of Ahdar Ru'afo, the Son'a formed an alliance with the Federation, represented by corrupt admiral Matthew Dougherty, to use a cultural observation as cover to surreptitiously remove the Ba'ku from the planet using a holoship projecting an image of their village and then activate the collector.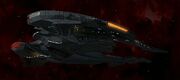 Their plan began to go wrong when the Enterprise crew discovered the plot and opposed it. Picard sent the Enterprise under Riker's command out of the Briar Patch to contact the Federation and plead the Ba'ku's case to them, while he and a small group of senior officers remained on the planet to delay the removal of the Ba'ku. With Dougherty's permission, Rua'fo sent two ships to forcibly escort the Enterprise back to the planet, but a battle left one destroyed and the other disabled.
The Son'a sent down troops and automated drones to implant the Ba'ku with trackers in order to beam them off the planet. The attempt only resulted in the capture of a small number, plus Picard. The Enterprise crew had scanned a fallen Son'a soldier and learned the truth of their origin, that they were the same species as the Ba'ku. With this information, and the realisation Rua'fo now intended to kill the Ba'ku, Dougherty tried to pull out of the deal but Ru'afo killed him.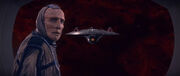 Ru'afo gave the order to activate the metaphasic collector and kill all the Ba'ku remaining on the planet, but Picard, with help from Data, Worf and Ru'afo's second-in-command, Gallatin, managed to beam Ru'afo and his bridge crew to the holoship. Ru'afo beamed over to the collector to activate it manually and the Son'a managed to retake their bridge, but the ship was disabled when the Enterprise rammed it and Ru'afo was killed when the collector self-destructed. The remaining Son'a surrendered.
The Son'a were not seen again but were mentioned as allies of the Dominion, manufacturing ketracel-white for them.

Villains
Movies
Star Trek: The Motion Picture: V'Ger: Klingons ( Barak )
Star Trek II: The Wrath of Khan: Augments (Khan & Joachim)
Star Trek III: The Search for Spock: Klingons (Kruge, Torg, Maltz) | Valkris
Star Trek IV: The Voyage Home: Whale Probe | Kamarag
Star Trek V: The Final Frontier: The One | Klingons (Klaa & Vixis) | Sybok
Star Trek VI: The Undiscovered Country: Khitomer Conspiracy (General Chang, Nanclus, Valeris, Admiral Cartwright, Patrick West, Harlan Burke, Thomas Samno)
Star Trek Generations: Tolian Soran | Klingons (Lursa & B'Etor)
Star Trek: First Contact: The Borg (Borg Queen)
Star Trek: Insurrection: Son'a (Ahdar Ru'afo & Gallatin) | Matthew Dougherty
Star Trek: Nemesis: Remans (Shinzon, Viceroy, Tal'aura, Suran & Donatra)
Star Trek (2009): Romulans (Nero & Ayel)
Star Trek Into Darkness: Khan | Alexander Marcus
Star Trek Beyond: Krall | Manas | Kalara
Television
Ah-Kel | Anan 7 | Apollo | Arctus Baran | Ardra | Arik Soong | Armus | Arthur Coleman | Khan | Ba'ul | Balok | Banean Doctor | Basso Tromac | Ben Finney | Benjamin Maxwell | Beta XII-A entity | Bok | The Borg | Broca | Brunt | Cardassian Union (Dukat, Damar & Cardassians) | Charlie Evans | Chu'lak | Clown | Colonel Phillip Green | Crell Moset | Crystalline Entity | Culluh | Cyrus Redblock | D'Ghor | D'Nesh | Damrus | Danby Connor (MU) | Denevan parasites | Dereth | Dexter Remmick | Doctor Chaotica | Dolim | Dr. Janice Lester | Dular Garos | Duras | Ekosian SS (Melakon) | Elim Garak (Mirror Universe) | Ellen Landry | Equinox EMH | Erik Pressman | Evil Kirk | Fallit Kot | Gabriel Lorca (MU) | Garth of Izar | Gary Mitchell | Gorgan | Gorn | Female Changeling | Gowron | Hagath | Harry Mudd | Henoch | Hikaru Sulu (MU) | Hoshi Sato (Mirror Universe) | Ibudan | Ilon Tandro | Imperial Starfleet | Ira Graves | J'Dan | Jabin | James Leyton | James T. Kirk | Jaro Essa | Jem'Hadar | Jev | John Frederick Paxton | John Gill | Jonathan Archer (Mirror Universe) | Joran Dax | Julian Bashir (Changeling) | Karnas | Kathryn Janeway (Kyrian Recreation) | Kar Kantar | Kazon | Kennelly | Kieran MacDuff | Kila Marr | Kira Nerys (Mirror Universe) | Kivas Fajo | Kodos the Executioner | Kol | Kol-Sha | Koloth | Konmel | Kor | Korris | Kras | Krax | Kunivas | L'Rell | Landru | Lazarus | Leland | Lenore Karidian | Letek | Locutus | Locutus | Lon Suder | Lore | Lutan | Luther Sloan | M-113 Creature | Maab | Madred | Malcolm Reed (MU) | Malon | Maras | Marla McGivers | Martok (Changeling) | Matthew Harris | Matthew Ryan | Maxwell Burke | Michael Eddington | Michael Jonas | Miles O'Brien (Changeling) | Morag (Klingon) | Na'kuhl | Nagilum | Navaar | Neela | Neural Parasites | Nomad | Norah Satie | Nyota Uhura | Oracle of the People | Patar | Paul Stamets (MU) | Pavel Chekov (Mirror) | Pe'Nar Makull | Philippa Georgiou (MU) | Professor Moriarty | Q | Rao Vantika | Redjac | Regent of Palamar | Dr. Roger Korby | Romulan Commander (Balance of Terror) | Ron Tracey | Rota Sevrin | Rudolph Ransom | Sabin Genestra | Sela | Seska | Seven of Nine (KR) | Shran | Silaran Prin | Silik | Sobi | Spawnmother (2364) | Spawnmother (2376) | Sphere-Builders | Spock (Mirror Universe) | Sulan | Surata IV Vine | Sylvia Tilly | Sylvia (Ornithoid) | T'Kuvma | T'Paal | Tahna Los | Talosian Keeper | Talosians | Tarah | Tarr | Tedran | Terra Prime | The Albino | The Doctor (Kyrian Recreation) | Thot Gor | Thot Pran | Tomalak | Toral | Trabe | Traeg | Travis Mayweather (MU) | Trekal Darhe'el | Trelane | Tret | Tristan Adams | Ulis | Ux-Mal Entity | V'Las | V'latak | Valdore | Verad Kalon | Ves Alkar | Voq | Wesley Crusher | Weyoun | William Ross | Winn Adami | Worf (Mirror Universe) | Zorn
Community content is available under
CC-BY-SA
unless otherwise noted.