Doctor Strange in The Multiverse o Madness - The Loop
Play Sound
This article's content is marked as Mature
The page Mature contains mature content that may include coarse language, sexual references, and/or graphic violent images which may be disturbing to some. Mature pages are recommended for those who are 18 years of age and older.


If you are 18 years or older or are comfortable with graphic material, you are free to view this page. Otherwise, you should close this page and view another page.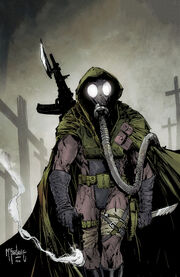 Soul Crusher is an antagonist in the Spawn series.
Biography
A mysterious scarred figure of some wealth and power. The Soul Crusher was seen in a large library, stocked with ancient books, which he seemed to be transcribing in multiple languages.
After he sent SHade to offer the business arrangement with Mr. Matian he was disheartened to learn that Maitlin declined. He then decided that perhaps he'd need to pay Maitlin a visit personally, and selected one of several gas masks to wear.
Upon visiting Mr. Maitlin's home, the Soul Crusher gassed Maitlin's son to death.
He later on goes on to hunt down Cyan Fitzgerald who is now a teenager and later gets into a fight with Spawn himself. He states he is doing good but Spawn dosen't believe him. Soul Crusher is eventually defeated and escapes. Soul Crusher also made a cameo in 297. Soul crusher returns in spawn 319 where he attacks Cy-gor in hopes of having a rematch against Spawn of who is the better vigilante. After their fight takes them under water, Soul Crusher is almost tortured to death by Spawn, before Al sees a vision of his wife and remembers what his goals are. Releasing Soul Crusher, Spawn is about to leave, before Soul grabs for his knife again, but is disarmed by Cy-Gor with one hand, who takes his knife and cuts the tube in Crusher's mask, causing him to quickly suffocate.
Soul Crusher Would later return in the Scorched series, lending aid to the Russian forces against Jessica Priest, the fourth Redeemer, Medieval Spawn and Gunslinger Spawn, where it would be revealed the original Soul Crusher was a feeble old man who had take in orphans across Ukraine and Russia to train as Soul Crushers, all with similar equipment and weapons. The newest Soul Crusher, a man named Sergie, killed the original, and proceeded to join the Scorched Team to free Earth from Heaven and Hell's influence.
Powers and Abilities
Soul Crusher is the man with many weapons and a skilled fighter. He is also capable of shooting light and having enchased strength and duabilrty.