Spider-Man: No Way Home Trailer Dropped - The Loop
Play Sound

✓
| | |
| --- | --- |
| | This Article Contains Spoilers - WARNING: This article contains major spoilers. If you do not wish to know vital information on plot / character elements in a story, you may not wish to read beyond this warning: We hold no responsibility for any negative effects these facts may have on your enjoyment of said media should you continue. That is all. |
"
WOAH!! IF IT ISN"T A... LIGHT nER! HEY-HE Y HEY!!! LOOKS LIKE YOU'RE [[All Alone On A Late Night?]] ALL YOUR FRIENDS, [[Abandoned you for the slime]] YOU ARE? SALES, GONE DOWN THE [[Drain]] [[Drain]]?? LIVING IN A GODDAMN GARBAGE CAN???
WELL HAVE I GOT A [[Specil Deal]] FOR LONELY [[Hearts]] LIKE YOU!! IF YOU'VE [[ Lost Control Of Your Life]] THEN YOU JUST GOTTA GRAB IT BY THE [[Silly Strings]]
WHY BE THE [[Little Sponge]] WHO HATES ITS [[$4.99]] LIFE WHEN YOU CAN BE A [[BIG SHOT!!!]] [[BIG SHOT!!!!]] [[BIG SHOT!!!!!]]
"
~ Spamton G. Spamton upon meeting Kris for the first time, with the latter portion being his most famous line.
"
HOLY [[Cungadero]] DO I FEEL GOOD ... HERE I AM!! KRIS!! BIG, BIG, [[BIGGER AND BETTER THAN EVER]] HA HA HA ... THIS POWER IS FREEDOM. I WON'T JUST BE A PUPPET ANYMORE!!!!...
OR... so... I... thought. WHAT ARE THESE STRINGS? WHY AM I NOT [BIG] ENOUGH? It's still DARK... SO DARK! KRIS. KRIS. KRIS. KRIS. THAT'S RIGHT. YOU. I NEED YOU. TO BE BIG. WITH ME. VERY VERY BIG
SO BIG WE'LL STAND UP TALL AND SEE PAST THE DARK STAND UP WITH OUR HEADS IN THE CLOUDS AND LOOK INTO H E A V E N
I JUST NEED THAT LITTLE [[SOUL]] Y O U H A V E
"
~ Spamton G. Spamton upon becoming Spamton NEO to Kris, demanding their soul.
| | | |
| --- | --- | --- |
| " | AND NOW IT'S MY [Mansion]! MY [City]! MY [World]! SO WHY ARE YOU [Stealing] THE [Fountain]!? TO [$!$!] ME OVER RIGHT AT THE [Good part]!? WHAT ARE YOU, A [Gameshow Host]!? | " |
| | ~ Spamton NEO to Kris before his boss fight. | |
Spamton G. Spamton, better known as simply Spamton normally and Spamton NEO upon achieving that form, is a major antagonist in Chapter 2 of the indie game Deltarune, serving as a supporting antagonist/bonus boss in the Normal Route and the main antagonist of the Snowgrave Route.
Appearance
Spamton first appears as a small, humanoid robot, with white "skin", black, slicked hair, a large nose, a mouth that showcases his large teeth, and red cheeks. For clothing, he wears a pair of glasses with mismatched lenses (one pink, the other yellow), a white shirt under a black jacket, white pants, and white shoes.
As Spamton NEO, Spamton's head and most of his outfit remains the same, but he now wears magenta armor with a yellow gem in the center, wing-like structures ending with cyan "talons" and a yellow bottom, and green wires connecting to his body holding in place. He also shifts one of his hands to a laser cannon for some attacks.
Personality
| | | |
| --- | --- | --- |
| " | BELIEVE IT OR !! I USED TO be A BIG SHOT. THE BIGGEST!!! BUT NOW... I NEED A LITTLE [[Genorisity]] | " |
| | ~ Spamton G. Spamton | |
According to himself, Spamton used to be a simple salesman until his fall, with him appearing to have lost his mind upon becoming broke and homeless or through the interactions with the mysterious caller that made him popular. Due to this, Spamton's dialogue often devolves into insane rambling, with lines being said incorrectly or repeatedly, with some words being either replaced with alternatives in brackets or censored with a [Hyperlink Blocked.] altogether. Despite this, many traits of his former life are apparent, such as his love of Dark Dollars (which he calls Kromer), his liking to make deals, and a desire to be a "big shot". As Spamton NEO, Spamton also notes of his desire to surpass or demand an audience from Heaven itself, but when defeated in this form, his state of madness seems to subside near the end.
| | | |
| --- | --- | --- |
| " | BUT DON'T BLAME ME WHEN YOU'RE [Crying] IN A [Broken Home] WISHING YOU LET YOUR OLD PAL SPAMTON [Kill You] | " |
| | ~ Spamton NEO during his boss fight in the Snowgrave Route to Kris. | |
In the Snowgrave Route, however, Spamton loses most of his redeeming qualities. He gleefully helps Kris in psychologically manipulating Noelle into slaughtering his own kind so he can become Spamton NEO and take over the castle for himself. Despite calling out Kris for what they did, he's a massive hypocrite who even acknowledges that he helped in causing evil, trying to kill the human for selfish reasons. He also sadistically taunts Kris near the end of the fight about how they will die and that no one will save them. Throughout it, he seems to project himself onto Kris, with some of his quotes fitting himself (such as living in a dumpster). He also seems to believe that Kris and Noelle dating, calling the latter the former's "side chick" and "hochi mama".
Biography
Past
Before the events of Deltarune, Spamton was just another one of the Addisons. However, his products never sold as well as those of his peers. When they gathered, he would always tell the others that he was going to be a "big shot" one day. He got desperate and started looking for any way to become popular. Spamton finally either found someone on the phone or was found by someone. He started getting good at his job as an advertiser, selling a variety of goods and services, one of which cars for a company called "BIG SHOT AUTOS". His new wealth and success allowed him to move into a room in Queen's Mansion. The other Addisons got envious and turned their backs on him due to his newfound success. Unfortunately for Spamton, whoever was helping him suddenly stopped and all his sales dropped to zero as fast as they had shot up. He was to be evicted from Queen's Mansion, but disappeared before they could get rid of him.
Deltarune
Normal Route
| | | |
| --- | --- | --- |
| " | [Heaven], are you WATCHING? IT'S TIME TO MAKE A VERY [Specil] DEAL... | " |
| | ~ Spamton NEO before his boss fight in the Normal Route. | |
Kris first encounters Spamton in a Cyber City dumpster. He recognizes Kris as a Lightner, rambles about becoming a Big Shot, and tries to convince them to take a deal for [Hyperlink Blocked] in exchange for their soul. Spamton suddenly attacks Kris, who takes Spamton's deals but refuses his requests for money. The fight ends with Kris agreeing to the deal for [Hyperlink Blocked]. Spamton tells Kris to go to his store in the Trash Area, then leaves.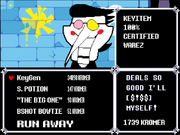 If Kris returns to the Trash Area, they will leave Ralsei and Susie behind to enter Spamton's Shop. Spamton sells various items to Kris for "Kromer", all of which are scams. He tells Kris to buy something called "KeyGen" from him, take it to the basement in Queen's Mansion, and bring him an "Empty Disk". The KeyGen's price is randomly changed every second, and after it is bought once it cannot be bought again. The basement in Queen's Mansion is accessed behind a car puzzle and a secret lever. If Kris completed the quest for the Hacker, he will appear in the room with the secret lever and highlight it when he walks past. Kris uses the KeyGen to unlock the basement and heads inside, leaving Ralsei and Susie to wait. The basement has a path to the right, which is blocked by a force field, and a path to the left, which Kris takes. Down the path they are attacked by plugs, and then descend a tea cup elevator. They find a switch to deactivate the force field, but are attacked while ascending the elevator. They take the right path, which leads to a set of train tracks. A room to the side of the train tracks contains a broken machine with the Empty Disk inside.
After finding the Empty Disk, Kris returns to Spamton's shop. He is excited to see that they have brought it, then becomes serious and tells Kris to hand over the disk. He tells them to put it back where they got it afterwards, and says he will finally give them the [Hyperlink Blocked]. When Kris gives him the Empty Disk, Spamton and the color in his shop will slowly disappear, implying that he was loaded onto the disk. Kris returns to the basement and puts the disk back in the broken machine. As they go to leave, a figure descends from the ceiling and blocks the path. The shadowy figure reveals itself to be Spamton, who has achieved a NEO form. He is ecstatic at the power he has been granted, calling it "freedom" from being a puppet. That is until he notices green strings holding him up, stating that it is still "dark" for him. He tells Kris that he needs them to grow big with him so they can look into heaven, and he needs their soul to do so. Before Spamton NEO can kill Kris for their soul, Susie attacks him and sends him flying.
She and Ralsei run up to Kris and tell them that they were worried. Spamton NEO comments on Kris's friends and puts them all on railroad cars themed after him. He tries to attack them with miniature versions of his head, but Kris's soul turns sideways and becomes yellow, allowing them to shoot at the heads. Kris is able to destroy the larger head by charging and releasing a larger projectile. Spamton NEO proudly refers to this as a Big Shot and cries out to heaven, asking them if they are watching as he makes his "deal". After this, the fight against Spamton NEO officially begins.
Mercy
To beat Spamton NEO without attacking him, the team must snap away at the wires that hold him up. He does not notice until there is only one wire left, and figures out that Kris is giving him his true freedom. Spamton NEO realizes that despite everything he had done to Kris, they were still treating him with kindness. He comes to the conclusion that friendship was the greatest deal of all, and the background of the room is changed to look like that of his shop. Spamton NEO tells Kris to cut the final wire and turn him into a "real boy". He calls out to heaven one last time, asking if they are watching his comeback, where he will finally live for himself and his friends. Kris cuts the final wire and Spamton NEO collapses to the ground. He reverts into his normal form and states that he couldn't be more than just a puppet. He tells the team that they are strong enough to break their own strings, and transforms into the Dealmaker.
Violence
If Spamton NEO is beaten through fighting, he will laugh at Kris for thinking they could beat him just by depleting his "8000 life points". He tells them that the deal has failed, and begins to smoke. He calls it victory smoke, since he is transforming into a supposed next form. Spamton asks the team if they are ready and calls out to someone named Mike, saying that he is finally going to be a Big Shot. Spamton does not actually transform, and instead explodes. As he is crumbling, he states that he couldn't be more than just a puppet. He tells the team that they are strong enough to break their own strings, and transforms into the Puppet Scarf.
Both Paths
Whether or not you use violence or mercy on Spamton NEO, a cutscene plays before the team leaves the basement. Susie notices that Kris seems firghtened and asks if they are okay. If you answer "No", Kris will supposedly start yelling, causing Ralsei and Susie to try and calm them down. If you answer "Yes", Susie and Ralsei are not convinced, but decide not to push the matter.
If Kris returns to the Trash Area, they will find Addisons crowded around the area where what used to be Spamton's shop is found near. They reminisce on Spamton's past, with one blue Addison in particular shedding some light on the force that helped Spamton. The Addison says that he went to Spamton's room the day he was to be evicted from Queen's Mansion, but he wasn't there.
The phone was left off the handle, and when the Addison tried to listen in, there was nothing but "garbage noise" This is the same dialogue we are told whenever Kris tries to call on their cell phone in the Dark world.
Snowgrave Route
| | | |
| --- | --- | --- |
| " | WHAT!? YOU'RE CALLING FRIENDS!? YOU THINK YOU CAN BEAT ME WITH YOUR FRIENDS' [Magic]!? GO AHEAD, [Kid]... CALL ALL YOU WANT! NO ONE WILL EVER PICK UP GO AHEAD AND [Scream] INTO THE [Receiver]. THE [Voice] RUNS OUT EVENTUALLY. YOUR [Voice] THEIR [Voice]. UNTIL YOU REALIZE YOU ARE ALL ALONE THERE WILL BE NO MORE [Miracles] NO MORE [Magic]. YOU LOST IT WHEN YOU TRIED TO SEE TOO FAR.... ... YOU LOST IT... YOU MAKE ME [Sick]! MUTTERING YOUR [Lost Friends] NAMES AT THE BOTTOM OF A [Dumpster]! NO ONE'S GONNA HELP YOU!!! GET THAT THROUGH YOUR [Beautiful Head], YOU LITTLE [Worm]! | " |
| | ~ Spamton NEO mocking Kris' attempts at calling for help. | |
Kris first encounters Spamton in a dumpster exclusive to the Snowgrave Route. He calls Kris a "weakling" and tells them to come back when they are stronger, informing them of how many enemies they need to kill. After returning to Spamton, he offers to sell Kris a "Ring of Thorns" for 1997 Kromer. The ring is a necessary item to continue the Snowgrave Route. It is given to Noelle so that she can cast the SnowGrave spell, but it greatly damages her in the process.
Upon reaching Queen's Mansion, Kris is informed that Spamton has taken over. If Kris attempts to enter the basement, Spamton will refuse entry, as he is transforming. The paintings in the Mansion have been changed to look like Spamton, and pipis eggs have been scattered around in place of the normal obstacles.
When Kris reaches the dark fountain, Spamton confronts them before they can seal it. He fights Kris while in his NEO form, alone and with extra damage. As he nears death, Spamton NEO will grow weaker in strength, but stronger in defense, taunting Kris as they try to call for help. When Kris calls for Noelle, he laughs at them for still trying to manipulate her. He then stops and comments on how the room is getting colder, and is then swiftly killed by Noelle's magic.
Quotes
Normal Route
Introduction
| | | |
| --- | --- | --- |
| " | HEY EVERY !! IT'S ME!! EV3RY BUDDY 'S FAVORITE [[Number 1 Rated Salesman1997]] SPAMT SPAMTON G. SPAMTON! | " |
| | ~ Spamton introducing himself. | |
Boss Fight (Normal Spamton)
| | | |
| --- | --- | --- |
| " | HEY HEY HEY! I'VE NEVER SEEN A [HeartShapedObject] LIKE THAT BEFORE!! MY EYES ARE [[Burning]] LIKE [[DVDs of ANY movie at Half-pr1ce!]] I HAVE A VERY SPECIL [Deal] FOR YOU KID! | " |
| | ~ Spamton at the beginning of the battle. | |
| | | |
| --- | --- | --- |
| " | I'M A SALESMAN , I WAS NEVER IN IT FOR THE MONEY!!! | " |
| | ~ Spamton during the boss battle. | |
| | | |
| --- | --- | --- |
| " | YUM YUM. DELICIS KROMER. DID YOU HAVE AN YMORE? | " |
| | ~ Spamton after giving him money/"kromer". | |
| | | |
| --- | --- | --- |
| " | DON'T WORRY KIDS I'M AN [HonestMan] I JUST NEED YOUR [Account Details] AND THE [Number on theB4ck]! THEN YOU CAN ENJ0Y 1000 Fr3e KROmer | " |
| | ~ Spamton during the battle. | |
| | | |
| --- | --- | --- |
| " | HEY!!! DIDN'T YOU EVER HEAR THE PHRASE, [Make Money, Not War]! HOW'S AN INNOCENT GUY LIKE ME SUPPOSED TO [Rip People Off] WHEN KIDS LIKE YOU ARE [Beating People Up], [Spitting] IN THEIR EYES, THROWING SAND IN THEIR [Face], [Stomping] ON THEIR TOES, YANKING THEIR [Noses], AND NOT EVEN GIVING THEM A SINGLE CENT FOR IT!? YOU SHOULD HAVE DONE ALL THAT EARLIER! AND BEEN THE FIRST TO OWN MY [Commemorative Ring] TOO BAD! SEE YOU KID! | " |
| | ~ Spamton if defeated through violence, while hinting towards the Snowgrave Route. | |
Spamton NEO
| | | |
| --- | --- | --- |
| " | [Friends]!? KRIS!? WHAT ARE YOU TALKING ABOUT!? YOU DON'T NEED [Friends]!! I CAN MAKE MY HANDS INTO PHONES!!! | " |
| | ~ Spamton NEO during the battle. | |
| | | |
| --- | --- | --- |
| " | KRIS. IF YOU GIVE ME THAT [Soul] I WILL GIVE YOU EVERYTHING I HAVE. I WILL GIVE YOU [3 Easy Payments of $9.99!] BUT KRIS, IF YOU REFUSE. THAT'S YOUR CHOICE. I CAN'T FORCE YOU. I CAN ONLY [Kill] YOU [50-percent faster than similar products] OR [No Money Back!] | " |
| | ~ Spamton NEO during the battle. | |
| | | |
| --- | --- | --- |
| " | WAIT!! [$!?!] THE PRESSES! MY... MY [Wires]... THEY'RE ALMOST [Gone]!? KRIS... YOU... YOU'RE [Gifting] ME MY [Freedom]?! KRIS... AFTER EVERYTHING I DID TO YOU...!? AFTER ALL THE [Unforgettable D3als] [Free KROMER] I GAVE YOU YOU'RE FINALLY REPAYING MY [Genorisity]!? KRIS!!! I UNDERSTAND NOW!! THE GREATEST DEAL OF ALL!!! [Friendship]!!! KRIS!!! MY DAYS AS A [Long-Nosed Doll] ARE OVER!!! CUT THAT [Wire] AND MAKE ME A [Real Boy]!! ARE YOU WATCHING, [Heaven]!? IT'S TIME FOR SPAMTON'S [Comeback Special]! AND THIS TIME... I LIVE FOR MYSELF!!! NO... MYSELF AND MY [Friend(s)]!!! HERE I GO!!!! WATCH ME FLY, [MAMA]!!!!'' | " |
| | ~ Spamton NEO if defeated through pacifistic means. | |
| | | |
| --- | --- | --- |
| " | HAHAHA... KRIS!!! YOU THINK DEPLETING MY [8000 Life Points] MEANS YOU'VE WON [A Free Meal] TO [Winning]?! NO!!! NO!!! NE-O!! KRIS!! YOUR [Deal] HAS FAILED!! [NEO] NEVER LOSES!! THIS IS [Victory Smoke]!! IT MEANS IT'S TIME FOR MY [Second Form]! ARE YOU READY KRIS!? FOR MY [Next Trick]! I WILL FILL MY [Body] WITH [Electricaty] AND BECOME SPAMTON [EX]! ARE YOU READY [Kids]!? [Turn up the JUICE!] [Turn up the JUICE!] [Make Sure You Don't Get It On Your Shoese!] ARE YOU GETTING ALL THIS [Mike]!? I'M FINALLY I'M FINALLY GONNA BE A BIG SHOT!!! HERE I GO!!!! WATCH ME FLY, [MAMA]!!!! | " |
| | ~ Spamton NEO if defeated through violent means. | |
| | | |
| --- | --- | --- |
| " | It seems after all I couldn't be anything more than a simple puppet. But you three... You're strong. With a power like that... Maybe you could break your own strings. | " |
| | ~ Spamton's last words in the Normal Route. | |
Snowgrave Route
| | | |
| --- | --- | --- |
| " | I GAVE YOU MY [Commemorative Ring] FOR THE PRICE OF [My Favorite Year]! AND THIS IS HOW YOU [Repay] ME!? TREATING ME LIKE [DLC]!? | " |
| | ~ Spamton NEO during the battle. | |
| | | |
| --- | --- | --- |
| " | I WAS TOO [Trusting] TOO [Honest]. I'VE ALWAYS BEEN A MAN OF THE [PIPIS]. A REAL [PIPIS] PERSON! I SHOULD HAVE KNOWN YOU WOULD HAVE USED MY [Ring] FOR [Evil]... OH, [Right]. THAT'S WHY I SOLD IT TO YOU | " |
| | ~ Spamton NEO showing his hypocrisy during the boss battle. | |
| | | |
| --- | --- | --- |
| " | YOU THINK MAKING [Frozen Chicken] WITH YOUR [Side Chick] IS GONNA LET YOU DRINK UP THAT [Sweet, Sweet] [Freedom Sauce]? WELL, YOU'RE [$!$!] RIGHT! | " |
| | ~ Spamton NEO mentioning Berdly's supposed death during the boss battle. | |
| | | |
| --- | --- | --- |
| " | MY ESTEEM CUSTOMER I SEE YOU ARE ATTEMPTING TO DEPLETE MY HP! I'LL ADMIT YOU'VE GOT SOME [Guts] KID! BUT IN A [1 for 1] BATTLE, NEO NEVER LOSES!!! | " |
| | ~ Spamton NEO if his health is depleted enough. | |
| | | |
| --- | --- | --- |
| " | ... HER? YOU'RE STILL TRYING TO [Use] HER!? HA HA HA HA!!! YOU THINK SHE CAN [Hear] YOU NOW, MUTTERING HER NAME!? WHAT'S SHE GONNA DO, MAKE ME AN [Ice Cream]!? (laughs; laugh stops midway through) HEY, IS IT COLD IN HERE OR IS IT JUST ME? | " |
| | ~ Spamton NEO's last words. | |
Trivia
It is possible that Spamton's [Hyperlink Blocked] is actually a link to a commercial for Big Shot soda.

In addition to this, the commercial is also likely the inspiration behind a lot of Spamton's other text options. The title of the soda, Big Shot, is what Spamton wants to achieve, the year the commerical was made, 1997, is his favorite year, and the commerical is by Mike Ditka.

If Kris asks Spamton about friends, he mentions "Mike", which could be referring to Mike Ditka. Spamton tells Kris not to believe anything they see on TV and calls Mike a criminal. It's possible that Mike is in reality the main antagonist of the upcoming third chapter, in the same way Jevil foreshadowed Queen in Chapter 1.

It is possible that this "Mike" is W.D Gaster, a hidden character in Undertale. As one of Spamton's former colleagues' states, his phone admitted a "garbage-noise". This is the very same description given to the noise that plays when Kris tries to call someone on their phone in the Dark world, and it bears a resemblance to the same sound that occurs during the "Entry 17" text in Undertale.

In the basement of Queen's Mansion, there is a hidden face that will appear and quickly disappear. The face resembles Spamton, suggesting that he was watching Kris that entire time.
When talked to about The Knight in his shop, Spamton will briefly mention The Knight before begging for mercy. From this scene, it can be assumed that The Knight did something to Spamton for unknown reasons.
Spamton is one of the few characters in the duology to swear, and one of the only two (alongside Susie) to have swears so vulgar they're censored.