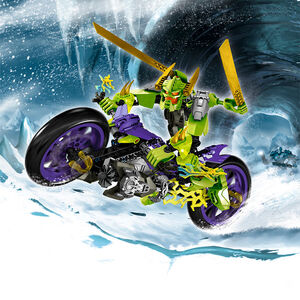 Speeda Demon is an antagonist who has recently been broken out of the Hero Factory prison.
He was voiced by Charlie Adler, who also played Corroder in Hero Factory, and Starscream in the Transformers movie series.
Biography
The Hero Factory, at one point, captured Speeda Demon and imprisoned him in their Storage Facility. After the villain Black Phantom devised and initiated a mass breakout from the Hero Factory, Speeda Demon escaped along with many other criminals.
He then traveled to the ice planet Kollix IV and Preston Stormer is send to recapture him. He was heading for northern pole to knockout the Interstellar Pole and so incoming ships having problem landing on the planet, which he can raid them and end up racing against Stormer 4.0.
He crashed his Nitro-motorcycle from being attack by Hero-Cuff, that cuff his hand to handle bar.
Abilities and Traits
Speeda Demon is very skilled on his nitro-rocket motorbike and loves doing daredevil stunts, move around with speed and reckless. He is green in color, has four arms and can carry his sword blades and drive his motorcycle backwords. He is completely insane, trickey and careless, constanly cackles and violet towards kill-joyes that stop from riding his Nitro-Rocket Motorcycle.
Weapons
Speeda Demon bears two blades and rides on a purple motorcycle called the "Nitro-rocket motorbike,"which features lightning bolt handlebars, razor-spiked wheels, and lightning exhaust.
Gallery
Trivia
Community content is available under
CC-BY-SA
unless otherwise noted.