Jafar says: Read my lips and come to grips with the reality!


This article is a stub and is in need of expansion. You can help Villains Wiki by expanding it.                       



Click To Help DIO!

DIO has declared that this article has stopped in time, and any and all information on it may be outdated.
Help improve this article by checking and updating it's info wherever necessary
And now time resumes!

✓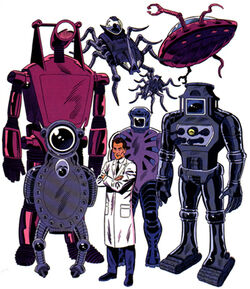 The Spider-Slayers are a villainous series of killer robots from Marvel Comics. They were created specifically to hunt and kill Spider-Man.
History
The original Spider-Slayers were made by robotics expert and scientist Spencer Smythe, who was funded by J. Jonah Jameson. Smythe's first few models were clunky, yet dangerous humanoid robots that had various functions designed to stop Spider-Man's powers. These were all easily defeated by the resourceful web-slinger, and Smythe continued to make newer and more improved versions, these having an insectoid-type shape to keep up with Spider-Man.
After Spencer died from radiation poisoning, his son Alistair took the reigns and sought revenge on Spider-Man. His versions of the Spider-Slayers were powerful, terrifying monster-robots that gave Spidey a real challenge. The Spider-Slayers also appeared in Spider-Man: The Animated Series and came in three versions, all designed to look like various arachnids. They could combine. They appear as the main antagonists in the second and third episodes.
Gallery
Community content is available under
CC-BY-SA
unless otherwise noted.