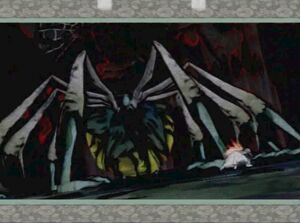 The Spider Queen (in Japanese: スパイダークイーン, Supaidākuīn) is a villain from the video-game Okami.
Appearance
The Spider Queen is a powerful but ultimately malevolent spirit that takes the form of a grotesque featureless female face with the torso of a spider, gnarled humanlike hands on the end of her legs and a strange growth on her back resembling a nightmarish "flower" made out of human eyes.
After she gets killed by Amaterasu, her spirit returns in the sunken ship to haunt her.
Trivia
Spider Queen is also known in Japan as Jorögumo, the "prostitute spider" or "spider whore" - suggesting that despite her horrific form she is quite a perverse and/or carnal creature: even in death Spider Queen returns as a ghost to torment Amaterasu later in the game.