Jafar says: Read my lips and come to grips with the reality!


This article is a stub and is in need of expansion. You can help Villains Wiki by expanding it.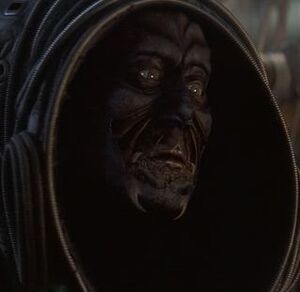 | | | |
| --- | --- | --- |
| " | I am a god. Within these eggsacks lives a monster race of spiders. We shall descend upon helpless Earth. An entire planet on which to rule. An entire planet on which to feed! | " |
| | ~ Spider Smith glorying in his own evil. | |
Spider Smith is the main antagonist of the 1998 sci-fi thriller movie Lost In Space.
He was portrayed by Gary Oldman, who, in addition to portraying Dr. Smith's other self, also portrayed Dracula in Bram Stoker's Dracula, Drexl Spivey in True Romance, Norman Stansfield in The Professional, Jean-Baptiste Emanuel Zorg in The Fifth Element, Ivan Korshunov in Air Force One, Ruber in Quest For Camelot, Mason Verger in Hannibal, Carnegie in The Book of Eli, General Grawl in Planet 51, Lord Shen in Kung Fu Panda 2, Dreyfus in Dawn of the Planet of the Apes and Vladislav Dukhovich in The Hitman's Bodyguard.
Biography
When Dr. Smith is bitten and attacked by spiderlike creatures, he mutates into Spider Smith and kills everyone except for Future Will Robinson as he finds him useful. Through the years he helps Future Will Robinson build and create a time portal. Spider Smith attempts to kill Dr. Smith but merely knocks him unconscious. Then he imprisons Professor John Robinson and continues helping Future Will Robinson.
Future Will Robinson asks Spider Smith what happened to everyone else and Smith refuses to talk about them. Then Future Will realizes that Smith actually killed everyone except for him because Smith needs him to build and finish the time portal. Future Will also finds out that once he completes the time portal, Spider Smith plans to kill him as well and go through the time portal to release a legion of spiders on the earth and rule it. Smith then attempts to kill Future Will but is saved by his dad, who fights Smith and cuts open his egg sack, which frees the infant spider spiders, who attack Smith. Then John pushes Spider Smith into the time portal and he's torn apart and destroyed.
Villains
Animated Features
Eva Friedal | Yegor | President Stone | Hamegg | General Heckler | Cora | Tybalt | Fawn | Terrafirminator | Hansel and Gretel | The Giant | Boingo | Moss | Cecil Clayton | Tublat | Mel & May | Linnux | Riff | Skozz | Lord Nooth
Live-Action Films
Earl Talbot Blake | Kim | Top Dollar | T-Bird | Funboy | Tintin | Grange | Myca | Malvolio | Sonny Red | Sonny Black | Santo Trafficante Jr. | Lefty | Kevin McMaxford | Suzie Toller | Ray Duquette | Kelly Van Ryan | Sam Lombardo | Kenneth Bowden | Dr. Zachary Smith | Spider Smith | Blair Witch | Harry Goldfarb | Tyrone C. Love | Big Tim | Uncle Hank | Drug Lord Physician | Leonard Shelby | Rustin Parr | Julianna Gianni | Seven Dwarves | Walter Finch | Odet Family (Maynard Odet, One Eye, Saw Tooth & Three Finger) | John Mills | Punisher | Howard Saint | Quentin Glass | Livia Saint | John Saint | The Russian | Harry Heck | Mickey Duka | Bobby Saint | Lord Kelvin | Black Scorpions (General Fang) | Inspector Fix | Umbrella Corporation (Timothy Cain) | T-Virus | The Hive | Zombies (Lickers) | Dr. Sam Isaacs | Dr. Alexander Isaacs | Clara Dalrymple | Sir Trenton | Trenton's Pride | Zateb Kazim | Yves Massarde | Zakara | Mirror Queen | General Vavarin Delatombe | Domino Harvey | Wendell Hatch | Jean-Baptiste Grenouille | Dark Master | Janice Avery | Lt. Muldoon | Dr. William Block | Lewis | Douglas Norquist | Ma | Pa | Sister | Brother | Three Toe | Karen Crowder | Albert Wesker | Alexander Slater | Thomas Barclay | Ryan McCarthy | Mr. McCarthy | Juney | Kung Fu Panda | Beowulf | Alvin and the Chipmunks | James | Laurent | Victoria | Edward Cullen | Jacob Black | Jasper Hale | Sam Uley | Friedrich Fromm | Adolf Hitler | Mary Jones | Carl Jones | Stranger | Andy Richards | Corporal Gallo | Carlos Chavez | Crawford | Floyd | Anastasius | Volturi (Aro, Caius, Marcus, Jane, Demetri, Felix, Heidi & Renata) | Carnegie | Neil Lyman | Mr. Gupta | Felder | Bennett Sinclair | Axeman | Alexander Dunning | Cynthia Wilkes | William Cooper | Jonah King | The Accountant | Satan | Cain | Cardinal Richelieu | Captain Rochefort | Milady de Winter | Duke of Buckingham | Jussac | Derek Frost | Didyme | Corin | Sulpicia | Athenodora | Alien | David Englander | Dante Marcus | Bagul | Ashley Oswalt | Moloch | Picasso | Santiago | Boneys | Sarafine Duchannes | El Topo | Thaddeus Bradley | Arthur Tressler | Edward Bailey | Jack Horton | Han Cho Bai | Lester Clark | Willard Hobbes | Drake | Holly Jones | Keller Dover | Edwin Epps | Mary Epps | William Ford | John Tibeats | James Birch | King Amphitryon | Senator Quintas Corvus | Marcus Proculus | Erudite (Jeanine Matthews, Eric Coulter & Caleb Prior) | Peter Hayes | R.I.F.T. (Bree Nevins) | Alexxa Brava | Jasper Tarik | Jackson Hilliker | Sally Hilliker | Tarasov Crime Family (Viggo Tarasov, Iosef Tarasov, Avi, Ms. Perkins & Kirill) | Vladimir Malevich | Witch Queen | Belial | 37th Dolan | Plague Flies | Ellic Lemasniel | Danique | Bodhi | Samsara | Set | Urshu | Astarte | Anat | Sphinx | Bureau of Genetic Welfare (David) | Walter Mabry | Abram Tarasov | D'Antonio Crime Family (Santino D'Antonio, Ares, Gianna D'Antonio & Cassian) | Dukhovich's Soldiers (Vladislav Dukhovich & Jean Foucher) | Sally Marnes | Jaspar Kimbral | Gregor Faust | Gallo | Fausto Alarcón | Simone Duret | Sheriff of Nottingham | Guy of Gisborne | Cardinal Franklin | Will Scarlett | Vivienne Nimue | Gruagach | Camazotz | Baba Yaga | Demons | High Table (The Adjudicator, Zero, Winston, The Elder & The Shinobi) | Lester Clark Jr | Wu Zhang | Diane Sherman | Val Quinlan | Aristotle Papadopoulos | Michael Bryce Sr. | Nanobot Swarm
See Also
20th Century Studios Villains | Aardman Villains | Buena Vista Division Villains | Blumhouse Productions Villains | Christopher Nolan Villains | Die Hard Villains | Dimension Films Villains | Disney Villains | Destiny Villains | DreamWorks Villains | Escape Plan Villains | Hellboy Villains | John Wick Villains | Lionsgate Villains | Little Red Riding Hood Villains | Lantern Entertainment Villains | Legends | Miramax Villains | New Line Cinema Villains | Never Back Down Villains | Netflix Villains | Punisher Villains | Paramount Villains | Requiem for a Dream Villains | Robin Hood Villains | Resident Evil Villains | Shakespeare Villains | Studiocanal Villains | Searchlight Pictures Villains | Sony Pictures Villains | Twilight Villains | Tarzan Villains | Tarantinoverse Villains | Warner Bros. Villains | Wallace and Gromit Villains | Wild Things Villains | Wrong Turn Villains