Doctor Strange in The Multiverse o Madness - The Loop
Play Sound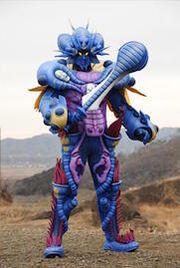 Spikeballs, alongside Vivixes, are Sledge's personal foot soldier and recurring enemies in Power Rangers Dino Charge and its sequel Power Rangers Dino Supercharge.
Background
These blue armor-clad monsters were recruited by Sledge as his foot soldiers in the past and fought alongside their underlings Vivixes. It's not specified the exact number of these foot soldiers, but given that Sledge always have a plenty of them in his ship more than the ones that deployed either to hunt down Energems or other outlaws, it was much more likely that there are thousands of Vivixes and Spikeballs, though Spikeballs' numbers are obviously inferior than Vivixes'. Another possible reasons why there are so many Spikeballs in Sledge's ship was Wrench's re-animator machine that he also possibly used to revived killed monsters, in which Spikeballs and also Vivixes may included.
Characteristics
Unlike Vivixes whom appeared to be poorly equipped for battle, these brutes are well-armored in spite of merely armed with maces that appeared to be less advanced than Vivixes' saw-tipped blasters. Though they have less advantage when against long-ranged fighters, Spikeballs counteract this with their durability and armor.
Like Vivixes, all Spikeballs are loyal to Sledge and willing to do their said master's bidding, even if it includes fighting to death like other primary villains' foot soldiers. However, Spikeballs seems to be more intelligent (as they are capable in speech unlike Vivixes) and also more professional in their job.