Splashmon
is one is one of the
Dark Generals
of the
Bagra Army
, the ruler of Cyber Land, and is one of the main antagonists in the second half of the anime,
Digimon Xros Wars/Fusion
. He and also known as
the Water-Tiger
.
He was voiced by Hikaru Midorikawa in the Japanese version and Christopher Smith in the English version.
Appearance
Splashmon is an Unknown Level Digimon. He resembles a dull indigo-haired humanoid tiger creature in a grey-silver body suit. His true form is a monstrous giant tiger entirely made of water.
As Splashmon Darkness Mode
In his Darkness Mode form, he has two forms. In his first form, Splashmon becomes a more muscluar version of himself. In his second form, he becomes a giant tiger with blue stripes, white skin, two creepy eyes, and yellow teeth and claws, which is the true form of Splashmon.
Biography
Digimon Fusion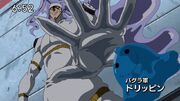 After
Lord Bagra
(the main antagonist) finished the
Code Crown
, he recreated the Digital world into the 7 Satellite kingdoms. Doing so he also created the Death Generals. One of them was Splashmon. He's became the ruler of Cyber land with
AxeKnightmon
as his Master. He was destroyed by Shoutmon DX. Splashmon reappeared (in his Darkness Mode) along with the other Death Generals as soulless Digimon, and all combined together to form the ultimate Death General,
GrandGeneramon
.
Minions of Splashmon
Note; all of Splashmon's minions are Drippins in alternate forms.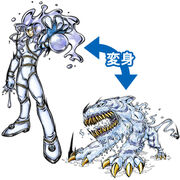 Attacks
As Splashmon
Poisonous Force
Hydro Pressure
Bead-drown
As Splashmon Darkness mode
Gallery
Community content is available under
CC-BY-SA
unless otherwise noted.