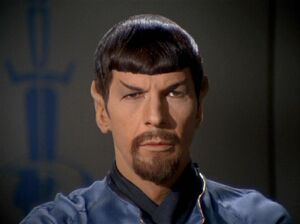 | | | |
| --- | --- | --- |
| " | I do not want to command the Enterprise, but if it should befall me, I suggest you remember that my operatives would avenge my death. And some of them...are Vulcans. | " |
| | ~ Spock, warning Sulu about trying anything. | |
Spock is a ruthless Vulcan turned man of peace in the Mirror Universe, which is apart of the greater Star Trek Multiverse. He originally appeared in Star Trek: TOS.
Just like his good counterpart, he was portrayed by the late Leonard Nimoy.
History
Spock was the Terran/Vulcan hybrid first officer of the ISS Enterprise in 2267. He was a logical being who was loyal to his captain, James T. Kirk, and chose to warn him when he was ordered by the Terran Empire to kill him and take command if he did not launch an attack against the Halkans in retribution for their refusal to negotiate with the Empire.
Based on his captain's apparently temperamental and erratic behavior, Spock correctly deduced that Kirk had actually been accidentally replaced by his counterpart from a mirror universe, and devised a means of returning Kirk, Scotty, McCoy, and Uhura to their original ship.
Before Kirk left, believing that Spock would one day become captain of the Enterprise, he planted a seed of doubt about the inevitability of the Empire's collapse, asking Spock if violence was the only logical answer. Spock, as logical as his counterpart, had already calculated that the Empire's subject peoples would revolt in approximately 240 years, and the Empire' defeat was a foregone conclusion. Kirk submitted that it was illogical of Spock to continue to serve an Empire destined to collapse, but Spock said the odds of one man bringing about peaceful change to the Empire were virtually insurmountable. Kirk revealed the existence of the Tantalus field, an assassination device that the mirror universe Kirk had used to eliminate his enemies, and urged Spock to ally the device's power with his own formidable intellect. Spock appeared intrigued, and promised to consider Kirk's words.
Canon
As Kirk predicted, Spock later on became the captain of the Enterprise. Spock used the ship as a power base to accumulate influence, and eventually rose to become leader of the Terran Empire. He instituted major reforms, turning the Empire into a more peaceful and less aggressive power known as the Terran Republic.
Unfortunately, Spock's reforms left the Empire unprepared to fight the united Klingon-Cardassian Alliance, who conquered the entire Terran Empire, enslaving the Terrans themselves as well as the Vulcans. Spock was killed by the mirror universe version of Gorkon when the alliance conquered the Republic.
Dark Mirror
In the Dark Mirror permutation of the Mirror Universe, Spock continued on as first officer of the ISS Enterprise after the incursion of the primary universe Enterprise crew members. Some time after the incursion, Spock transferred off the Enterprise, taking a position at Starfleet Command. He began working to reform the Empire into a more peaceful and less aggressive institution.
What Spock unfortunately did not realize was that Kirk had become resentful of Spock as he had advanced in his career while Kirk was still a starship Captain. About 12 years after the incursion, Kirk trumped up charges of treason against Spock, with "evidence" found in his quarters at Starfleet Command. Spock was put on trial and subsequently executed. Not long afterwards his father was killed by another Vulcan who wanted his position.
With Spock out of the picture, the Empire continued on its aggressive course. In this version of the Mirror Universe the Terran Empire survived in to the mid 24th century, but by then was running out of new territory to conquer.
"Shatnerverse"
In the series of novels written by Captain Kirk actor William Shatner Spock survived into the 24th century. Realizing that his life expectancy would be measured in hours if he killed Kirk, he decided to bide his time and build up his power base. He convinced Kirk to spare the Halkans on the grounds that destroying them would spark a war with the Klingons.
As Kirk became Emperor Tiberius, Spock became the power behind the throne. Building up his own power base he overthrew Tiberius in 2277 and became the leader of the Empire. Tiberius then went to the Cardassians and Klingons and convinced them to invade the Terran Empire. Spock was forced to go underground, working with the Vulcan resistance.
He had a daughter with Saavik named T'Val. T'Val traveled to the primary universe to recruit the revived Captain Kirk to come assist them.
Star Trek: Mirror Universe
In the permutation of the Mirror Universe explored in recent novels, Spock was unable to convince Kirk to spare the Halkans. A few days after Kirk returned to his home universe, Spock killed him in his quarters, snapping his neck to make sure Kirk wasn't playing dead. Spock assumed command of the Enterprise, and Marlena Moreau became his Captain's woman.
Using the Tantalus field Spock then moved against his enemies on the Enterprise, and in the larger Empire as well. Spock married Moreau in the years following the crossover. With his father Sarek acting as his political advisor he began working to bring about the vision the prime universe Kirk shared with him before returning home. Spock eventually became an Admiral in the Imperial Starfleet, and then as Grand Admiral head of the Empire's military forces. After killing Empress Hoshi Sato III, Spock then became the Emperor of the Terran Empire.
Spock remained Emperor for well over a decade. By 2293 his reforms had progressed far enough that Spock was able to declare the end of the Terran Empire, and the formation of the Terran Republic in its place. The Republic elected Spock as its first Counsul.
In 2295, the Klingon-Cardassian Alliance attached the Republic. Spock was killed on Earth along with his wife by the Klingons. Before he died, Spock instituted the Memory Omega project, which was to work to resist the Alliance after his death. Eighty years after his death Memory Omega was finally able to free the former Terran Republic from slavery, and establish the democratic Galactic Commonwealth.

Villains
Movies
Star Trek: The Motion Picture: V'Ger: Klingons ( Barak )
Star Trek II: The Wrath of Khan: Augments (Khan & Joachim)
Star Trek III: The Search for Spock: Klingons (Kruge, Torg, Maltz) | Valkris
Star Trek IV: The Voyage Home: Whale Probe | Kamarag
Star Trek V: The Final Frontier: The One | Klingons (Klaa & Vixis) | Sybok
Star Trek VI: The Undiscovered Country: Khitomer Conspiracy (General Chang, Nanclus, Valeris, Admiral Cartwright, Patrick West, Harlan Burke, Thomas Samno)
Star Trek Generations: Tolian Soran | Klingons (Lursa & B'Etor)
Star Trek: First Contact: The Borg (Borg Queen)
Star Trek: Insurrection: Son'a (Ahdar Ru'afo & Gallatin) | Matthew Dougherty
Star Trek: Nemesis: Remans (Shinzon, Viceroy, Tal'aura, Suran & Donatra)
Star Trek (2009): Romulans (Nero & Ayel)
Star Trek Into Darkness: Khan | Alexander Marcus
Star Trek Beyond: Krall | Manas | Kalara
Television
Ah-Kel | Anan 7 | Apollo | Arctus Baran | Ardra | Arik Soong | Armus | Arthur Coleman | Khan | Ba'ul | Balok | Banean Doctor | Basso Tromac | Ben Finney | Benjamin Maxwell | Beta XII-A entity | Bok | The Borg | Broca | Brunt | Cardassian Union (Dukat, Damar & Cardassians) | Charlie Evans | Chu'lak | Clown | Colonel Phillip Green | Crell Moset | Crystalline Entity | Culluh | Cyrus Redblock | D'Ghor | D'Nesh | Damrus | Danby Connor (MU) | Denevan parasites | Dereth | Dexter Remmick | Doctor Chaotica | Dolim | Dr. Janice Lester | Dular Garos | Duras | Ekosian SS (Melakon) | Elim Garak (Mirror Universe) | Ellen Landry | Equinox EMH | Erik Pressman | Evil Kirk | Fallit Kot | Gabriel Lorca (MU) | Garth of Izar | Gary Mitchell | Gorgan | Gorn | Female Changeling | Gowron | Hagath | Harry Mudd | Henoch | Hikaru Sulu (MU) | Hoshi Sato (Mirror Universe) | Ibudan | Ilon Tandro | Imperial Starfleet | Ira Graves | J'Dan | Jabin | James Leyton | James T. Kirk | Jaro Essa | Jem'Hadar | Jev | John Frederick Paxton | John Gill | Jonathan Archer (Mirror Universe) | Joran Dax | Julian Bashir (Changeling) | Karnas | Kathryn Janeway (Kyrian Recreation) | Kar Kantar | Kazon | Kennelly | Kieran MacDuff | Kila Marr | Kira Nerys (Mirror Universe) | Kivas Fajo | Kodos the Executioner | Kol | Kol-Sha | Koloth | Konmel | Kor | Korris | Kras | Krax | Kunivas | L'Rell | Landru | Lazarus | Leland | Lenore Karidian | Letek | Locutus | Locutus | Lon Suder | Lore | Lutan | Luther Sloan | M-113 Creature | Maab | Madred | Malcolm Reed (MU) | Malon | Maras | Marla McGivers | Martok (Changeling) | Matthew Harris | Matthew Ryan | Maxwell Burke | Michael Eddington | Michael Jonas | Miles O'Brien (Changeling) | Morag (Klingon) | Na'kuhl | Nagilum | Navaar | Neela | Neural Parasites | Nomad | Norah Satie | Nyota Uhura | Oracle of the People | Patar | Paul Stamets (MU) | Pavel Chekov (Mirror) | Pe'Nar Makull | Philippa Georgiou (MU) | Professor Moriarty | Q | Rao Vantika | Razik | Redjac | Regent of Palamar | Dr. Roger Korby | Romulan Commander (Balance of Terror) | Ron Tracey | Rota Sevrin | Rudolph Ransom | Sabin Genestra | Sela | Seska | Seven of Nine (KR) | Shran | Silaran Prin | Silik | Sobi | Spawnmother (2364) | Spawnmother (2376) | Sphere-Builders | Spock (Mirror Universe) | Sulan | Surata IV Vine | Sylvia Tilly | Sylvia (Ornithoid) | T'Kuvma | T'Paal | Tahna Los | Talosian Keeper | Talosians | Tarah | Tarr | Tedran | Terra Prime | The Albino | The Doctor (Kyrian Recreation) | Thot Gor | Thot Pran | Tomalak | Toral | Trabe | Traeg | Travis Mayweather (MU) | Trekal Darhe'el | Trelane | Tret | Tristan Adams | Ulis | Ux-Mal Entity | V'Las | V'latak | Vaatrik Pallra | Valdore | Verad Kalon | Ves Alkar | Voq | Wesley Crusher | Weyoun | William Ross | Winn Adami | Worf (Mirror Universe) | Zorn
Community content is available under
CC-BY-SA
unless otherwise noted.