Jurassic World: Dominion Dominates Fandom Wikis - The Loop
Play Sound
This article's content is marked as Mature
The page Mature contains mature content that may include coarse language, sexual references, and/or graphic violent images which may be disturbing to some. Mature pages are recommended for those who are 18 years of age and older.


If you are 18 years or older or are comfortable with graphic material, you are free to view this page. Otherwise, you should close this page and view another page.
| | | |
| --- | --- | --- |
| " | To hell with the boss, he can shove his orders up his reclusive ass! I'm not gonna murder you because it's my duty as one of the boss' guards! This is for you, Tiziano. I'll send this piece of shit to hell in your name, and once I'm done, his friends will die too! I'll eviscerate them for what they did! Suffering will be their penance! Finish them, Clash! Rip his throat out! Tear it to shreds! | " |
| | ~ Squalo demonstrating his ferocious nature on Tiziano's death. | |
| | | |
| --- | --- | --- |
| " | Things may not have gone as planned, but one thing remains true. Victory is within our grasp. Nobody can reverse... our conquest... now. | " |
| | ~ Tiziano's determination-fueled last words. | |
Squalo and Tiziano are minor antagonists in JoJo's Bizarre Adventure: Golden Wind. They are both members of Diavolo's elite guards, who are sent after Team Bucciarati after betraying Passione. They are the first members of the Guard Squad to face Team Bucciarati and are a possible gay couple, constantly working together and supporting each other while attempting to hunt down Bucciarati's crew one after another. Squalo is the more ferocious, ruthless and hot-blooded of the two, while Tiziano is more tactical and level-headed.
Squalo was voiced by Hidenobu Kiuchi in the PS2 adaptation of JoJo's Bizarre Adventure: Golden Wind, Norihisa Mori in JoJo's Bizarre Adventure: Eyes of Heaven, Tomoaki Maeno in the anime, and Ryan Colt Levy in the anime's English dub. Tiziano was voiced by Ryuzo Ishino in the PS2 adaptation of JoJo's Bizarre Adventure: Golden Wind, Kenjiro Tsuda in the anime, and Jordan Reynolds in the English dub for the anime.
Biography
After Bucciarati, Giorno and the rest of the crew (aside from Fugo) betray the Boss, he sends Squalo and Tiziano after them in order to stop them from leaving Venice alive. While eating at a local Venetian restaurant, both Squalo and Tiziano are lurking them from a nearby balcony. Squalo sends his Stand, Clash, on Narancia's soup and attacks him by biting off his tongue. At the same time, Tiziano sends his Stand, Talking Head on his mouth which Giorno is unable to notice when he restores Narancia's tongue. After the attack, Narancia finds that he is unable to tell the truth to his friends as Tiziano's Stand is controlling his speech and movement in a manner that they are constantly contradicting one another.
Misleading his friends to search for the restaurant bathroom, they are unable to find any concrete evidence on who are attacking them. Giorno then realizes that Narancia is not able to tell the truth and starts suspecting that he is under an enemy Stand attack. Before being able to do anything about it, Giorno is suddenly attacked by Clash which pulls a fast sneak attack on him from the bathroom's watery floor. Narancia tries to save him but is unable to do so because Giorno is on Aerosmith's line of fire.
Pulling Giorno to the sewer network beneath the restaurant, Narancia's Aerosmith follows Clash and finds it through its carbon dioxide radar. Squalo, injured by Aerosmith's firing, forces Clash to exit the sewer and into an aquarium tank within the restaurant floor. Despite this, Clash has not given up on Giorno as it still has its fangs locked on to his neck. Managing to separate Clash from Giorno's neck, Giorno urges Narancia go and find the host instead of trying to kill the Stand. While Bucciarati and the rest are busy keeping Clash separated from Giorno, Narancia goes to the street to find the user.
Narancia then finds injured Squalo being helped by Tiziano in a crowd of pedestrians by detecting Squalo's heavy breathing. Having cut off his tongue in order to incapacitate Talking Head, Giorno's ladybug is transformed into a new tongue by Giorno's Gold Experience. Tiziano is then shot to death by Aerosmith who takes the bullet for Squalo in order to provide him with enough liquid to retrieve his Clash. Seeking revenge for his lover, Squalo and Narancia are engaged in a stand-off which he ultimately loses despite trying to tear Narancia's throat with Clash. Narancia then finishes off Squalo, managing to separate Clash from his neck.
Powers and Abilities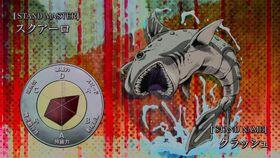 Squalo's Clash is a shark that can teleport between liquid surfaces. It's size depends on the amount of liquid its residing in and can be as small as a tadpole when warping at Narancia's teardrops and as large as a real shark when lurking in the canals. It's preferred method of attack is to separate a herd into single individuals and then lock its jaws on the target, much like a real shark hunts its prey. After Clash has locked its jaws on the target, they cannot defend themselves and are as good as dead unless there is someone else to save them.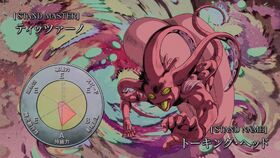 Tiziano's Talking Head is a non-combatant Stand that can also traverse between liquid surfaces. It can attach itself to the target's tongue and control its movements and speech in a contradicting way. Tiziano's preferred method to use his Stand is to make his targets say and act in a completely opposite way than they normally would depending on the situation. Thus it is a very misleading Stand as it keeps on lying and contradicting previous statements to the point that Bucciarati and the rest are unable to notice that they are attacked by another Stand.
Together, these two Stands are a very deadly combination as Tiziano uses his Talking Head to pull the strings and distract its opponents the way he pleases while Squalo uses his Clash to attack whenever the situation favors so. However, when there is no liquid around, these two are at their most vulnerable, as they cannot call their Stands back and are unable to defend themselves. As both of them are remotely controlled, neither can hold their own against a much larger group of Stand Users.
Trivia
Squalo and Tiziano's combined Stand forces are a possible reference to what could have been Sorbet and Gelato's powers had they been more prominent to the overall storyline, as they too are hinted to have been a gay couple.
Tiziano was named after an Italian Renaissance painter named Tiziano Vecelli, known in English as "Titian" while Squalo's name means "shark" in Italian.
Squalo and Tiziano are the second duo that encounter Team Bucciarati, the first duo being Prosciutto and Pesci.