Wiki Targeted (Entertainment)
Play Sound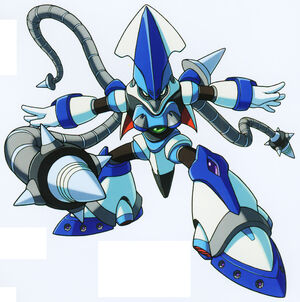 | | | |
| --- | --- | --- |
| " | Always so pushy... You haven't changed at all... I made the right choice when I resigned as a Hunter... I don't want to be a rude jerk like you. | " |
| | ~ Squid Adler | |
Squid Adler (also known as Volt Kraken in Japan and Mega Man X Legacy Collection 2) is one of the eight Maverick bosses from the game Mega Man X5.
Adler used to be a Maverick Hunter (probably as a member of the 6th Naval Unit) and a friend of Launch Octopus (originally mistranslated as "Octopardo"). He eventually resigned from his job due to disagreeing with the Hunter's methods, moving into a peaceful and recluse life as a researcher, working on new forms of energy production. During the Earth Crisis, the Hunters seek Adler's help, as he had an Energy Cart needed to power up the Enigma cannon. While Adler was willing to cooperate (not before chastising the Hunters for their overall rude behavior), he ends corrupted by the Sigma Virus and attacks them, forcing the Hunters to defeat him.
Adler floats around the vertical arena while constantly shooting his Tri Thunder, which sends three electric sparks in different directions. After some damage he will cover the floor in electricity and summon a sometimes-electrified box on the middle of the screen, limiting player movement. When low on health he will extend his tentacles and shoot a barrage of bolts. His weaknesses are the Goo Shaver with X and F-Splasher with Zero.
Trivia
In the initial English localization of Mega Man X5, Squid Adler was named after the former Guns N' Roses drummer, Steven Adler.
The initial English localization of Mega Man X5 misinterprets that Squid Adler was based off a regular squid, when in reality, his original name Volt Kraken is based off the mythical creature the Kraken, which is depicted as a giant squid.