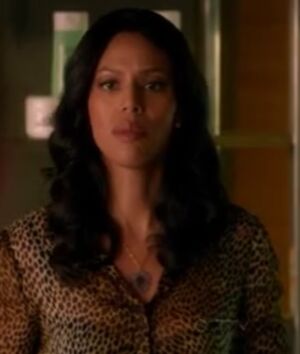 Stacy Garrett is the main antagonist from "Sleepless in Miami", episode 9.05 of CSI: Miami.
She was portayed by Merle Dandridge, who also played the villainous prosecutor Lydia Faulk in The Mentalist.
Biography
Stacy Garrett runs a holistic clinic business, and she was approached by Horatio and Tripp regarding the death of Brandon Garrett, her ex-husband, whose body was found in the Everglades. Stacy informed Horatio and Tripp that they were going through a divorce, and she claimed that it was amicable.
As Horatio correctly pointed out, however, Stacy was not pleased with Brandon wanting half of her business. To prevent this, Stacy devised a plot to kill her ex-husband, recruting psychic and healer Elena Manus to remove Brandon's life force. It was during Brandon's session with Elena that Brandon suddenly died, but it was revealed that he had been poisoned by Peter Truitt, Stacy's illicit lover, who committed the murder so he and Stacy could be together.
Stacy insisted that Peter acted alone, but Peter did suggest that Stacy had a role. Regarding the villainess' fate, Natalia and Wolfe stated that she would be charged with planning her ex-husband's murder, and it is assumed that Stacy was arrested for her villainous actions.
Community content is available under
CC-BY-SA
unless otherwise noted.