Click To Help Darkseid!

Darkseid has declared that this article requires immediate Cleanup in order to meet a higher standard.
Help improve this article by improving formatting, spelling and general layout - least it fall victim to an Omega Effect


✓
Jafar says: Read my lips and come to grips with the reality!


This article is a stub and is in need of expansion. You can help Villains Wiki by expanding it.                       
| | | |
| --- | --- | --- |
| " | Come, be part of us. Soon it will be our world. | " |
| | ~ Starro (controlling Superman) to Batman in Batman Beyond. | |
| | | |
| --- | --- | --- |
| " | Many primitive cultures across the universe have referred to it as "God." But in the annals of the Green Lantern Corps, it is known as-- "Starro". | " |
| | ~ Salakk on Starro. | |
Starro is a gigantic starfish-like alien from the DC universe that invades worlds via sending innumerable smaller clones of itself out to infest a target. These clones proceed to attach themselves to a victim's face and possess them, making them mindless slaves to Starro's will. Starro is an ancient creature that has lived for centuries on its home planet, a world of water, where it had spent most of its life and was apparently the last surviving member of its species. One day, Starro became an object of Preserver's collection of unique specimens.
Powers and Abilities
Starro's main power is mind control. He's been able to conquer nine galaxies using it, and he's one of the most powerful mind controllers in the universe. Starro when not mind-controlling someone has a few powers of his own. For one he can fly and is extremely powerful in his own right, being able to decapitate Despero in one swing with his ax. He can generate parasitic clones and is invulnerable to most forms of attack, including gunfire and can turn the starfish of earth into loyal agents. A few unique abilities belonging to the Star Conquerors massive drones and their smaller offspring areas thus, they can absorb powerful blasts of energy and fire them back through its tentacles. The giant Starro's are capable mentalists who can lull the androgynous species of designated worlds into a deep slumber from which he can influence their minds from the dreaming plane.
In other media
Starro appeared in an episode of The Superman/Aquaman Hour of Adventure.
Starro makes a cameo appearance in Superman: The Animated Series.
Starro has made appearances in the Young Justice animated series.
Starro also has made appearances in Batman: The Brave and the Bold.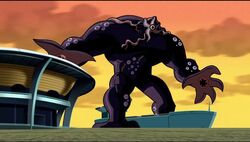 Starro appeared in a special episode of Robot Chicken about DC heroes, where he fights against the Justice League and Legion of Doom.
Starro makes a cameo in #Photoopps & in #Frenemies while the girls try to tangle him, only for Harleen (Barbara's friend) to Babs.
Starro has also made a minor easter egg appearance in the Batman Arkham Knight videogame DLC ''A Matter of Family''
Starro appeared in DC Super Hero Girls.
Community content is available under
CC-BY-SA
unless otherwise noted.