Jurassic World: Dominion Dominates Fandom Wikis - The Loop
Play Sound
| | | |
| --- | --- | --- |
| " | Come, be part of us. Soon it will be our world. | " |
| | ~ Starro (controlling Superman) to Batman in Batman Beyond. | |
| | | |
| --- | --- | --- |
| " | Many primitive cultures across the universe have referred to it as "God." But in the annals of the Green Lantern Corps, it is known as-- "Starro". | " |
| | ~ Salakk on Starro. | |
Starro is a gigantic starfish-like alien from the DC Comics universe that invades worlds via sending innumerable smaller clones of itself out to infest a target. These clones proceed to attach themselves to a victim's face and possess them, making them mindless slaves to Starro's will.
This ability to dominate an entire populace with ease makes him an incredibly dangerous threat, and one of the earliest and greatest enemies of the Justice League.
Biography
New Earth
Starro the Conqueror was once a little boy named Cobi who lived peacefully "unremarkable" planet Hatorei. The Hatorei people lived simple lives and they had few semblances of a developed world but in one respect they were unsurpassed. Once a day the planets inhabitants would congregate in a species-wide telepathic link and open up to each other which made their society the pinnacle of ethics and cultural stability. However, on a particularly harrowing day, a Motherstar descended on their planet enslaving their civilization including Cobi and Andrez. At that point in time the Star Conquerors were only nomadic predators who wandered conquering planets until the Motherstar landed and birthed a new queen. So the Hatorei slaves served the queen and built a nest for a new queen to be born. On the planet Hatorei, things were different; the link between the people was still existent and it was impossible for the Star Conquerors to completely control the people.
Starro's central intelligence hiding underground in the sewer. Martian Manhunter tries to fight the central intelligence Starro but Starro is able to attach itself to J'onn, taking control of his body. Now in control of one of the most powerful beings Starro plans on using the teleport tubes in the JLE Embassy to take over Earth. When he demands the JLA use the teleport tubes so he may take them over, to his surprise they send Ice who freezes him.
Prime Earth
Starro active on Thanagar Prime during the invasion of the Dark Multiverse, where heroes Mister Terrific and Green Lantern came looking for more Nth Metal to defeat the Dark Knights. Starro worked with Onimar Synn and helped imprison the Justice Leaguers on Thanager, until they escaped with help by Martian Manhunter defeat Starro and Onimar.
Starro placed on Team Mystery alongside Martian Manhunter, Superman, Starfire, and Sinestro. Battling the Omega Titans Starro fight while the heroes save the other while when Starro have a victor and make him a hero but doesn't last long when one of Omega Titans rip him and his sacrifice has save the heroes.
Legacy
Following this sacrifice, Batman came to acquire a genetic sample of Starro which he kept in a jar for study, with the cells growing into what Batman would name, "Starro in a jar" or, "Jarro" for short, a tiny version of Starro, raised as one of Batman's sidekicks and Justice League's ally.
Powers and Abilities
Starro's main power is mind control. He's been able to conquer nine galaxies using it, and he's one of the most powerful mind controllers in the universe. Starro when not mind-controlling someone has a few powers of his own. For one he can fly and is extremely powerful in his own right, being able to decapitate Despero in one swing with his ax. He can generate parasitic clones and is invulnerable to most forms of attack, including gunfire and can turn the starfish of earth into loyal agents. A few unique abilities belonging to the Star Conquerors massive drones and their smaller offspring areas thus, they can absorb powerful blasts of energy and fire them back through its tentacles. The giant Starro's are capable mentalists who can lull the androgynous species of designated worlds into a deep slumber from which he can influence their minds from the dreaming plane.
Other Media
Film
Main article: Starro (DC Extended Universe)
Starro makes his cinematic debut in the 2021 superhero film The Suicide Squad as one of the main antagonists.
Television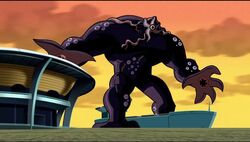 Starro appeared in an episode of The Superman/Aquaman Hour of Adventure.
Starro makes a cameo appearance in Superman: The Animated Series, and later as an antagonist in Batman Beyond, both set in the DC Animated Universe.
Starro has made appearances in the Young Justice animated series.
Starro also has made appearances in Batman: The Brave and the Bold.
Starro appeared in a special episode of Robot Chicken about DC heroes, where he fights against the Justice League and Legion of Doom.
Starro makes a cameo in #Photoopps & in #Frenemies while the girls try to tangle him, only for Harleen (Barbara's friend) to Babs.
Starro appeared in DC Super Hero Girls.
Starro made his live-action debut with a cameo in Powerless.
Starro appears as a recurring antagonist on Teen Titans Go!
Main article: Starro (Teen Titans Go!)
Video Games
Starro makes a small appearance in Injustice: Gods Among us, where he can seen and interacted with in a spherical cell on the Fortress of Solitude.
Starro makes a minor easter egg appearance in Batman: Arkham Knight, where he is featured in the DLC "A Matter of Family".
Trivia
Starro was created by Gardner Fox and Mike Sekowsky.

Villains
Comics
Abra Kadabra | Amanda Waller | Amos Fortune | Amazo | Anarky | Angle Man | Anti-Justice League | Anti-Monitor | Appellaxians | Aquarius | Asmodel | Atomic Skull | Axis America | Bane | Barbatos | The Batman Who Laughs | Black Adam | Black Hand | Black Lantern Corps | Black Manta | Black Mask | Black Spider | Blockbuster | Blue Beetle (Dark Multiverse) | Brainiac | Bronze Tiger | Brother Eye | Brotherhood of Evil | Cadre | Calculator | Calendar Man | Captain Boomerang | Captain Cold | Castle Bat | Catalyst | Catman | Catwoman | Cheetah | Chemo | Cheshire | Circe | Clayface | Clock King | Cluemaster | Copperhead | Construct | Cosmic King | Crazy Quilt | Crime Syndicate of America | Crucifer | Cyborgirl | Darkseid | Dark Supergirl | Deadline | Deadshot | Deathstroke | Demolition Team | Demons Three | Despero | Doctor Alchemy | Doctor Destiny | Doctor Double X | Doctor Impossible | Doctor Light | Doctor Manhattan | Doctor Phosphorus | Doctor Polaris | Doctor Poison | Doctor Psycho | Doctor Regulus | Doctor Sivana | Dominators | Doomsday | Dragon King | Dumas | Earthworm | Eclipso | Electrocutioner | Elite | Empty Hand | Enchantress | Epoch the Lord of Time | Eradicator | Evil Star | Fatal Five | Felix Faust | Fiddler | Floronic Man | Funky Flashman | Gamemnae | General Eiling | Genocide | Gentleman Ghost | Golden Gilder | Goldface | Gorilla Grodd | Great Darkness | Gunhawk | Harley Quinn | Hector Hammond | Hellgrammite | Human Flame | Hyena | Ibac | Icicle | Imperiex | Intergang | I.Q. | Johnny Sorrow | Joker | Key | Killer Croc | Killer Frost | Killer Moth | Kite Man | Kobra | Kobra Cult | Krona | League Buster | League of Assassins | Legion of Doom | Lex Luthor | Libra | Lobo | Mad Hatter | Mageddon | Magpie | Manchester Black | Manhunters | Matter Master | Maxwell Lord | Mekanique | Merlyn | Mirror Master | Mister Atom | Mister Mind | Mister Nebula | Mr. Freeze | Mongul | Mordru | Morgaine Le Fey | Multiplex | Nekron | Nekron (Pre-Crisis) | Neron | Neutron | Nightshade | Obsidan | Ocean Master | Overman | Pariah | Parademons | Parasite | Penguin | Perpetua | Pied Piper | Plastique | Poison Ivy | Professor Ivo | Professor Zoom | Prometheus | Psycho-Pirate | Queen Bee | Queen of Fables | Ra's al Ghul | Rainbow Raider | Rama Khan | Red Death | Red King | Red Panzer | Red Volcano | Riddler | Roulette | Royal Flush Gang | Satanus | Scarecrow | Science Squad | Secret Society of Super Villains | Shadow-Thief | Shaggy Man | Shark | Simon Stagg | Sinestro | Solomon Grundy | Star Sapphire | Starbreaker | Starro | Steppenwolf | Suicide Squad | Superboy-Prime | Tattooed Man | Terra-Man | T.O. Morrow | Two-Face | Upside Down Man | Ultra-Humanite | Vandal Savage | Volcana | Warp | Weather Wizard | White Martians | Wizard
Theatrical Movies
Justice League: Steppenwolf | Parademons (Parademon Scout) | Darkseid | Black Clad (Black Clad Alpha) | Lex Luthor | Deathstroke | Ares
Zack Snyder's Justice League: Darkseid's Elite (Darkseid, Steppenwolf, DeSaad, Granny Goodness, & Parademons) | Lex Luthor | Deathstroke | Black Clad (Black Clad Alpha) | Ares | Joker
Direct-to-video Movies
Justice League: The New Frontier: The Centre | Captain Cold
Justice League: Crisis on Two Earths: Crime Syndicate of America (Owlman, Ultraman, Superwoman, Johnny Quick, Power Ring, J'edd J'arkus, & Black Power) | Lex Luthor | White Martians | President Slade Wilson | Rose Wilson
Justice League: Doom: Legion of Doom (Vandal Savage, Bane, Cheetah, Ma'alefa'ak, Metallo, Mirror Master, & Star Sapphire) | Royal Flush Gang (King, Queen, Jack, Ace, & Ten)
Justice League: The Flashpoint Paradox: Professor Zoom | Wonder Woman | Aquaman | Ocean Master | Black Manta | Deathstroke | Lex Luthor | Clayface | Rogues (Captain Cold, Captain Boomerang, Top, Heat Wave, & Mirror Master) | Joker | Yo-Yo
Justice League: War: Darkseid | Desaad | Parademons | Ocean Master
Justice League: Throne of Atlantis: Ocean Master | Black Manta | The Trench | Lex Luthor
Justice League League: Gods and Monsters: Will Magnus
Justice League vs. Teen Titans: Trigon | Legion of Doom (Lex Luthor, Cheetah, Solomon Grundy, Toymaster, & Weather Wizard) | Atomic Skull | Ra's al Ghul
Justice League vs. the Fatal Five: Fatal Five (Emerald Empress, Mano, Persuader, Tharok, & Validus) | Bloodsport | Two-Face | Harley Quinn | Poison Ivy

Video Games
Injustice: Gods Among Us: One Earth Regime (Superman, Wonder Woman, Yellow Lantern, The Flash, Aquaman, Cyborg, Shazam, Nightwing, Raven, Hawkgirl, Sinestro, Black Adam, Killer Frost, Solomon Grundy, Catwoman, Bane, & Doomsday) | Joker | Lex Luthor | Deathstroke | Ares
Injustice 2: Brainiac | Gorilla Grodd | Captain Cold | Reverse Flash | Cheetah | Deadshot | Poison Ivy | Bane | Scarecrow | One Earth Regime (Superman, Wonder Woman, Aquaman, Cyborg, Nightwing & Black Adam) | Dr. Fate | The Lords of Order | Grid | Atrocitus | Joker | Darkseid
See Also
Justice League Dark Villains | Justice League International Villains | Justice Society Villains | Young Justice Villains
Villains
Comics
Alex Luthor | Amanda Waller | Amazo | Anomaly | Anti-Monitor | Atlas | Atomic Skull | Ballser | Bane | Barbatos | Bernadeth | Bertron | Bizarro | Black Adam | Black Banshee | Black Mercies | Black Zero | Blanque | Blackrock | Blaze | Bloodsport | Bloody Mary | Brainiac | Bruno Mannheim | Boss Moxie | Bug-Eyed Bandit | Captain Boomerang | Captain Cold | Catwoman | Cheetah | Chemo | Chessure | Circe | Clayface | Coldcast | Commander Gor | Composite Superman | Cyborg Superman | Cythonna | Dabney Donovan | Dark Knights | Darkseid | Dax Novu | Deathstroke | Desaad | Deuce & Charger | Dev-Em | Devilance | The Devastator | Doctor Light | Doctor Manhattan | Doctor Polaris | Donna Troy | Doomsday | Earth-Man | Eclipso | The Enchantress | Epoch | Equus | Eradicator | Eradicator (Dark Multiverse) | Ernest Smalley | Eve Teschmacher | Faora Hu-Ul | Fastbak | Female Furies | Fifth-Dimensional Imps | Forgotten Villains | Francis Redhorn | Funky Flashman | Galactic Golem | Gilotina | Gorilla Grodd | Granny Goodness | Green Man | Glorious Godfrey | Gzptlsnz | H'El | Heat Wave | Hector Hammond | Hellgrammite | Helspont | Hfuhruhurr | Imperiex | Intergang | Jax-Ur | Joker | Jon Lane Kent | Justice League of Earth | Kaizen Gamorra | Kalibak | Kanto | Karkull | Killer Croc | King Shark | Kobra Cult | Ku Klux Klan | Lashina | Last Sun | Legion of Super-Villains | Lex Luthor | Livewire | Lobo | Mad Harriet | Magpie | Major Disaster | Major Force | Malice Vundabar | Manchester Black | Mandrakk | Mantis | Master Jailer | Masters of Disaster | Match | Maxima | Maxwell Lord | Mercy Graves | Metallo | Mister Oz | Mongal | Mongul | Mongul II | Morgaine Le Fey | Morgan Edge | Mr. Freeze | Mxyzptlk | Neron | Neutron | Nick O' Teen | Nimrod The Hunter | Overman | Parademons | Parallax | Parasite | Phantom Zoners | Planeteer | Plasmus | Plastique | Prankster | Preus | Princess Zala Jor-El | Prometheus | Psycho-Pirate | Queen Bee | Queen of Fables | Rampage | Rogol Zaar | Reverse-Flash | Royal Flush Gang | Samuel Lane | Scarecrow | Secret Society of Super Villains | Shockwaver | Shrapnel | Silver Banshee | Sinestro | Sleez | Solomon Grundy | Subjekt-17 | Suicide Squad | Superboy-Prime | Superdoom | Superman Revenge Squad | Superman (Earth-2) | Superman (The Dark Side) | The SuperMan | Spellbinder | Steppenwolf | Stompa | Talia al Ghul | Tarantula | Thaddeus Killgrave | Thunder & Lightning | Titano | Tobias Whale | Toyman | Two-Face | Ultra-Humanite | Ultraman | Ursa | Vincent Edge | Virman Vundabar | Vyndktvx | Weather Wizard | Whirlicane | Whisper A'Daire | William Dunn | Xa-Du | Zod
Theatrical Movies
Superman: Lex Luthor | Otis | Eve Teschmacher | General Zod | Non | Ursa | Brad Wilson
Superman II: General Zod | Non | Ursa | Lex Luthor | Otis | Eve Teschmacher | Rocky
Superman III: Ross Webster | Corrupted Superman | Vera Webster | Lorelei Ambrosia | Gus Gorman | Brad Wilson
Superman IV: The Quest for Peace: Lex Luthor | Nuclear Man
Superman Returns: Lex Luthor
Man of Steel: Sword of Rao (Dru-Zod, Faora-Ul, Nam-Ek, Jax-Ur, Tor-An, Car-Vex, Nadira, & Dev-Em II)
Batman v Superman: Dawn of Justice: Lex Luthor | Doomsday | Anatoli Knyazev | Mercy Graves | Cesar Santos | Amajagh | Joe Chill | Zod | Steppenwolf
Direct-to-video Movies
Superman: Brainiac Attacks: Brainiac | Lex Luthor | Mercy Graves | Mister Mxyzptlk
Superman: Doomsday: Lex Luthor | Superman Clone | Doomsday | Toyman | Mercy Graves
Superman/Batman: Public Enemies: Lex Luthor | Major Force | Metallo | Amanda Waller | Toyman | Solomon Grundy | Gorilla Grodd | Killer Frost | Lady Shiva | Giganta | Mongul | Captain Cold
Superman/Batman: Apocalypse: Darkseid | Female Furies (Granny Goodness, Gilotina, Mad Harriet, Lashina & Stompa) | Doomsday
Superman/Shazam!: The Return of Black Adam: Black Adam
All-Star Superman: Lex Luthor | Solaris | Parasite | Nasthalthia Luthor | Bar-El & Lilo-El
Superman vs. The Elite: The Elite (Manchester Black, Coldcast, Menagerie & Hat) | Atomic Skull
Superman: Unbound: Brainiac
The Death Of Superman: Doomsday | Lex Luthor | Intergang (Bruno Mannheim) | Mercy Graves | Cyborg Superman
Reign Of The Supermen: Cyborg Superman | Darkseid | Parademons | Lex Luthor | Mercy Graves
Superman: Red Son: Superman | Brainiac | Lex Luthor | Batman | Superior Man
Superman: Man of Tomorrow: Parasite | Lobo | Lex Luthor
Television
1940's Superman
Bulleteers | Inventor | Mechanical Monsters | Mad Scientist
Superman: The Animated Series
Lex Luthor | Brainiac | Darkseid | Metallo | Toyman | Intergang (Bruno Mannheim, Spider Spinelli, & Blaine) | Mercy Graves | Joey | Parasite | Dr. Vale | Lobo | Gnaww | Preserver | Kanto | Earl Garver | Jax-Ur | Mala | Prometheon | General Hardcastle | Weather Wizard | Livewire | Bizarro | Kurt Bowman | Luminus | Mister Mxyzptlk | Superman (Brave New Metropolis) | Lex Luthor (Brave New Metropolis) | Titano | Desaad | Kalibak | Joker | Harley Quinn | Karkull | Corey Mills | Suit | Maxima | De'Cine | Steppenwolf | Parademons | Female Furies (Granny Goodness, Stompa, Mad Harriet, & Lashina) | Volcana | Kurt | Starro | Roxy Rocket | Penguin | Bane | Riddler | Mad Hatter | Darci Mason | Sinestro | Unity | Reverend Amos Howell | Society of Shadows (Ra's al Ghul, Talia al Ghul, & Ubu)
Krypton
Brainiac | Zod | Doomsday | Lobo | Jax-Ur | Kol-Da | Lis-Ser | Daron-Vex | Araame | Lyta-Zod Clone
Superman & Lois
Tal-Rho | John Henry Irons | Leslie Larr | Mitch Anderson | Bizarro | Zeta-Rho | Superman (John Henry Irons' Earth) | Reno Rosetti | David Fuglestad | Atom-Man | Zod | Phillip Karnowsky | Kit Faulkner | Inverse Society (Ally Allston, Lana-Rho, Jonathan-El, & Erin Wu) | Intergang (Thaddeus Killgrave)
Video Games
Superman Arcade: Emperor Zaas | Lex Luthor | Metallo | Parasite
Superman: Shadow of Apokolips: Lex Luthor | Darkseid | Metallo | Livewire | Parasite | Kanto | Mercy Graves | Volcana
Mortal Kombat vs. DC Universe: Dark Kahn | Lex Luthor | Scorpion | Shang Tsung | Darkseid
Injustice: Superman | Brainiac | Doomsday | Aquaman | Black Adam | Sinestro | Lex Luthor | Joker | Darkseid
See Also
Legion of Super-Heroes Villains | Lobo Villains | Smallville Villains | Steel Villains | Superboy Villains | Supergirl Villains | Superwoman Villains

Villains
Comics
Amanda Waller | Bane | Basilisk | Black Adam | Black Manta | Black Mask | Black Spider | Blackguard | Bloodsport | Brainiac | Bronze Tiger | Captain Boomerang | Captain Cold | Cheetah | Chemo | Chronos | Clock King | Copperhead | Count Vertigo | Crime Syndicate of America | Darkseid | Deadshot | Deathstroke | Doomsday | Doctor Light | Eclipso | The Enchantress | Electrocutioner | Female Furies | Gentleman Ghost | Giganta | Harley Quinn | Heat Wave | James Gordon, Jr. | Javelin | Joker | Joker's Daughter | KGBeast | Killer Croc | Killer Frost | King Shark | Klarion | Kobra Cult | Lobo | Magpie | Major Disaster | Major Force | Man-Bat | Manchester Black | Manhunters | Master Jailer | Match | Mindboggler | Nocturna | Owlman | Parademons | Parasite | Plasmus | Plastique | Poison Ivy | Professor Zoom | Punch and Jewelee | Shrapnel | Solomon Grundy | Starro | Suicide Squad | Talon | Tattooed Man | Thinker | Ultraman | Vandal Savage | Weasel | Zebra-Man | Zod
Movies
Suicide Squad: Eyes of the Adversary (Enchantress & Incubus) | Suicide Squad (Deadshot, Harley Quinn, Captain Boomerang, El Diablo, Killer Croc, Slipknot & Amanda Waller) | Joker's Gang (Joker, Jonny Frost, Panda Man & Monster T) | Griggs
Suicide Squad: Hell To Pay: Professor Zoom | Suicide Squad (Amanda Waller, Deadshot, Harley Quinn, Captain Boomerang, Bronze Tiger, Copperhead, Punch, Jewelee, & Count Vertigo) | Killer Frost | Blockbuster | Silver Banshee | Vandal Savage | Scandal Savage | Professor Pyg | Tobias Whale | League of Assassins (Deathstroke) | Two-Face
The Suicide Squad: The Thinker | Starro | Silvio Luna | Corto Maltese Armed Forces (Mateo Suarez & Vera) | Suicide Squad (Bloodsport, Ratcatcher 2, Harley Quinn, Peacemaker, King Shark, Polka Dot Man, Captain Boomerang, Blackguard, Mongal, Javelin, The Detachable Kid, Weasel, Savant & Amanda Waller) | Kaleidoscope | Calendar Man | Double Down | Karma | Ratcatcher | Polka Dot Man's Mother | Bloodsport's Father
See Also
Harley Quinn Villains | Peacemaker Villains